NFL agrees to uncapped payments in revised concussion settlement
Since a judge threw out a $765 million agreement between the NFL and its former players, the two sides have worked out a new deal.
• 2 min read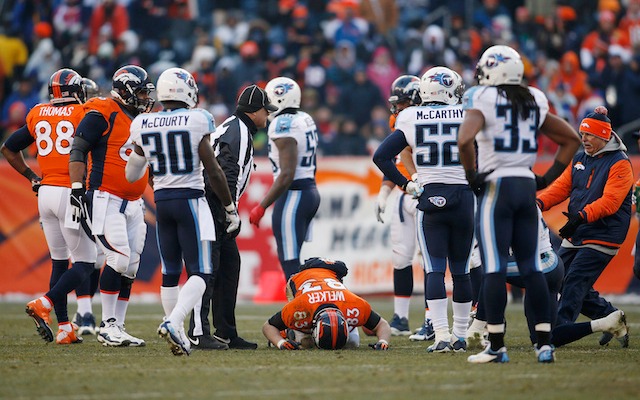 More NFL offseason: League minicamp dates | Latest news, notes
The NFL and the former players suing the league for past head trauma reached a settlement last August for $765 million, but five months later, a U.S. district court judge rejected that amount because she worried that the total simply wasn't enough.
On Wednesday, the league and the plaintiffs announced that the settlement has been revised and that the NFL's payments to its players now will be uncapped.
"This means that once the compensation program is established funds will be available to any retired player who develops a qualifying neurocognitive condition," the plaintiff's attorneys said in a statement.
The sides came to agreement under the supervision of judge Anita B. Brody, who threw out the original settlement.
More from the news release: "Consistent with the settlement announced last year, the revised agreement provides a wide range of benefits to retired NFL players and their families, including a separate fund to offer all eligible retirees a comprehensive medical exam and follow-up benefits, and an injury compensation fund for retirees who have suffered cognitive impairment, including dementia, Alzheimer's, Parkinson's or ALS. Where the retiree is deceased or unable to pursue his claim, a family member may do so on his behalf.  While actuarial estimates from both parties supported the $765 million settlement that was announced in August, this new agreement will ensure funds are available to any eligible retired player who develops a compensable injury."
The revised agreement also says the league will set aside $10 million for the education of concussion prevention. A final approval hearing likely will occur later this year.
"This agreement will give retired players and their families immediate help if they suffer from a qualifying neurocognitive illness, and provide peace of mind to those who fear they may develop a condition in the future," said co-lead plaintiffs' counsel Christopher Seeger and Sol Weiss. "This settlement guarantees that these benefits will be there if needed, and does so without years of litigation that may have left many retired players without any recourse."
Said Anastasia Danias, an NFL senior vice president:. "Today's agreement reaffirms the NFL's commitment to provide help to those retired players and their families who are in need, and to do so without the delay, expense and emotional cost associated with protracted litigation. We are eager to move forward with the process of court approval and implementation of the settlement."
Here's an up-to-date look at the 2018 Pro Bowl roster

New England is 3-0 wearing white in Super Bowls under Bill Belichick

Bettors are favoring the Eagles to keep Super Bowl LII close, but the Patriots remain clear...
No one wants to give the Eagles any respect

The three-time Grammy winner will sing before Super Bowl LII on Feb. 4

Here's a look at the NFL's entire postseason schedule for 2018