NFL announces partnership with Google, YouTube: 4 things to know
The NFL is officially on YouTube.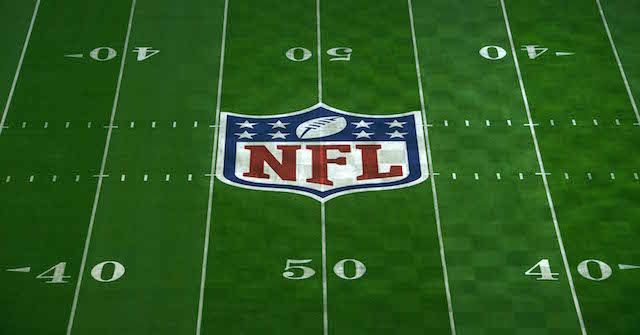 The NFL is finally coming to YouTube.
The league announced on Monday that beginning this week, the NFL will have its own YouTube channel that will feature in-game highlights, post-game recaps as well as clips featuring news, analysis, fantasy football advice.
Those NFL highlights you were watching on YouTube before? They were probably pirated. 
The deal with Google means the NFL now has a deal in place with all of the big social media players on the internet. The league had previously announced deals with both Twitter and Facebook to show highlights.
So what does the NFL's deal with Google mean for you? 
Here's four things to know. 
1. You won't be able to watch games live. Beginning with Super Bowl XLIX on Sunday, you'll be able to watch in-game highlights, however, you won't be able to watch the game live as it happens. The NFL has multi-billion dollar deals in place with CBS, Fox, ESPN and NBC and wants you to watch games on those networks. The league's YouTube Channel is meant to supplement your viewing experience. 
If you're hoping that one day the NFL will show games on YouTube, you're going to be hoping for at least the next eight seasons. Back in 2013, Google had brief discussions with the league about acquiring Sunday Ticket rights. However, those right won't be up for bid again until after the 2022 season thanks to the eight-year deal DirecTV signed in October. 
2. The NFL will be a lot easier to find during Google searches. You probably didn't notice before, but when you searched for NFL-related content on Google, the first story to come up rarely took you to an NFL-related site like NFL.com. It looks like that's going to change. 
From the NFL, "A simple Google search will display official NFL video along with related news and information all delivered to the user in one distinct box at the top of the search results. Kickoff time and broadcast information for every NFL game will also be prominently displayed in Google Search."
What that means is this. If you Google searched "Patriots-Seahawks" early Monday morning, you got results that looked like this.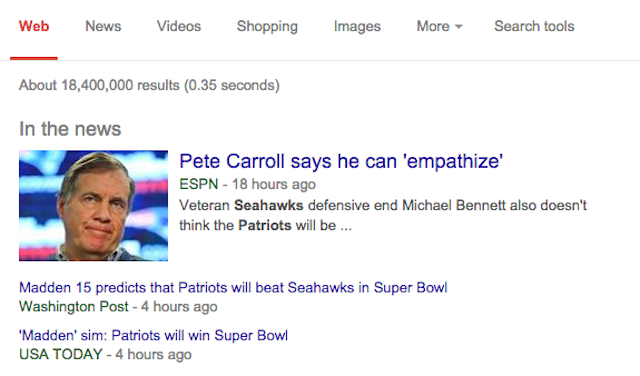 If you Google searched it after the YouTube partnership was announced, the top hit was a Super Bowl XLIX box that included a direct-link to a YouTube preview of the game.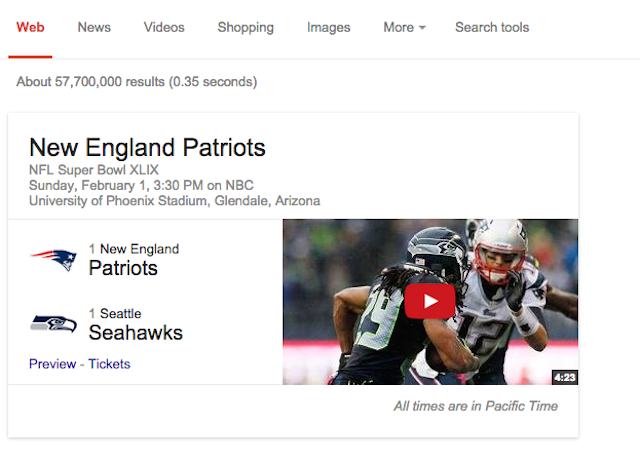 Basically, NFL-related content from the NFL is going to be easier to find on Google. 
3. You won't be able to watch archival footage. If you want to watch old Super Bowl highlights or clips of classic NFL game, your best bet is still going to be league's own video channel: NFL Now. 
4. How much money is the NFL making in this deal? According to the Wall Street Journal, Google's pact with the NFL is a multi-year, multi-million dollar deal. Just because Google's paying the NFL though doesn't mean the company can't make money. Google will handle ad sales for the YouTube channel, then once the company recoups what it paid the NFL in rights fees, the two sides will split the leftover profits. 
BONUS THING TO KNOW. Oh, and here's one more thing to know: You won't be able to embed the clips on the NFL's YouTube channel. If you do embed a video -- like the one below -- you'll see nothing. To watch the actual clip, you'll have to click through to the NFL's YouTube Channel. 
Pick Six Newsletter
Get the day's big stories + fun stuff you love like mock drafts, picks and power rankings.
Please check the opt-in box to acknowledge that you would like to subscribe.
Thanks for signing up!
Keep an eye on your inbox for the latest sports news.
Sorry!
There was an error processing your subscription.
Ranking every starting quarterback from 1-32 every week for the whole season, let's go

Our advanced computer model simulated Thursday's Vikings vs. Rams game 10,000 times

Breeland, who lost a deal with the Panthers after he failed a physical, has finally found a...
The Buccaneers have solved their quarterback dilemma, but they're not going to disclose their...

Reid filed a collusion grievance against the NFL in May and remains unsigned

Here are the Week 3 grades for every team that played on Sunday