NFL coaching changes: Penn State's Bill O'Brien may hold key
As Black Monday unfolds with four jobs opening up, coaching staffs in Oakland and Tennessee remain in limbo, and it appears some moves hinge on Bill O'Brien finding a landing spot.
• 4 min read
So far, there are five openings for head coaching jobs in the NFL, and surely more to come.
•  In Tennessee, coaches are grading film Monday morning for final stats and awaiting a noon team meeting, while conducting exit physicals -- so normal stuff so far. 
• In Oakland, people are arriving to work as normal, unsure of what the day will hold.
• And in Washington, Cleveland, Houston and Minnesota, requests are going out to interview candidates and lists are being cemented.
Ken Whisenhunt/Bill O'Brien/David Shaw: The reality is, in Minnesota and Washington, through backchannels the gauging if interest by prospective candidates has been under way for a while, and in Houston, especially with the team now having to wait a week to interview candidates like Ken Whisenhunt (who can't interview for a week because the Chargers are in the wild-card round), that process is now closer to completion, with O'Brien the clear favorite of the people they have interviewed thus far.
Many of these teams have Stanford's David Shaw atop their list, and to this point he has made it clear he is staying at the school. Redskins VP Bruce Allen has ties to him through time spent together in the Raiders organization, but I remain highly skeptical Shaw leaves for any job, much less Washington's. The Redskins would have some interest in O'Brien, I'm told, as would Cleveland, but other teams believe he will end up with the Texans this week.
Cleveland Browns: Josh McDaniels would be a top name in Cleveland, though some in the organization are unsure they can get the offensive coordinator out of New England. Otherwise, they plan to talk to the hotter coaching names -- Darrell Bevell and Dan Quinn in Seattle, Jay Gruden in Cincy, Sean McDermott of Carolina (who worked previously for team president Joe Banner in Philadelphia). If Jim Schwartz is let go by the Lions, he could very well enter the picture in Cleveland.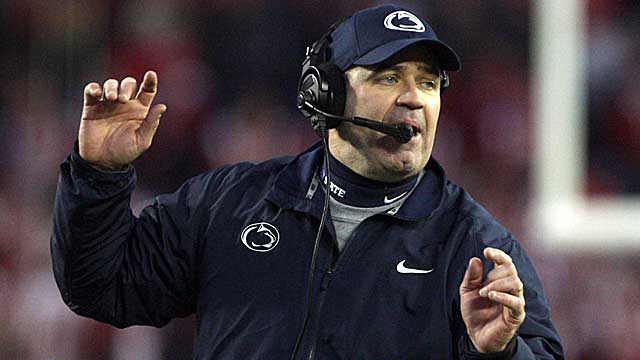 Washington Redskins: The Redskins know they need some offensive minds to help get Robert Griffin III restored as an NFL quarterback. Gruden, who cannot interview for a week, will garner consideration there. There is a strong push going on from the league office for former Bears coach Lovie Smith to land an opening, and he too is expected to interview in Washington (he already has in Houston, and, sources close to the coach said, the Tampa job would very much interest him). And, as I have been reporting for weeks, Baylor coach Art Briles could be lured to Washington fairly easily, and he has deep experience working with Griffin and is prepared to put together a staff with NFL experience, Given the situation the Redskins are in, with a job many proven NFL coaches want no part of, Briles could very well play a role in this process.
Minnesota VIkings: The Vikings reached out to O'Brien weeks ago, as reported at the time, have tried to gauge the interest of UCLA coach Jim Mora (not happening) and are very interested in Denver's young offensive coordinator Adam Gase, sources said. The idea of working another year on a great staff and working with Peyton Manning is very appealing to Gase, with 2015 more of the expected time frame for him to pursue head coaching jobs, sources said. Plus, it would take a pretty strong commitment from a team to lure him from what is an outstanding situation in Denver. In the past the Vikings have been very frugal with coaching budgets.
Front offices: To this point, there have been no front office moves, though they could eventually be coming in Detroit, and Dolphins ownership is making it pretty clear GM Jeff Ireland is under review after a huge spending splurge produced one more win than a year ago and a scandal caused quite a distraction. Ireland has been a figure of scorn for quite some time among that fan base, and, should Ireland be let go, assistant GM Brian Gaine would receive some internal support, and longtime Steelers front office exec Omar Khan likely would receive consideration as well.
If the Raiders were to land Jon Gruden, then more sweeping changes could be coming to that organization, but after reaching out to Gruden's camp again this year it does not appear a deal will be struck. Oakland also is mulling finally replacing former team president Amy Trask, sources said, with outgoing NFL VP Ray Anderson and longtime NFL Mike Reinfeldt exec among the names surfacing there.
And in Washington, Allen has the GM title, but did not have authority over the roster during Mike Shanahan's regime, with Shanahan in full control. Allen is not a talent evaluator and the Redskins could undergo some reshaping of their front office as well depending on the outcome of their coaching search, which Allen is spearheading on behalf of owner Dan Snyder.
McCoy was hired in January and now he's again looking for work

The home of the Falcons for 25 years was reduced to rubble in seconds

Sherman, like a lot of observers, didn't understand why the Bills started an unprepared rookie...
The Raiders RB sat through the 'Star Spangled Banner' but stood for the Mexican anthem on...

Plus the Eagles' formula for winning late, the AFC playoff mish mash and a budding young Vikings...

Here are the Week 11 grades for every team that played Sunday