NFL Coaching, GM Changes Tracker: Latest hirings, firings, candidates
Check here for the latest news, rumors and updates for NFL coaching changes and searches from around the league.
by

Eye on Football staff

• 8 min read
The coaching carousel that spins every year after the regular season comes to the close has been no less wild than usual in 2016, with three teams parting ways with their head coaches during the regular season and several more pulling the plug in the days following the final whistle.
Even with a number of coaching changes being made, the most surprising news might be the coaches who were retained when their exits from their respective teams seemed all but certain.
We'll track all the latest firings, hirings and latest NFL coaching candidates below. So make sure and bookmark this page for the future.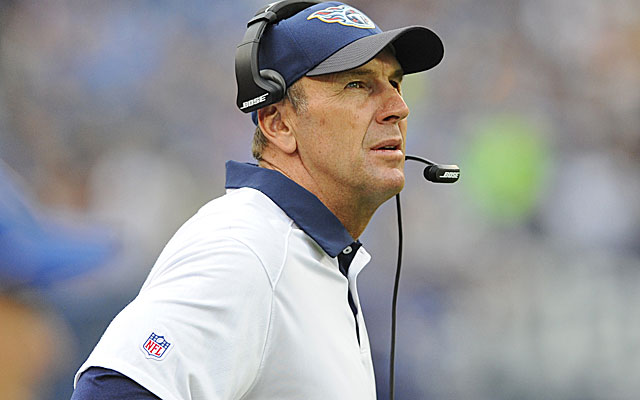 Here are all the latest moves:
---

  Tennessee Titans
In: Head coach Mike Mularkey, GM Jon Robinson (Buccaneers director of player personnel)
Out: Coach Ken Whisenhunt, GM Ruston Webster
What we think: Mike Mularkey gets his interim title removed despite leading the Titans to the worst record in football and the No. 1 overall pick. It's another questionable decision in a string of them for the Titans, who fired Ken Whisenhunt after just four games with his new QB, Marcus Mariota. Jason La Canfora has reported multiple times that the Adams family keeping Mularkey and not shelling out big for a new coach is likely a move to further streamline the team for sale.
---

  Detroit Lions
In: General manager Bob Quinn 
Staying: Coach Jim Caldwell
Out: General manager Martin Mayhew, president Tom Lewand
What we think: New GM Bob Quinn announced Friday that he decided to retain Jim Caldwell as head coach, saying that he and Caldwell's "football philosophies are very similar" and Caldwell is the "right man" to lead the Lions going forward. The Lions' strong finish -- going 6-2 over their final eight games -- certainly helped Caldwell's cause. Caldwell's decision to fire offensive coordinator Joe Lombardi on Oct. 26 and replace him with Jim Bob Cooter also helped as quarterback Matthew Stafford played much better in the second half of the season and looked like the QB who led Detroit to 11 wins and a playoff berth in 2014.  
---

  New York Giants 
In: Coach Ben McAdoo (Giants OC)
Still In: GM Jerry Reese
Out: Coach Tom Coughlin
What we think: The Giants opted to stay in-house to fill their head-coaching vacancy, promoting offensive coordinator Ben McAdoo to the main role on Thursday as expected. McAdoo ran the Giants offense for the past two seasons and has a familiarity with quarterback Eli Manning, which should help the continuity on that side of the ball. McAdoo and the Giants could opt to keep Steve Spagnuolo on to continue running the defense, CBS Sports NFL Insider Jason La Canfora reports. With many of the same pieces running the team on the coaching side of things, the pressure is squarely on general manager Jerry Reese to upgrade the talent available to McAdoo and his staff.
---

  Philadelphia Eagles
  Out: Coach Chip Kelly
In: Doug Pederson (Chiefs OC)
What we think: The Eagles got a jump start on their head-coaching search by releasing Chip Kelly from his contract with a week remaining in the regular season. On the same day Kelly landed in San Francisco, the Eagles reportedly have found their guy as well in the form of Doug Pederson.
Les Bowen of the Philadelphia Daily News reports Pederson, currently the offensive coordinator for the Chiefs and a guy who worked under Andy Reid in Philadelphia, is the guy. Pederson can't be officially hired until the Chiefs are eliminated from the playoffs. 
---

  San Francisco 49ers
In: Coach Chip Kelly (Eagles HC)
Out: Coach Jim Tomsula
What we think: Tomsula never had a chance. He replaced Jim Harbaugh, one of the most successful coaches in recent history, and was tasked with making the 49ers competitive with a roster decimated by defections and retirments.
Kelly arrives in San Francisco after a tumultous three seasons in Philadelphia, where he was fired last month, five days before the season finale. Kelly went 10-6 in his first two seasons with the Eagles, but things went sideways in 2015 after he also took over personnel duties last offseason. 
The hope is that Kelly can learn from his mistakes and that includes grooming a legit franchise quarterback, whether that's Colin Kaepernick or someone else. 
---

  Cleveland Browns 
In: Hue Jackson (Bengals OC)
Out: GM Ray Farmer, Coach Mike Pettine
What we think: Strong hire for the Browns, landing Jackson, one of the  more coveted candidates on the open market. He was being pursued by the 49ers and Giants as well. 
Jackson had success with the Raiders in his most recent stint as a head coach before a high-priced trade for Carson Palmer backfired and he was sent packing (it was weird -- he was in charge of the franchise after Al Davis died). 
The Bengals, under Jackson as OC, have been an innovative offense with multiple quarterbacks. 
---

  Miami Dolphins 
  In: Head coach Adam Gase (Bears OC), Defensive coordinator Vance Joseph (Bengals DB coach)
  Out: Coach Joe Philbin, Interim coach Dan Campbell, GM Dennis Hickey
What we think: Adam Gase, at 37 years old, is now the NFL's youngest head coach. Gase spent last season as the offensive coordinator of the Chicago Bears, where he helped Jay Cutler post the best passing rating of his career. Gase was the offensive coordinator of the Denver Broncos for the previous two seasons, working with Peyton Manning to post some of the best offensive numbers in NFL history. As such, he has been lauded for his work with quarterbacks and the Dolphins tabbed him in part to work with Ryan Tannehill, who regressed last season after getting a big-money deal. Gase is reportedly bringing Bengals defensive backs coach Vance Joseph with him to be his defensive coordinator once Cincy's season ends. The Bengals have been one of the top defenses in the league for a while and the play of their secondary has been a huge contributing factor. Miami will likely bring in some new blood in their secondary after its subpar performance this season, but Joseph will probably keep the same 4-3, one-gap principles that Ndamukong Suh, Cameron Wake, Olivier Vernon and the rest of the defensive front have used to great success.
---

  Tampa Bay Buccaneers 
  In: Coach Dirk Koetter (Buccaneers OC)
 Out: Coach Lovie Smith
What we think: Koetter was the favorite to get this gig basically from the moment it surprisingly came open. There were even reports in the wake of Smith's firing that the Buucs made the move with the intention of promoting Koetter because they thought they were going to lose him to another team. He now steps up a rung after doing a good job working with No. 1 overall pick Jameis Winston last season. He had previously been praised for his work with Falcons quarterback Matt Ryan, as he'd been the offensive coordinator in Atlanta for three years before coming to Tampa Bay. Armed with a bunch of weapons, Koetter should be able to get the Bucs offense going, but the team will have to improve its defense to make a leap in the NFC South.
---

  New Orleans Saints 
  Still In: Coach Sean Payton
What we think: Turns out Sean Payton isn't going anywhere and wants to stay in New Orleans for, as Payton said in his press conference, "as long as they'll have me." Rumors had been swirling that Payton would leave New Orleans throughout much of the season, and they had picked up steam as teams like the Giants and 49ers parted with their coaches. There was also a report that the Colts had considered Payton before re-upping with Chuck Pagano. With Payton staying with the Saints, the question now becomes what the franchise does with one of the NFL's worst defenses. Payton said that there's a "good chance" Dennis Allen will be back as a coordinator as the organization begins a necessary rebuild of personnel. It's also worth noting Payton confirmed that Drew Brees will continue to be his quarterback.
---

  Indianapolis Colts
  Still In: Coach Chuck Pagano, GM Ryan Grigson 
What we think: Despite a previous report, which indicated Chuck Pagano was on his way out, the Colts announced Monday night they've reached a contract extension with their head coach. To be clear: Chuck Pagano isn't going anywhere. He'll remain the Colts head coach. As CBS Sports NFL Insider Jason La Canfora reported, the length of the extension is four years. 
General Manager Ryan Grigson is staying too, with Jim Irsay confirming he received an extension that will "tie him contractually" to Pagano. Irsay also said Grigson has "outdone" Bill Polian so that's cool too! 
---

  San Diego Chargers 
  In: Offensive coordinator Ken Whisenhunt
Still In: Coach Mike McCoy
Out: Offensive coordinator Frank Reich, five assistant coaches
What we think: Weird situation for the Chargers here, with GM Tom Telesco quietly getting an extension during the season and the team potentially moving to Los Angeles. Rumors started swirling this weekend about Mike McCoy getting the boot, but CBS Sports NFL Insider Jason La Canfora reported that the Chargers would announce his return. The Chargers did make wholesale changes on the offensive side in the ball, cutting ties with Frank Reich and rehiring Ken Whisenhunt to the offensive coordinator position, which he held in 2013 before delivering a 3-20 record over the past two years as head coach of the Titans.
Baker Mayfield and Josh Allen took the field, but RBs and defensive front seven players stole...

Joseph cited Drew Brees when explaining why he's not concerned about the Oklahoma quarterb...

'She was dead serious,' Feely said
Place your bets, you proud and degenerate Americans

The Lions fired Jim Caldwell and kept some assistants in place, so Patricia is setting his...

Is there an NFL conspiracy that will help the Patriots win another Super Bowl? We investig...