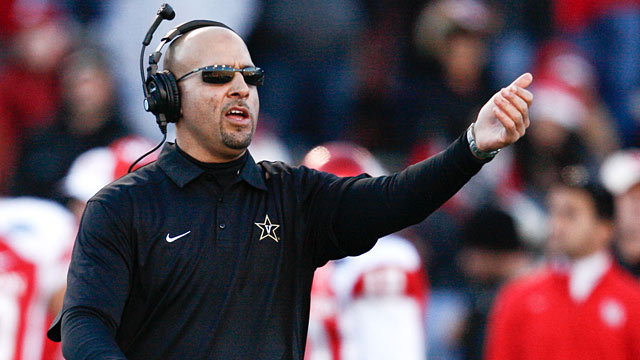 More NFL: Ireland loses power struggle in Miami | Playoff Bracket
Vanderbilt coach James Franklin scheduled to interview with the Redskins in Virginia on Thursday, according to a league source, following Jay Gruden's interview there Wednesday.
Franklin, who is also a candidate the Browns have researched extensively and could interview, is set to meet with Redskins officials on Thursday. He is also in the running for the Penn State opening, and could interview in Tennessee at some point, too.
Franklin coached previously nearby at the University of Maryland, and has prior experience as a position coach in the NFL, too. The Redskins are likely to hire an offensive-minded head coach -- he fits that profile -- and while Gruden is a strong candidate (he met with the Titans on Tuesday and meets with the Vikings on Thursday), Franklin's interview could propel him as well.
The Browns are looking at several college options, sources said, and, while they are interested in Auburn's Gus Malzahn, sources said he is very happy where he is and it would likely be cost prohibitive to get him to leave for the NFL now. The Browns met with Packers quarterback coach Ben McAdoo in Green Bay on Thursday and where notified by candidate Josh McDaniels that he would be staying in New England (as first reported by ESPN).
Bengals defensive coordinator Mike Zimmer has interviews with the Titans and Vikings, and both of those are expected to take their time with their searches. The Titans want to wait to interview Seattle defensive coordinator Dan Quinn according to sources, and cannot do that until the Seahawks lose.
The Lions have interviewed Jim Caldwell, Gary Kubiak and also have an interview scheduled with Mike Munchak -- all offensive minded former NFL head coaches. But their primary target remains former Cardinals coach Ken Whisenhunt, league sources said, but as the Chargers offensive coordinator, he is still involved in the playoffs.
The Chargers are following the letter of the law regarding contact with their coaches, sources said, and only opening up a specific window for teams to talk to Whisenhunt in San Diego. No interviews with him have taken place -- the Vikings, Redskins and Titans also asked for permission to interview him -- and that window is believed to be Friday, before the team departs for Denver and its Divisional round game.

The Lions are prepared to meet with him at the first allotted time, and sources said Whisenhunt is very interested in their opening (the Titans opening is also appealing to him of the available jobs, sources said).