NFL combine: Chris Johnson's 4.24 40 moves him into 1st round in 2008
All it took was 4.24 seconds to make East Carolina's Chris Johnson a first-round pick in 2008.
• 2 min read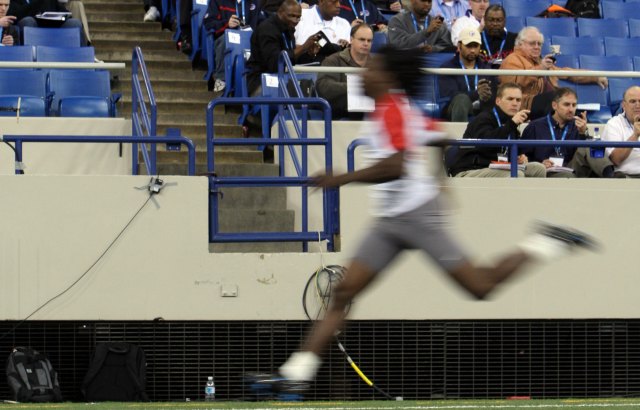 From Feb. 22-25, more than 330 former college players will converge on Indianapolis for the league's annual combine show. They'll be poked and prodded, measured and manhandled, weighed and waylaid by those front office executives who will want to know who, what, where, when and how. Then, those athletes will parade around in tight shorts and tops that show off their muscles and attempt to impress the decision-makers with their speed, power and agility.
Some players will disappoint. Some will impress. Some will be exactly who we thought they were.
But some will make themselves much more money than we originally might have thought. Some will perform so disastrously that the rest of their careers (or, at least, their wallets) will be affected. Maybe this isn't always a fair system, but it's the system we've got. And some take advantage, and some cave in to the pressure.
In the days leading up this year's combine, we'll take a look at five players who mightily surprised us during their appearances at this event, either for good or for bad. Next up is Chris Johnson from 2008.
Previous combine memories: Dontari Poe (2012) | Maurice Clarett (2005) | Mike Mamula (1995) | Chris Johnson (2008) | Vontaze Burfict (2012)
Who was this guy?: Johnson had a standout senior season at East Carolina, but it's not like he was considered a top-notch pro running back. He was thought by some to be a second- or third-round pick, because though he had an awesome senior year (1,423 yards, 17 touchdowns), his first three years in school weren't anything special. But he did lead the nation in total yards per game in his final season, so he had a little bit of buzz entering the combine. But it's not like smallish running backs from Conference USA were getting a ton of love.
What happened at the combine: This.
Johnson's 4.24 time in the 40 was and is the fastest recorded time ever to be run at the combine (though Bo Jackson and Deion Sanders were said to have run faster hand-timed results before it was electronically recorded). Johnson's 35-inch vertical leap was one of the best among all the running backs, and his 10-foot, 10-inch broad jump also was a top score among his running back colleagues. But it'd be fair to say that his 40 time changed Johnson's entire draft projection and, quite possibly, his entire career.
Where was he drafted?: Although the Titans had taken running backs in the two previous years -- LenDale White in the second round in 2006 and Chris Henry in the second round in 2007 -- and though they ranked fifth in the league in rushing in 2007, they still picked Johnson with the No. 24 overall selection. Tennessee took some heat for the pick -- seriously, the third-straight season with a high running back pick? -- but Johnson quickly won the starting job and, by the next season, he was the best running back in the game.
How has his career panned out?: It's been a wonderful career, and even though Johnson hasn't been as effective in the past few years as he was early in his career, Johnson still is one of the most-talented running backs in the league. He earned his CJ2K nickname by gaining 2,006 yards in 2009 to go with 14 touchdowns, and though he hasn't come close to that 2,000-yard mark since, Johnson has been THE major cog in the Titans squad ever since the team drafted him. Even if he doesn't show it all the time, that extra gear of sprinter's speed, the one that produced the 4.24, still kicks in from time to time. And it's still something to behold. 
The Steelers' most dangerous player went down in the second quarter

Shazier suffered a scary injury a couple weeks ago, but appeared to be in good spirits at Heinz...

With their 2017 season basically over, it's time for Cardinals fans to turn their attention...
All of the best highlights from Week 15 are right here

With their 2017 season basically over, it's time for Jets fans to turn their attention to the...

With their 2017 season basically over, it's time for Bengals fans to turn their attention to...