NFL combine: Dontari Poe's 2012 performance won him new fans
Dontari Poe's 2012 combine performance helped vault him to the No. 11 selection.
• 3 min read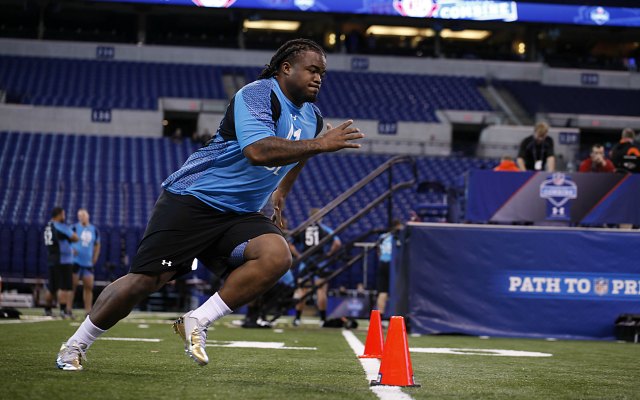 From Feb. 22-25, more than 330 former college players will converge on Indianapolis for the league's annual combine show. They'll be poked and prodded, measured and manhandled, weighed and waylaid by those front office executives who will want to know who, what, where, when and how. Then, those athletes will parade around in tight shorts and tops that show off their muscles and attempt to impress the decision-makers with their speed, power and agility.
Some players will disappoint. Some will impress. Some will be exactly who we thought they were.
But some will make themselves much more money than we originally might have thought. Some will perform so disastrously that the rest of their careers (or, at least, their wallets) will be affected. Maybe this isn't always a fair system, but it's the system we've got. And some take advantage, and some cave in to the pressure.
In the days leading up this year's combine, we'll take a look at five players who mightily surprised us during their appearances at this event, either for good or for bad. First up is Dontari Poe from 2012.
Previous combine memories: Dontari Poe (2012) | Maurice Clarett (2005) | Mike Mamula (1995) | Chris Johnson (2008) | Vontaze Burfict (2012)

Who was this guy?: He was a defensive tackle at Memphis, and going into the combine, he was seen mostly as a lane clogger who would allow the players behind him to make the big plays while Poe tried to eat up opponent's double teams. Though he was seen more as a player who would go late in the first round or early in the second, there was little question about his power (he reportedly squatted more than 700 pounds in college, bench-pressed more than 500 and power-cleaned more than 400) and his explosiveness (he was a Tennessee state champion shot putter in high school). His stats weren't great in college -- and he was only a second-team all-conference pick in his final season -- but you could also point to the Conference USA talent of his teammates and determine that an opponent likely would do whatever it took to focus its attention on shutting down Poe.
What happened at the combine?: He was impressive, bench-pressing 225 pounds 44 times, the most of any combine participant that year. Oh, and the 346-pounder, the fourth-heaviest man to show at the combine since 2000, ripped off a 4.98 performance in the 40. As jaw-dropping a performance from a linemen as you'll ever see.
See what I mean?
As one NFL.com writer penned at the time, "RG(3)'s 4.41 40 is proportionate to a 346-lb man running it in 6.84 seconds. And Poe (at 346 lbs) just did it in [an unofficial] 4.87 secs."
Where was he drafted?: The Chiefs took him with the No. 11 overall pick, decidedly higher than most draft writers would have picked. He signed a four-year, $11.3 million contract with $6.67 million guaranteed. Just for comparison's sake, what if Poe would have been selected in the fourth pick of the second round, where the Broncos took defensive tackle Derek Wolfe? He would have made something similar to Wolfe's four-year, $6.25 million deal with $3.28 million guaranteed. So yeah, his performance at the combine made him significant money.
How has his career panned out?: Pretty well so far. He had a solid rookie season, making 38 tackles, but in his second season in 2013, Poe recorded the first 4.5 sacks of his career to go with 51 tackles. He also made his first Pro Bowl appearance while playing more than 1,000 snaps -- the only defensive tackle to do that this season, according to Pro Football Focus. Turns out the Chiefs, so far, were absolutely right to draft Poe at No. 11.
Follow Josh Katzowitz on Google+
T.O. definitely isn't a fan of the Cowboys head coach

R.J. White, who nearly won the Vegas SuperContest, locks in his pick for the AFC Championship...

This player probably won't be too popular in New England if the Patriots lose on Sunday
The connections between the Eagles and Vikings quarterbacks are endless

Josh Nagel went 4-1 on Super Bowl prop bets and shares his favorite props for Patriots-Jag...

The winner of Sunday's game will he headed for Super Bowl LII