NFL combine: Maurice Clarett flamed out, blew out career in 2005
Though Maurice Clarett had a bad combine performance in 2005, he still was drafted in the third round by the Broncos.
• 3 min read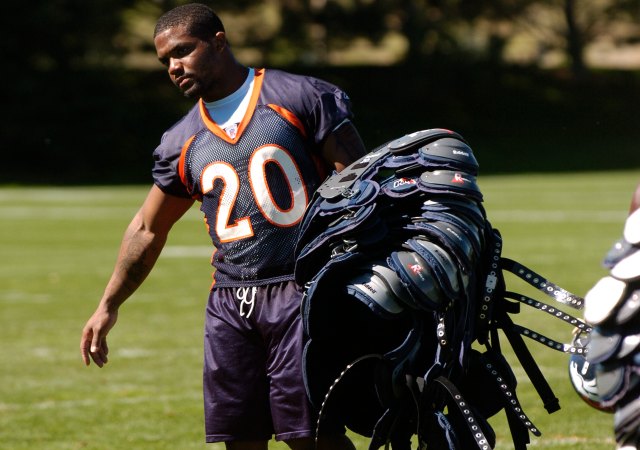 From Feb. 22-25, more than 330 former college players will converge on Indianapolis for the league's annual combine show. They'll be poked and prodded, measured and manhandled, weighed and waylaid by those front office executives who will want to know who, what, where, when and how. Then, those athletes will parade around in tight shorts and tops that show off their muscles and attempt to impress the decision-makers with their speed, power and agility.
Some players will disappoint. Some will impress. Some will be exactly who we thought they were.
But some will make themselves much more money than we originally might have thought. Some will perform so disastrously that the rest of their careers (or, at least, their wallets) will be affected. Maybe this isn't always a fair system, but it's the system we've got. And some take advantage, and some cave in to the pressure.
In the days leading up this year's combine, we'll take a look at five players who mightily surprised us during their appearances at this event, either for good or for bad. Next up is Maurice Clarett from 2005.
Previous combine memories: Dontari Poe (2012) | Maurice Clarett (2005) | Mike Mamula (1995) | Chris Johnson (2008) | Vontaze Burfict (2012)

Who was this guy?: Anybody who was paying attention knew the Clarett story. He rushed for 1,237 yards as a freshman at Ohio State -- one of the best rookie seasons anybody has ever had for the Buckeyes -- and he was a major reason why Ohio State went undefeated and won the 2002 BCS title. But then Clarett and the Buckeyes experienced a nasty divorce when he accused the school of not allowing him to fly home for the funeral of a friend before he ran into legal and NCAA troubles. He sued to get into the 2004 draft, and after that ultimately failed, he prepared himself for the 2005 combine. It was easy to figure that Clarett would have a tough time impressing, because he hadn't played football in two seasons. The problem -- which we found out later -- was that he also had developed a drug and alcohol problem.
What happened at the combine?: At first, things were fine, via the Argus-Press.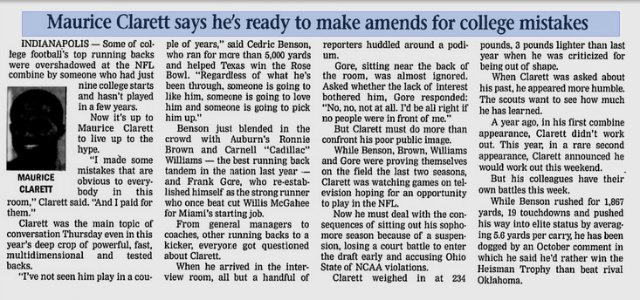 And then ... it became a disaster. His unofficial times in the 40 were 4.72 and 4.82, and after that dual disappointment, he pulled on a sweatshirt and quit the rest of the combine. "It's a rough day," Clarett said afterward. "I prepared 20 times harder than a year ago. I worked to get ready for this day. To totally bust it ... well, it's frustrating." I imagine so. But the fact he quit drew the ire of many teams and certainly didn't help his already-mediocre performance.
Where was he drafted?: Clarett got lucky. Many felt he would have to claw his way onto a roster by signing as an undrafted free agent -- or as a compensatory pick at the end of the sixth or seventh rounds -- but then-Broncos coach Mike Shanahan spent a third-round draft pick on Clarett. To be fair, Clarett had performed better in subsequent workouts, and the Broncos had a history of success in plucking successful running backs in the mid to late rounds (Terrell Davis, Mike Anderson and Olandis Gary, for example). Though the Broncos had talked to Clarett's agents to get a feel for his state of mind, they hadn't attended any of his workouts.
How has his career panned out?: It never really got going. Since his contract was heavily incentivized, the Broncos wouldn't lose out on much money if they simply released him. Which they did about a month after they signed him to a contract. From there, Clarett would go on to a 3 1/2-year prison sentence on robbery charges before spending some time in the now-defunct UFL. Clarett never appeared in a regular-season NFL game. Never a preseason game. All of his work leading up to the combine and the draft were for naught.
Smith is facing up to seven years in prison if convicted

Plus everything else you need to know about Week 2 of the 2017 NFL preseason

This is why being a rookie in the NFL isn't fun
The Raiders running back went Beast Mode on reporters

Elway tried his best to emphasize how complicated the situation is

The executive director NFLPA has an ugly prediction for the future of the NFL