NFL combine: Vontaze Burfict's 2012 debacle drops him out of draft
At one time, Vontaze Burfict was considered a possible first-round draft pick. He was anything but that after the 2012 combine.
• 3 min read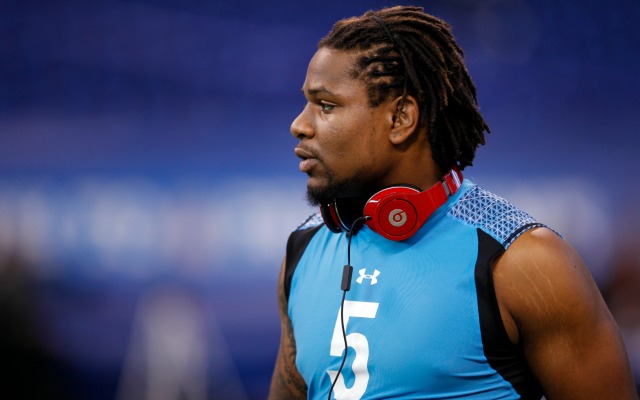 From Feb. 22-25, more than 330 former college players will converge on Indianapolis for the league's annual combine show. They'll be poked and prodded, measured and manhandled, weighed and waylaid by those front office executives who will want to know who, what, where, when and how. Then, those athletes will parade around in tight shorts and tops that show off their muscles and attempt to impress the decision-makers with their speed, power and agility.
Some players will disappoint. Some will impress. Some will be exactly who we thought they were.
But some will make themselves much more money than we originally might have thought. Some will perform so disastrously that the rest of their careers (or, at least, their wallets) will be affected. Maybe this isn't always a fair system, but it's the system we've got. And some take advantage, and some cave in to the pressure.
In the days leading up this year's combine, we'll take a look at five players (including Dontari Poe and Chris Johnson) who mightily surprised us during their appearances at this event, either for good or for bad. Next up is Vontaze Burfict.
Previous combine memories: Dontari Poe (2012) | Maurice Clarett (2005) | Mike Mamula (1995) | Chris Johnson (2008) | Vontaze Burfict (2012)
Who was this guy?: It was clear that linebacker Burfict had plenty of talent at Arizona State, but he had so many red flags against him -- or perceived red flags, anyway -- that he was always going to have an uphill battle getting a team to select him with an early-round pick. In his final 26 college games, he was tagged with 16 personal fouls. Teams wondered whether he had anger issues and how much he could control his emotions while on the field. It also sounds like he had been shielded from participating in many interviews while he was in college, and that probably hurt him when he was to be interviewed at the combine and in private workouts by coaches and general managers, his potential employers. Evaluators wondered if he would be worth the risk.
What happened at the combine?: Burfict somehow managed to make things worse. He reportedly told teams that he had smoked marijuana (points for honesty!) and reportedly failed the mandated drug test (points off for stupidity!). He was heavier than expected, and he ran a 5.09 40 -- the slowest of any linebacker and slower than a number of offensive linemen. He bench-pressed 225 pounds only 16 times -- not as good as several defensive backs. He was last among linebackers in the broad jump and next to last in the vertical jump. It was basically a disaster. "Man, I'm always nervous," Burfict told Sports Illustrated in 2012. "But at the combine, it was a nervous like I was going to have a nervous breakdown. Especially looking up at all those coaches. For me to be in that spotlight, it was very nerve-racking." But he wasn't much better at his pro day.
Where was he drafted?: At one point in his college career, Burfict was seen as a potential first-round pick. But after his combine, his interviews and his pro day, his stock fell so far that he went undrafted. But Burfict had made an effort to improve his reputation. He wrote letters to each NFL team asking for a chance. Bengals coach Marvin Lewis had spent time with Burfict and thought he could be special, so after the draft, Cincinnati signed him to a three-year, $1.441 million contract. It included a signing bonus of $1,000.
How has his career panned out?: That money has been well worth it for the Bengals, because Burfict is one of the best young linebackers in the game, racking up 295 combined tackles in the first two seasons of his career. The story has pivoted into being a tale of redemption for Burfict and of foresight by the Bengals. But the combine continues to haunt his wallet. He's scheduled to make just $570,000 in 2014 for the final year of his contract before he becomes a restricted free agent following the season. Meanwhile, linebacker Luke Kuechly, who actually did go in the first round of the 2012 draft, will make almost three times as much base salary to go along with the $7.58 million signing bonus he was paid. Burfict likely will land a big contract in the next two years, but because of his combine performance, he won't have nearly as much as he should.
Here are the Week 11 grades for every team that played Sunday

The Eagles move to 9-1 after beating the Cowboys by four touchdowns

Peterman threw five interceptions in the first half before getting yanked
The Vikings' coach addresses the team's cloudy quarterback situation after their eighth win...

Green Bay could have brought in a veteran quarterback but decided to stick with Hundley

All of the best highlights from Week 11 are right here