NFL conference championship picks: Broncos won't blow chance vs. Pats
Do the Seahawks need a strong performance from Russell Wilson? Josh Katzowitz examines that and the conference title games.
• 2 min read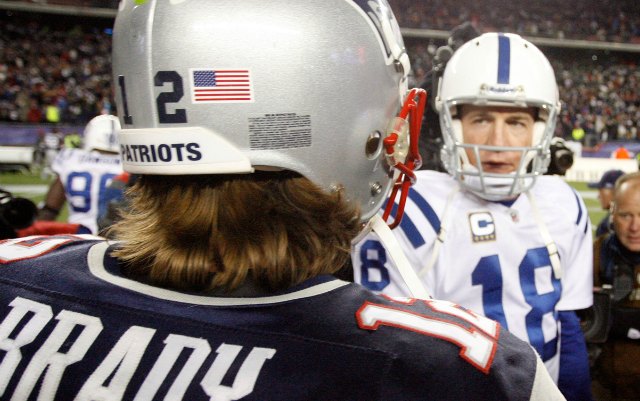 Each week, we'll take the best -- and most clever -- odds collected by Bovada for the upcoming week and give our take. This is important stuff, perhaps the most important post you'll read all week. Because if you can't lose money while watching a game in which you have absolutely no effect, what's the point of watching sports at all?
Note: Home team is listed first in Against the Spread, and all statistics only include the regular season.

Game One: Broncos -5.5 vs. Patriots
Sunday, 3 p.m. ET, CBS
2013 Against The Spread


Overall: 10-6
Overall: 8-8
Home: 5-3
Home: 6-2
Away: 5-3
Away: 2-6
2013 Team Rankings


Pass offense: 3rd
Pass defense: 18th
Rush offense: 15th
Rush defense: 25th
Pass defense: 26th
Pass offense: 8th
Rush defense: 7th
Rush offense: 10th
Verdict: Tom Brady and Peyton Manning have faced off against each other 14 times in their careers. Brady has won 10 times. The previous two times they've met in AFC title games, the two have split the results. But while Brady forever seems to have a slight advantage against Manning, betters are putting their money on Denver. The original line for this game was Broncos -4.5, but Las Vegas has moved the line in order to get more money on New England. Don't be fooled. Brady might play well against the Broncos secondary, but Manning should toast the Patriots defense. And if Denver jumps out to a 24-0 lead, the same way the Broncos did earlier in the season, don't expect the Patriots to make a second-straight miraculous comeback. Go with the Broncos. 
Game Two: Seahawks -3.5 vs. 49ers
Sunday, 6:30 p.m. ET, CBS
2013 Against The Spread

Overall: 11-5
Overall: 10-5-1
Home: 5-3
Home: 4-4
Away: 6-2
Away: 6-1-1
2013 Team Rankings


Pass offense: 24th
Pass defense: 2nd
Rush offense: 6th
Rush defense: 20th
Pass defense: 3rd
Pass offense: 22nd
Rush defense: 7th
Rush offense: 3rd
Verdict: This game will be much closer than the last time these two squads met in Seattle when the Seahawks dominated 29-3 in Week 2. And though quarterback Russell Wilson hasn't played well lately, I still like Seattle to win a close one. Close enough, in fact, that I think San Francisco will cover the spread. But here's why I like the Seahawks to win. Their defense will hinder Colin Kaepernick -- who hasn't played particularly well vs. Seattle this season -- and the Seahawks run game will perform just well enough to advance the team to the Super Bowl.

Last week: 3-1 against the spread. Overall this year: 29-30 against the spread, 16-18 on prop bets. Last two years: 55-65 against the spread; 50-35-1 on prop bets.
See my picks and all the CBSSports.com experts here.

Follow Josh Katzowitz on Google+
Dak Prescott was efficient and explosive and DeMarcus Lawrence was dominant in the Cowboys...

The Dallas receiver threw up the X after his score, and he certainly deserved it

The singer sent a message with a verse of scripture on Monday night
The Cowboys owner joined in a demonstration with the Cowboys players before Monday night's...

Look for Ezekiel Elliott and Dak Prescott to rebound after a rough outing in Denver

Quarterback Russell Wilson was one of the chief proponents for the Seahawks staying in the...