NFL Division Power Rankings: AFC North up after AFC East sweep
The AFC North jumped up two spots in the division rankings after going 3-0 against the previous No. 1 division.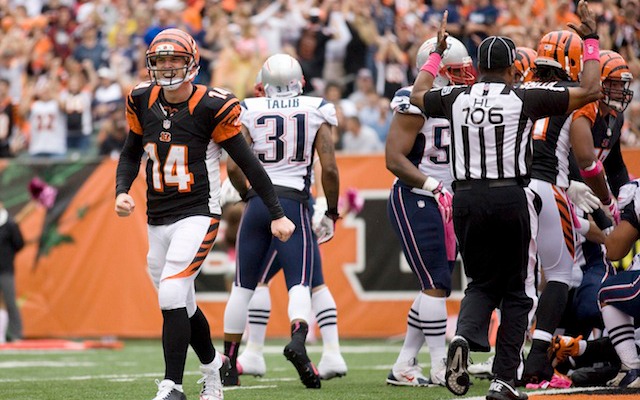 For the first time all season, the AFC East has lost multiple games to the same division in the same week. Sure, we expect that out of other divisions like the AFC South, NFC South and the NFC East, but that's not something we expect out of the AFC East. 
The New England Patriots , Miami Dolphins and Buffalo Bills combined to go 0-3 against the AFC North. It's hard to say which loss was the worst out of the three. Was it the Patriots not scoring a touchdown against Cincinnati? The Dolphins losing to a Baltimore Ravens  team that didn't have a passing touchdown? Or a Bills team that lost to Brandon Weeden after leading 24-17? Losing to Brandon Weeden is always bad. 
The bottom line is that the AFC East moved down in this week's division power rankings and that's mainly because we're blaming the New York Jets for injuring Julio Jones ' foot. I mean, someone has to take the blame for that injury. Now lets get to the rankings. 
NFL Division Power Rankings after Week 5
1. AFC West: Peyton Manning is the No. 1 quarterback on the No. 1 team in the NFL. And I figured it would only make the Denver Broncos sound better if they were playing in the No. 1 division. So the AFC West moves to No. 1 this week. Besides having two 5-0 teams, the AFC West also has 14 total wins, two more than any other division in the NFL. Last week's ranking: 2. (1-0 vs. AFC North, 3-3 vs. AFC South, 8-1 vs. NFC East)
2. AFC East: Going into Week 5, AFC East teams only had two combined out-of-division losses. If you're counting at home -- and I'm not sure why you would -- that's two losses in five weeks to other divisions. On Sunday, that total doubled, plus one. If you want to know which division to credit for making the AFC East look bad, credit the AFC North. However, don't credit the Pittsburgh Steelers , Ben Roethlisberger or anyone carrying a terrible towel because the AFC East went 0-3 against the AFC North while the Steelers were on a bye week. Last week's ranking: 1. (2-3 vs. AFC North, 6-1 vs. NFC South, 1-1 vs. AFC South) 
3. NFC West: Here's the weird thing you need to know about the NFC West: if the playoffs started after Week 5, the NFC West would get three teams in. That's right, not only would the San Francisco 49ers and Seattle Seahawks make it, but so would the Arizona Cardinals . And the crazy thing is, the Cardinals would play the Detroit Lions in the Wild Card round, a team Arizona already beat. Will the 3-2 Cardinals still be in the Wild Card hunt 11-weeks from now? My guess is no. Last week's ranking: 3. (2-0 vs. NFC North, 3-2 vs. NFC South, 4-2 vs. AFC South, 0-1 vs. NFC East)
4. AFC North: The AFC North made a statement in Week 5 and that statement was 'We're better then the AFC East.' The AFC North made another statement too and that statement was 'We only looked good this week because Pittsburgh didn't play.' The Steelers can help prove both statements this week because they play an AFC East team -- the Jets. Last week's ranking: 6. (3-2 vs. AFC East, 0-1 vs. AFC West, 1-1 vs. AFC South 2-3 vs. NFC North)
5. NFC North: This division has been impossible to figure out this year. One week, the Lions are losing to the Cardinals and in other weeks the Chicago Bears are scoring 40 on Pittsburgh, which is impressive because before the Bears 40-23 win over the Steelers in Week 3, no one had scored 40 or more on Pittsburgh since 2006. Give me one more week to figure out this division, but until then, they're ranked fifth. Last week's ranking: 5. (3-2 vs. AFC North, 0-2 vs. NFC West, 2-0 vs. NFC East, 0-1 vs. NFC South)
6. AFC South: Usually, if the best team in your division -- the Indianapolis Colts -- knocks off the Seahawks, that would be a reason to move your division up. However, that's not the case with the AFC South. The AFC South moves down this week because Ryan Fitzpatrick is bad, Matt Schaub is worse and Jacksonville is worse than Schaub and Fitzpatrick combined. Maybe it's time for the Jacksonville Jaguars to sign Tebow -- or at least someone that's not Blaine Gabbert or Chad Henne . Last week's ranking: 4. (3-3 vs. AFC West, 1-1 vs. AFC North, 1-1 vs. AFC East, 2-4 NFC West)
7. NFC South: If you don't count the New Orleans Saints -- and for fun, lets not count the Saints -- the NFC South is 2-11 this year. Not only that, but the Carolina Panthers lost to Arizona in Week 5 and the Atlanta Falcons lost Julio Jones for the season. The point here is if you're trying to make a pick this week and you don't know who to pick, pick against the NFC South team. Unless the NFC South is the Saints of course. Last week's ranking: 7. (1-6 vs. AFC East, 2-3 vs. NFC West, 1-0 vs. NFC East, 1-0 vs. NFC North)
8. NFC East: The best team in the division scored 48 points in Week 5 and still lost. That pretty much sums up the NFC East this season. That also kind of sums of Tony Romo 's career. What it doesn't sum up is the end to Inception. Was it a dream or not? Last week's ranking: 8. (0-2 vs. NFC North, 0-1 vs. NFC South, 1-8 vs. AFC West, 1-0 vs. NFC West)
The NFL could be in for a historic day on Sunday in the wake of Trump's remarks

Robert Kraft was 'deeply disappointed' in comments made by Donald Trump

Everything you need to know heading into Week 1 is right here
The Raiders are preparing in case their Vegas stadium is not ready by the 2020 season

'You really can't blame him,' one team source said. 'He hasn't really had any holes to run...

Evans has two years left on his deal and is a franchise tag candidate after that if no deal...