NFL Division Power Rankings: AFC South with ugly 0-4 week
Everything was ugly about Week 6 for the AFC South.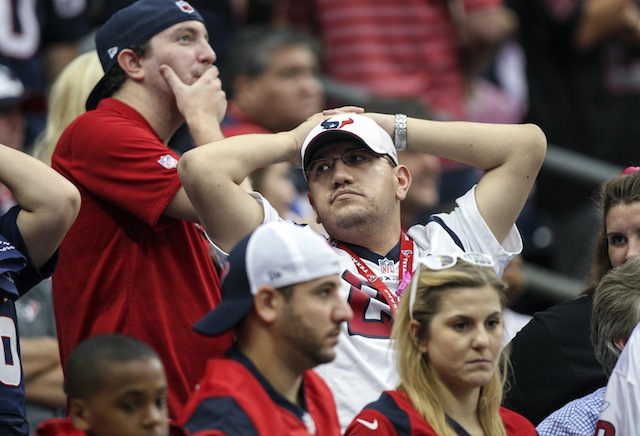 The Texans quarterback situation wasn't the only ugly thing about the AFC South in Week 6 because everything was ugly. The four teams in the AFC South combined to score a total of two offensive touchdowns, which probably explains why the division went 0-4.
It wasn't just the teams that were bad either, so were the fans, at least the ones in Houston. When Texans quarterback Matt Schaub went down with an injury in the second half, some Texans fans felt the urge to cheer. That's right, they cheered an injury. 
Just so you know Houston, the only time it's alright to cheer an injury is when it's happening to one of the Wet Bandits in the movie Home Alone. Otherwise, it's not OK. With that rant out of the way, lets get to the rankings. 
NFL Division Power Rankings after Week 6
1. AFC West: The Chiefs and Broncos are both 6-0. I'm only mentioning that because the last time two teams from the same division started a season 6-0 came in 1934. That was before the internet was invented. You'd be reading this on a piece parchment if this was 1934. Anyway, the point here is, in 1934, the Bears and Lions both started 6-0 and one of them went on to win the NFL title. There's a good chance the Chiefs or the Broncos go on to win the NFL title and I don't think it's going to be the Chiefs. Last week's ranking: 1. (1-0 vs. AFC North, 5-3 vs. AFC South, 8-1 vs. NFC East)
2. NFC West: The Rams were outgained by over 200 yards against the Texans on Sunday and still won by 25 points. That alone convinced me to move the entire division up one spot. Actually, I just wanted to talk about the Rams because I feel like I always ignore them. Speaking of the Rams, a win over Carolina this week would put St. Louis over .500 through seven games for the first time since 2006. Last week's ranking: 3. (2-0 vs. NFC North, 3-2 vs. NFC South, 6-2 vs. AFC South, 0-1 vs. NFC East) 
3. NFC North: The NFC North jumped up two spots this week, making the biggest move in the rankings. What do you have to do to move up two spots in the rankings? You have to not lose to Brandon Weeden (Check, thanks to the Lions). You have to not lose to the winless Giants (Check, thanks to the Bears). And you have to beat Baltimore in a game that both teams needed to win (Check, thanks to the Packers). Last week's ranking: 5. (5-2 vs. AFC North, 0-2 vs. NFC West, 3-0 vs. NFC East, 0-2 vs. NFC South)
4. AFC North: There are no more winless teams in the AFC North thanks to Steelers defensive coordinator Dick LeBeau. LeBeau doesn't lose to rookie quarterbacks and he proved that against the Jets. Since 2004, LeBeau is 15-2 when the Steelers play a team starting a rookie quarterback. The only problem for the Steelers is that unless EJ Manuel hurries up and gets healthy, there's no more rookie quarterbacks left on the schedule. Last week's ranking: 4. (5-2 vs. AFC East, 0-1 vs. AFC West, 1-1 vs. AFC South 2-5 vs. NFC North)
5. AFC East: If you feel like the AFC East is ranked lower than usual this week, that's because it is. The division was a last second Tom Brady touchdown pass from completely embarrassing itself in Week 6. But Tom Brady never embarrasses himself: he lives in a house with a moat, has a supermodel wife and wears Uggs. Nothing is embarrassing about any of that. Also, I'm no longer rewarding the AFC East for padding its record against the NFC South. Last week's ranking: 2. (2-5 vs. AFC North, 7-1 vs. NFC South, 1-1 vs. AFC South)
6. AFC South: If you're wondering where the AFC South is as a division right now, just think about this: the best game of the week by any team in the AFC South was played by the Jacksonville Jaguars. Now someone in Ryan Fitzpatrick's family might try and argue that Tennessee had a better game against the Seahawks, but they didn't. The Titans only touchdown came when the Seahawks backup holder bobbled a snap on a field goal, then picked the ball up, then fumbled it, then watched as the Titans returned it 77-yards for a score. All that bobbling and mistake-making sounds like something the Jaguars would do. Last week's ranking: 6. (3-5 vs. AFC West, 1-1 vs. AFC North, 1-1 vs. AFC East, 2-6 NFC West)
7. NFC South: The only reason I paid attention to the NFC South for the past three weeks is because I wanted to know what would happen first: a New Orleans loss or a Tampa Bay win. With that question now answered, I'm not sure I'll be watching anymore NFC South games this year. Although I may keep watching the Buccaneers because there seems to be something interesting coming out of Tampa Bay every week. Last week it was a Backstreet Boy going on Twitter and telling everyone he wants Greg Schiano fired. Last week's ranking: 7. (1-7 vs. AFC East, 2-3 vs. NFC West, 1-1 vs. NFC East, 2-0 vs. NFC North)
8. NFC East: For only the third time this season, an NFC East team beat a team from another division. That's right, through six weeks, the four teams in the NFC East have combined for three wins against other divisions. And the wins aren't even that impressive, Philadelphia beat the winless Buccaneers, Dallas beat the Rams and Washington beat the Raiders when MATT FLYNN WAS STARTING. Basically, what I'm trying to say is: if you're in a survivor pool this year, your best strategy is picking against the NFC East. Last week's ranking: 8. (0-3 vs. NFC North, 1-1 vs. NFC South, 1-8 vs. AFC West, 1-0 vs. NFC West)
If you think I have the NFC East too high or you want to tell me your favorite scene from Home Alone, feel free to let me know on Twitter or in the comment section.
SportsLine's Mike McClure, a DFS pro with more than $1M in winnings, gives optimal lineup...

The Chargers are hoping that Philip Rivers can play on Sunday

This is the biggest showdown of the week in the NFL
The battle between the Rams' offense and Vikings' defense will be waged in the middle of the...

An 'inappropriate' comment by the Cowboys' owner was caught on video in 2013

Here's every official injury designation for each NFL team for Week 11