NFL Division Power Rankings: AFC West with rare 4-0 week
For only the second time since 2005, all four teams in the AFC West won in the same week.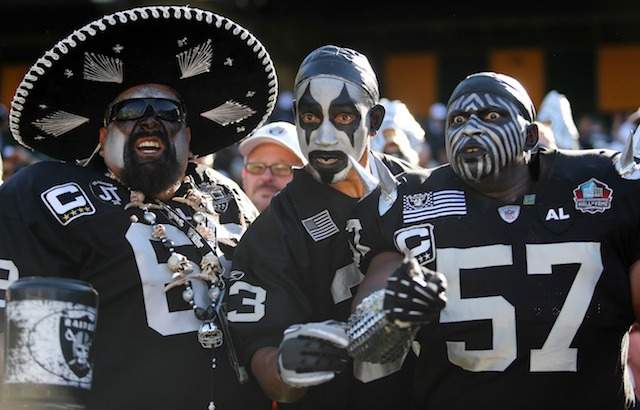 In 2010, the NFC West had zero teams above .500. In 2011, the AFC West had zero teams above .500. Basically, the NFL could've contracted all of the teams West of the Rocky Mountains and no one would've probably noticed. 
That's not the case anymore though. Not only is the NFC West is in its second year of arguably being the best division in football, but we might have a new rising power in the AFC West. 
If you looked at the NFL's final scores after Week 2, you probably spit out your coconut water when you saw that the Denver Broncos , Kansas City Chiefs , San Diego Chargers and Oakland Raiders all won. Sure, the Broncos win wasn't that surprising, but the AFC West going 4-0 was. According to the Elias Sports Bureau, Sunday marked only the second time in eight years the division went 4-0 in a week. The only time it's happened in the last eight seasons was in Week 2 of 2010. 
For its impressive showing, the AFC West was rewarded handsomely this week in the Division Power Rankings. Obviously, handsome is a subjective term, so we'll use my definition. 
NFL Division Power Rankings after Week 2
1. NFC West: As far as I know, the NFC West was the only division to set any Guinness World Records on Sunday, Seattle Seahawks fans are now officially the loudest sports fans in the world, so that counts for something. Also, the Arizona Cardinals quietly had an impressive win over the Detroit Lions . It's way early, but all of the sudden, three NFC West playoff teams doesn't seem like such a crazy thought. Last week's ranking: 1. (2-0 vs. NFC North, 1-1 vs. NFC South)
2. NFC North: Chicago Bears fans love it when you talk about the Bears and say nice things, so I'm going to talk about the Bears and say nice things. Jay Cutler has led two fourth quarter comebacks in two weeks, I didn't think Cutler was capable of clutchness, but apparently he is. That should worry all the other teams in the NFC, but only kind of worry them because Cutler still throws a lot of very Cutler-like interceptions. Last week's ranking: 2. (1-0 vs. AFC North, 0-2 vs. NFC West, 1-0 vs. NFC East)
3. AFC West: Here's the only problem with the AFC West: the division has a total of six wins and five of those wins have come against either Jacksonville (2) or the NFC East (3). Not exactly impressive. And thanks to whomever makes the NFL schedule, we won't learn anything new this week unless San Diego goes on the road and beats down Tennessee. Lets hope that happens, because I want to like the AFC West. Last week's ranking: 7. (1-0 vs. AFC North, 2-2 vs. AFC South, 3-0 vs. NFC East)
4. AFC East: The Miami Dolphins are one of three teams in the NFL ( Minnesota Vikings , Tennessee Titans ) who opened the season with two road games. The Dolphins won both, so I'm rewarding the entire division. The New England Patriots do just enough to win. The Buffalo Bills are five seconds and a field goal against New England from 2-0 and the New York Jets have one win which is one more win than 97 percent of the country thought they would have after two weeks. This division continues to surprise. In a good way. So the AFC East moves up this week. Last week's ranking: 5. (1-0 vs. AFC North, 2-0 vs. NFC South, 1-0 vs. AFC South)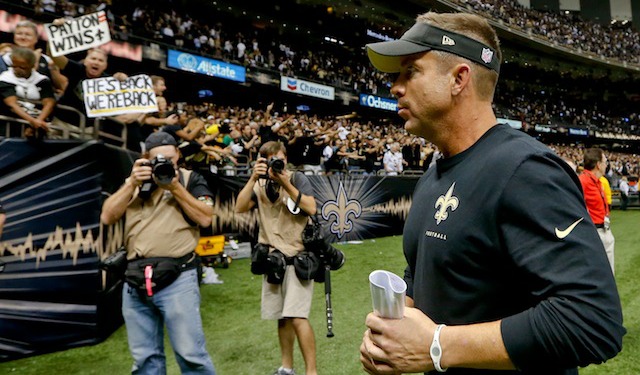 5. NFC South: This is the pity division because you really should feel kind of sorry for them. The Carolina Panthers and Tampa Bay Buccaneers are a combined 0-4 and they've lost those four games by a total of nine points. Another team you should feel sorry for? The Atlanta Falcons . And that's mainly because it seems like everyone on Atlanta's roster got injured against the St. Louis Rams on Sunday. Not everyone did get injured, but it seemed that way. On the other hand, you don't have to feel sorry for the New Orleans Saints . Sean Payton wouldn't want you too. Last week's ranking: 4. (0-2 vs. AFC East, 1-1 vs. NFC West) 
6. AFC South: If the Jacksonville Jaguars weren't in this division, I'd be inclined to rank the AFC South slightly higher. But the Jaguars are in this division and there's nothing anyone can do about it unless you know Roger Goodell and he owes you a favor and you decide for some reason you want that favor to be the Jaguars out of the AFC South. That would be a weird favor, but if it happens, I'll rethink the AFC South's ranking. Last week's ranking: 6. (2-2 vs. AFC West, 1-0 vs. AFC North, 0-1 vs. AFC East)
7. NFC East: There's really only one solid rule in the division power rankings: if your division goes 0-4, it's going to fall far, it's going to fall fast and it's going to land on something painful. My colleague, Will 'The Thrill' Brinson, already took the NFC East to task this week, so I won't pile on because I got injured once in a pile-on. However, you can read Brinson's cold-hearted takedown of the NFC East here. Last week's ranking: 3. (0-1 vs. NFC North, 0-3 vs. AFC West)
8. AFC North: If you got to vote on the two ugliest games of Week 2, Cincinnati Bengals - Pittsburgh Steelers and Cleveland Browns - Baltimore Ravens would be on the top three games on everyone's ballot. It would be unanimous. The only other game in the conversation would be Raiders-Jaguars. The AFC North still doesn't have any wins against any other division and when they all played each other in Week 2, it was like watching a cat watch a monkey watch paint dry on a black-and-white television. It was ugly.  Last week's ranking: 8. (0-1 vs. AFC East, 0-1 vs. AFC West, 0-1 vs. AFC South 0-1 vs. NFC North)
Nearly 17,000 fans want the Packers to sign Colin Kaepernick

Backup quarterback Brett Hundley will fill in for Rodgers as he recovers from a broken col...

SportsLine's Mike McClure has made over $1M playing DFS and gives his best cash game lineup...
SportsLine's Nick Kostos wins big on Monday nights and gives his best three-team parlay for...

Belichick has always had the magic touch, but some of his offseason moves might backfire on...

Week 6 in the NFL was filled with shocking results. Let's go that route with this mock dra...