NFL Division Power Rankings: AFC's 0-4 evens interconference mark
The NFC and AFC have played 46 times through 10 weeks this season and neither has dominated. As a matter of fact, the two conferences have each won 23 games so far this year.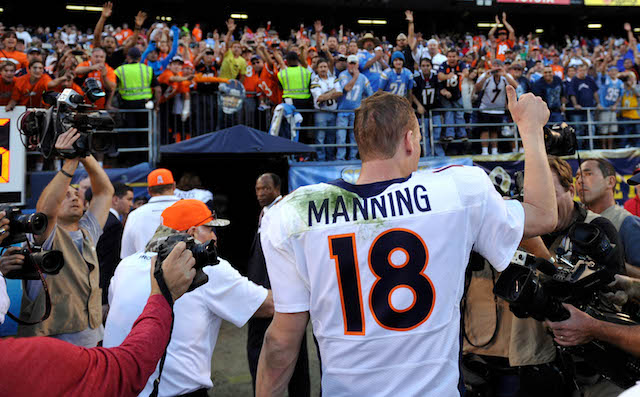 After 10 weeks, the balance of power in the NFL has officially shifted to the AFC. Actually, I mean the NFC. Wait, that's not right either, the NFC's horrible. Or is the AFC horrible? Or are they both horrible? Or are they both good? This is so confusing.
The reason it's confusing is because the balance of power in the NFL is exactly balanced right now as far as AFC vs. NFC games go. 
The NFC went 4-0 against the AFC in Week 10, which evened interconference play at 23-23. That's a far cry from six weeks ago: After Week 4, the AFC had a lopsided 15-7 advantage over the NFC. 
I might actually watch the Pro Bowl this year so I can decide which conference is better, so Roger Goodell's plan is working. Anyway, I can't rank conferences right now, but I can rank divisions, so lets get to the rankings. 
NFL Division Power Rankings after Week 10
1. AFC West: Usually I only talk about non-division wins here, but I'm going to make an exception because of Peyton Manning. I know, we're all getting tired of people making exceptions for Peyton Manning -- especially the refs -- but hear me out. The Broncos win over the Chargers on Sunday was Manning's 12th straight divisional win, that's the second longest divisional win streak for a quarterback since the AFL-NFL merger in 1970. The only longer streak belongs to Jim McMahon, who won 19 straight division games from 1983-87 in the NFC Central. Last week's ranking: 1. (3-0 vs. AFC North, 7-4 vs. AFC South, 9-4 vs. NFC East, 1-0 vs. AFC East)
2. NFC West: The 49ers were the only NFC West team to lose in Week 10, which brings us to our weekly trivia question that actually isn't weekly because this is the first time I've ever done it. Here's the question: When was the last time Seattle, Arizona and St. Louis all won in the same week San Francisco lost? Answer: Pat yourself on the back if you guessed Week 3 -- IN 2010! Last week's ranking: 2. (2-0 vs. NFC North, 6-4 vs. NFC South, 10-3 vs. AFC South, 0-1 vs. NFC East)  
3. NFC North: If you were playing "Quarterback Injury Bingo" in Week 10 -- which I don't think actually exists -- but if it does, then the NFC North won you some serious money. Jay Cutler, Seneca Wallace and Christian Ponder all started but didn't finish games. I'm going to leave the NFC North at No. 3 for one more week, but if the division goes 1-3 or worse in Week 11, it's going to fall next week and I'm not going to feel bad about it. Although, I must say, if you use your "Quarterback Injury Bingo' winnings to bribe me to keep the NFC North at No. 3 next week, it might work. Last week's ranking: 3. (6-3 vs. AFC North, 0-2 vs. NFC West, 5-4 vs. NFC East, 0-2 vs. NFC South)
4. AFC North: The only non-divisional thing that happened in the AFC North in Week 10 was Pittsburgh beating Buffalo. Yawn. Lets watch a GIF of Andy Dalton's Hail Mary to spice things up. Last week's ranking: 5. (7-4 vs. AFC East, 0-3 vs. AFC West, 1-1 vs. AFC South, 3-6 vs. NFC North)
5. AFC East: There's a new rule in the division rankings and that rule is if any team in your division rushes for 2 yards or less in a game, your division is moving down in the rankings. I was going to make a list of all the NFL players who individually rushed for more than the 2 yards the Dolphins rushed for as a team in Week 10, but that list would've been 80 players long and you probably would have stopped reading halfway through. Instead, I'm just going to link to the list here. Last week's ranking: 4. (4-7 vs. AFC North, 8-3 vs. NFC South, 1-1 vs. AFC South, 0-1 vs. AFC West)
6. NFC South: I spent nine hours this week trying to decide which NFC South win impressed me the most in Week 10: New Orleans over Dallas, Carolina over San Francisco or Tampa Bay over Miami. In the end, I just ended up feeling sorry for Atlanta. Not only did the Falcons lose 33-10 to the Seahawks, but the the city lost the Braves to Cobb County. On a somewhat related note, I apologize for talking about baseball in the Divisional Power Rankings, it will never happen again. Last week's ranking: 7. (3-8 vs. AFC East, 4-6 vs. NFC West, 2-1 vs. NFC East, 2-0 vs. NFC North)
7. NFC East: The NFC East is going to need to do some soul-searching this week after its first place team lost by 32 points in Week 10. I'm not exactly sure how a division soul-searches, but I'm sure Nick Foles can figure it out. He seems to have everything else figured out, like how to play quarterback in the NFL. Last week's ranking: 6. (4-5 vs. NFC North, 1-2 vs. NFC South, 4-9 vs. AFC West, 1-0 vs. NFC West)
8. AFC South: The good news for the AFC South is that Jacksonville finally won. The bad news is that win came against another AFC South team. The other bad news is that Jake Locker's out for the year. Still more bad news is that the AFC South's first-place team lost by 30 to a Rams team that was 3-6 going into the game. And even more bad news is that the Texans fell to 1-4 in games decided by three points or less and have now lost seven games in a row. Last bit of bad news: The AFC South is still last in these rankings. Last week's ranking: 8. (4-7 vs. AFC West, 1-1 vs. AFC North, 1-1 vs. AFC East, 3-10 NFC West)
---
Follow John Breech on Google+
Everything you need to know about the Redskins-Saints matchup this weekend

Here's every official injury designation for each NFL team for Week 11

The Dolphins took another blow amid a rough stretch of football
Our computer model simulated every Week 11 NFL game 10,000 times with very surprising resu...

The NFL on CBS broadcaster also broke down the differences between Dak, Goff and Wentz

The Legion of Boom is getting older and injuries are taking their toll