NFL Division Power Rankings: NFC North keeps tumbling
Going into Week 10, the NFC North was flying high and ranked No. 3 in the Division Power rankings, then the wheels fell off the wagon. Now the division has reached a new low this week.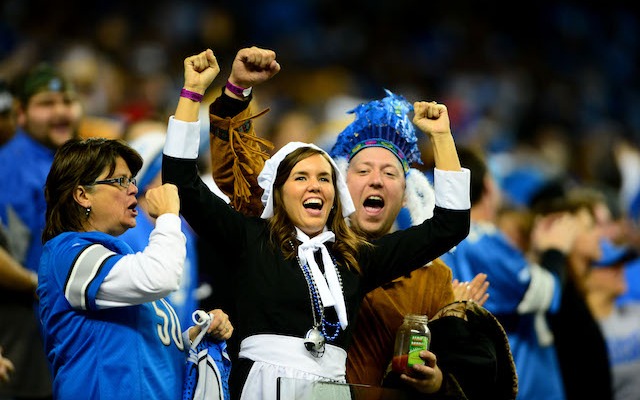 Aaron Rodgers and his fractured collarbone aren't just taking down the Packers, they're taking down an entire division. Four weeks ago, the NFC North was third in the Division Power Rankings, now they're seventh. 
How bad has the NFC North been lately? The Packers haven't won a game since Rodgers went down on Nov. 4. The Vikings are the only team in the NFL that haven't won a game on the road this season. The Bears just lost to the Vikings and the best team in the division, Detroit, was on a two game losing streak before beating those Aaron Rodgers-less Packers on Thanksgiving. 
This seems like a good time to wish Aaron Rodgers a Happy 30th Birthday. Although if he's been watching the Packers lately, it probably wasn't that happy of a birthday. 
Aaron Rodgers turns 30 today. Here he is in that youth soccer photo everyone had when they were a kid: pic.twitter.com/KbqeJiw5JO

— Andy Gray (@si_vault) December 2, 2013
Enough birthday talk, lets get to the rankings. 
NFL Division Power Rankings after Week 13 
1. NFC West: You remember what Bane did to Heinz Field in Dark Knight Rising? I'm starting to think that might be the only chance any team has of beating the Seahawks at home this season or in the playoffs. If Bane blew up the field in Seattle, I'm assuming the NFL would make the Seahawks play on the road because I don't see how you could play in a stadium with a giant hole in it. Speaking of playing in Seattle, the Seahawks can guarantee themselves a first-round bye and at least one home playoff game if they beat the 49ers in San Francisco on Sunday. Last week's ranking: 1. (4-0 vs. NFC North, 6-5 vs. NFC South, 12-3 vs. AFC South, 1-1 vs. NFC East)
2. AFC West: It was a bad week for the AFC West, unless you're Peyton Manning or Peyton Manning's teammate that is. Manning threw five touchdown passes against the Chiefs and he was able to do that even though he looks like a succulent baby lamb. That's my way of saying 'Lets watch this clip of Ron Burgundy interviewing Peyton Manning instead of talking about the AFC West's horrible week.' Last week's ranking: 2. (3-1 vs. AFC North, 8-5 vs. AFC South, 9-5 vs. NFC East, 1-2 vs. AFC East)
3. AFC North: Browns wide receiver Josh Gordon made NFL history on Sunday by becoming the first player to have consecutive 200-yard receiving games in the regular season, but that was only about the fifth biggest thing to happen in the AFC North in Week 13. The other four involve Mike Tomlin. Did Tomlin try to trip Baltimore kick returner Jacoby Jones? Did he not try to trip him? Should a flag have been thrown? Should the Ravens get rid of their JumboTron because it's too distracting to coaches? Hopefully Tomlin outdoes himself in Week 14. Last week's ranking: 3. (8-4 vs. AFC East, 1-3 vs. AFC West, 1-2 vs. AFC South, 4-7 vs. NFC North)
4. AFC East: Jets starting quarterback Geno Smith hasn't thrown a touchdown pass since October. It's December. So that's not good. Since Geno's last touchdown pass, Tom Brady has thrown 11, Ryan Tannehill has thrown eight and EJ Manuel has thrown four. Just to remind you, Manuel missed part of the season with a knee injury. I'm not sure what my point is here, but I think maybe I'm trying to say that if you watch the Jets this weekend... actually, just don't watch the Jets. It's painful. Last week's ranking: 4. (4-8 vs. AFC North, 8-6 vs. NFC South, 2-1 vs. AFC South, 2-1 vs. AFC West)

5. NFC South: If you decide you want to vote Cam Newton to the Pro Bowl this season, you should vote him in as a running back instead of a quarterback. Newton has been the leading rusher for both teams in each of the Panthers last three games. As for the rest of the division, the NFC South isn't being punished this week for the Saints loss in Seattle because if I punished every division every time one of its teams lost in Seattle, everyone would be tied for last place because the Seahawks haven't lost at home since their 2011 regular season finale. Also, the Falcons won a game in Canada, meaning the NFC South wins the coveted Canadian Trophy this year for being the only division to win a game in Canada. The Canadian Trophy is like the Lombardi Trophy, but not really. Last week's ranking: 5. (6-8 vs. AFC East, 5-7 vs. NFC West, 2-1 vs. NFC East, 3-0 vs. NFC North)
6. NFC East: Here's your weird Nick Foles fact of the week: Of the 16 touchdown passes Foles threw before Sunday, none of them came at home. That's right, Foles threw 16 touchdown passes on the road and zero at home. Foles' six-yard touchdown pass to tight end Zach Ertz in the first quarter against the Cardinals was his first touchdown pass in Philadelphia since December 2012. Foles ended the game with three total touchdown passes against Arizona and Chip Kelly was so thrilled with the home touchdown passes, he decided to make Foles the starting quarterback for the next 1,000 years. That's pretty solid job security. By the way, the 'weird Nick Foles fact of the week' isn't actually a weekly thing, but I might make it one soon if he keeps throwing home touchdown passes. Last week's ranking: 7. (5-5 vs. NFC North, 1-2 vs. NFC South, 5-9 vs. AFC West, 2-1 vs. NFC West)
7. NFC North: Is your name Matt? Can you play quarterback? If you answered 'Yes' to both questions, you might be able to play quarterback in the NFC North. In Week 14, the NFC North could have three starting quarterbacks named Matt on the field. Matt Flynn, Matt Cassel and Matt Stafford could all be starting on Sunday. As for the state of the division: The NFC North can basically be summed up by the fact that I had as many pieces of pumpkin pie as the Packers had first downs (7) on Thanksgiving Day. Seven pieces may seem like a lot of pumpkin pie, but it's really not when you spread it out over eight hours. Anyway, lets all eat leftover pumpkin pie this week and keep our fingers crossed that the Lions sign Kickalicious, who was in Detroit for a tryout on Tuesday. Last week's ranking: 6. (7-4 vs. AFC North, 0-4 vs. NFC West, 5-5 vs. NFC East, 0-3 vs. NFC South)  
8. AFC South: If Houston had beaten New England on Sunday, the AFC South would have made the jump to seventh in the power rankings because that means Houston and Jacksonville would have won in the same week and Houston and Jacksonville winning in the same week would have been a minor miracle and minor miracles need to be rewarded. Unfortunately, the Texans blew a 17-7 halftime lead and lost. Houston's now one step closer to the No. 1 overall pick in May's NFL Draft, something that I think scared Marcus Mariota into staying at Oregon. Last week's ranking: 8. (5-8 vs. AFC West, 2-1 vs. AFC North, 1-2 vs. AFC East, 3-12 NFC West)
---
Follow John Breech on Google+ or you can even sometimes find him on Twitter
With their 2017 season basically over, it's time for Redskins fans to turn their attention...

The Eagles quarterback reaffirmed his faith and said he plans on coming back stronger than...

The Buccaneers are 4-9 and firmly out of the playoff mix, and now their best player is hur...
It might be time for Johnny Football to head to the Great White North

Rodgers has been out with a broken collarbone since Week 6

Mariota and left tackle Taylor Lewan both escaped serious injuries