NFL Divisional Playoffs: Colts at Patriots tickets for under $100
Fans aren't exactly clamoring to see Andrew Luck against Tom Brady. The Colts-Patriots game on Saturday is the only playoff game this week with tickets going for under $100.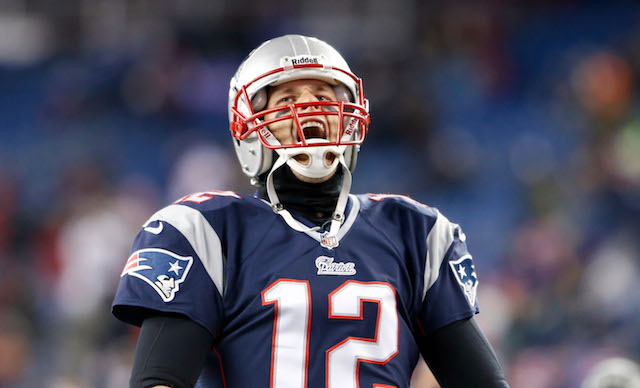 After 10 postseason appearances in the past 11 seasons, Patriots fans might finally be getting tired of going to playoff games. New England's game against Indianapolis on Saturday is the cheapest game to get into this weekend. 
You could blame the cold weather, but it's not suppose to be that cold. The low at Gillette Stadium on Saturday is expected to be around 50 degrees. That's practically tropical weather for New England in January, so don't forget to wear your bathing suit if you go. And I'm not saying wear your bathing suit because it's going to be warm, I'm saying wear it because it's going to be wet.
Atmosphere will be juiced up Saturday night! Timing of very heavy rain may be during #Patriots game. pic.twitter.com/Dc0eMs3qtt

— Eric Fisher (@ericfisher) January 9, 2014
The cheapest ticket to Saturday night's game is going for $70. That's tied with last week's Bengals-Chargers game for the second cheapest ticket of the postseason. Andrew Luck will probably make that $70 worth it when he brings the Colts back from 71 points down in the second half to win the game. 
Speaking of cheap tickets, the Saints game in Seattle will be the opposite of cheap. The lowest price for a ticket to see the Seahawks play on Saturday is going for $150. It gets worse too if you're someone who wants to go to the game, doesn't want to buy the cheapest ticket and happens to be on a budget.
The average ticket price for the game is $360. That's the second-highest average price for any divisional playoff game played since 2009, according to Ticketcity.com
Anyway, $150 to get into a playoff actually isn't that bad when you consider that tickets to see the Saints and Seahawks were more expensive during the regular season. When Seattle hosted New Orleans on Monday night in Week 13, the cheapest ticket to the game was $220.
The second most expensive ticket this week is in Carolina, where the Panthers will be hosting their first playoff game in five years. The Patriots have hosted six playoffs games since Carolina last hosted a postseason game in January 2009. 
Tickets to see the Panthers host the 49ers are going for as low as $140. If you need to eat cheap in Charlotte because you spent so much money on a ticket, there's a Waffle House four miles from Bank of America Stadium. Cam Newton ordered scrambled eggs there once. If scrambled eggs at Waffle House are good enough for Cam, they're good enough for you. Also, running back DeAngelo Williams got some teammates to sing with him at Waffle House once. Basically, if you go to a Panthers game, you have to go to Waffle House. And no, I don't get free waffles for saying this. 
Finally, if you want to see Peyton Manning play this week, it will cost you at least $120. That's the cheapest price for a ticket to see the Broncos host San Diego. Although Philip Rivers would probably prefer you spend that $120 on five Bolo ties. 
You guys DEMANDED IT! Here's my drawing of Philip Rivers rocking the Bolo Tie! For my beloved @Chargers GO BOLTS! pic.twitter.com/i9X14aU4CX

— Bobby Rubio (@Bobby_Rubio) January 7, 2014
Here's the lowest ticket price on Ticket City for each wild-card game as of 1:30 a.m. ET Thursday. The second price is the lowest price on the NFL ticket exchange run by Ticketmaster. Keep in mind, ticket prices change often.
1. New Orleans at Seattle: $150 -- $153
2. San Francisco at Carolina: $140 -- $150
3. San Diego at Denver: $123 -- $120
4. Indianapolis at New England: $80 -- $70
---
Follow John Breech on Google+ or you can even sometimes find him on Twitter
It's unclear when Timmons, a free-agent signing in the offseason, will make his Dolphins d...

The 'Peanut Punch' is coming to the FBI

Wondering which NFL team are going to win in Week 3? You came to the right place
Carl Johnson, the NFL's former VP of officiating, is facing domestic violence allegations in...

The Falcons look like a team capable of repeating as NFC champions and returning to the Super...

After two consecutive weeks of ineptitude on offense, Giants fans are already sick of Ben...