NFL Divisional Playoffs via Twitter: Peyton Manning likes Omaha
Peyton Manning likes to yell 'Omaha' before offensive plays. Twitter noticed and the jokes started.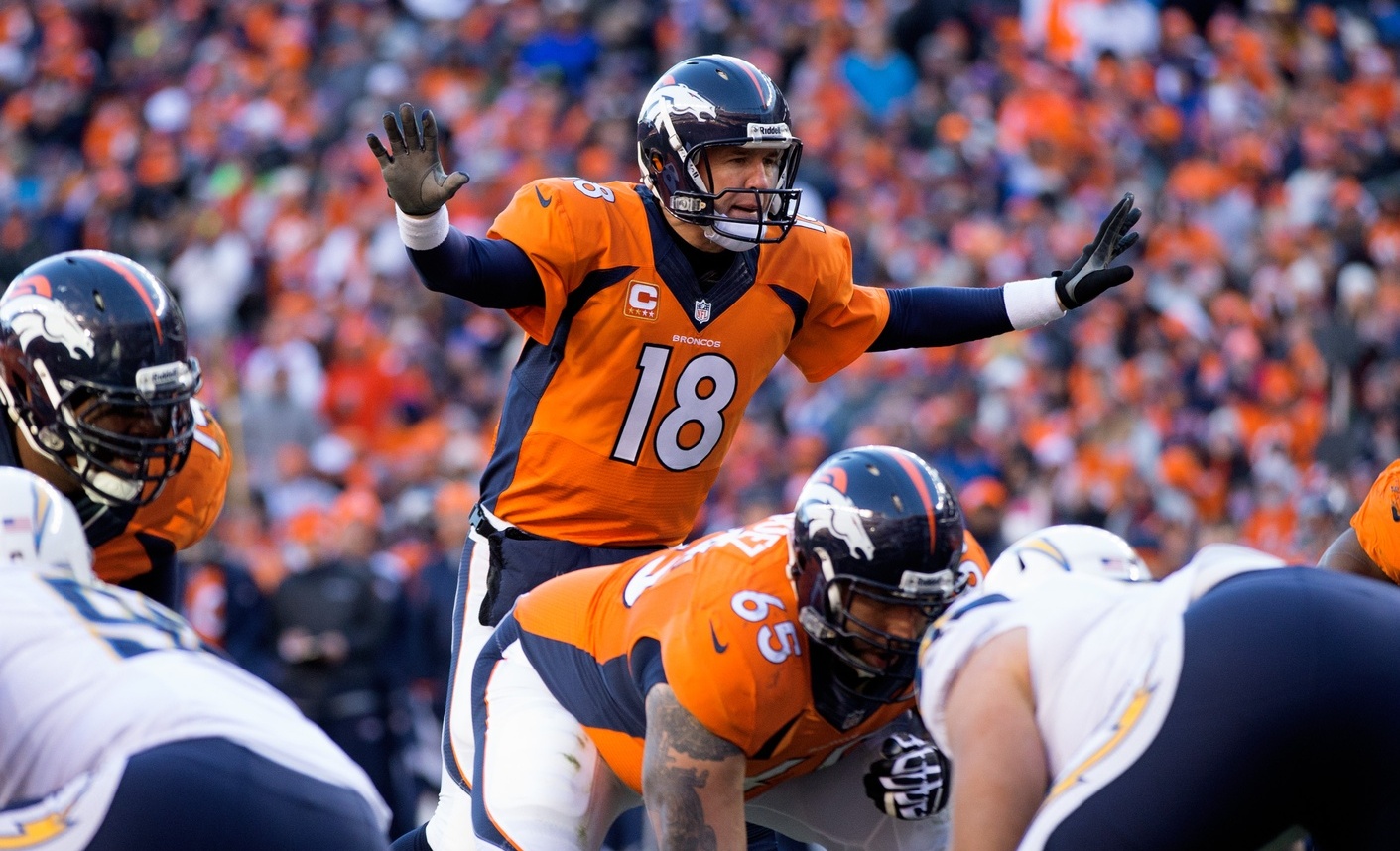 Peyton Manning is arguably the most audible quarterback pre-snap in the NFL. The CBS broadcast always pumps up the volume allowing viewers to clearly hear what Manning is calling out. Manning's go to read is "Omaha, Omaha." Twitter users noticed this call.
We certainly appreciate all the love from #PeytonManning :) #OmahaOmaha

— Official Omaha Info (@VisitOmaha) January 12, 2014
As Peyton Manning lies on his deathbed, he pulls brother Eli in close. "Omaha," he whispers, "Omaha.."

— Nimbly Bimbly (@Sam_Alan33) January 12, 2014
I'm going to walk around my house the rest of the night just yelling #Omaha #Omaha ...

— Erik from @JetsTwit (@e_man) January 12, 2014
Imagine if you're watching this game and your dog's name is Omaha, poor dog is so lost

— Hayden Weaver (@HAYDENparker22) January 12, 2014
#Omaha is a USA trending topic on Twitter. Imagine trying to figure that one out if you weren't hearing Peyton Manning scream it every play.

— Rex Hammock (@R) January 12, 2014
I hope Peyton buys the Chargers entire D line plane tickets to Omaha after the game.

— Meesh (@HockeyMeesh) January 12, 2014
% of people who say Omaha #Broncos pic.twitter.com/p2qRGKCI6N

— NFLTALKRT (@NFLTalkRT) January 12, 2014
Since Peyton Manning began yelling "Omaha!" as an audible, tourism to Omaha has tripled. Last year they had three tourists.

— Ethan Booker (@Ethan_Booker) January 12, 2014
NFL fans probably wish the referees would disappear to Omaha for all of eternity, never to be heard from again.
Please don't ask me what is going on cuz I have no idea.

— Mike Pereira (@MikePereira) January 13, 2014
Once again, nobody, including the refs, knows what the hell a catch is.

— Josh Katzowitz (@joshkatzowitz) January 12, 2014
They even get the calls wrong WITH replay. Unbelievable.

— Jimmy Traina (@JimmyTraina) January 12, 2014
Refs 6 Panthers 0

— World of Isaac (@WorldofIsaac) January 12, 2014
Flags on flags on flags

— Pam Chvotkin (@reddusfoximus) January 12, 2014
Flag on Harbaugh for continuing to wear those damn pleated khakis.

— Amanda Rykoff (@amandarykoff) January 12, 2014
Cam Newton's flop drew a round of applause from Twitter.
Cam will be hearing from league offices. flop warning hahahaha

— Stephen Curry (@StephenCurry30) January 12, 2014
Best performance of Swan Lake I've ever seen

— Bobby Big Wheel (@BobbyBigWheel) January 12, 2014
Cam Newton flop of the century.

— Chris Cwik (@Chris_Cwik) January 12, 2014
That flying sack Ahmad Brooks just tried? He did it - successfully - years ago at Virginia http://t.co/7JDNnGAt7i

— Alex Riethmiller (@AlexRiethmiller) January 12, 2014
The Chargers' loss in one picture.
BOLT DOWN. A Chargers fan didn't make it to his hotel room at the Hyatt in Denver last night: pic.twitter.com/gb0criqmLh via @ChelseaRose_D

— Matthew T. Hall (@SDuncovered) January 12, 2014
Sadly, the bolo tie revival died Sunday with the Chargers' defeat.
Friar's got his #BOLOtie on. Let's go @Chargers! #BoltUp #SDPride pic.twitter.com/cxcKEqzPF9

— San Diego Padres (@Padres) January 12, 2014
Bolo tie? More like bolo loss, amirite?

— We Take The Stairs (@NoEscalators) January 13, 2014
Some miscellaneous gems from Sunday:
Peyton Manning is 8:12 away from having as many playoff wins with the Broncos as Tim Tebow.

— Tom Fornelli (@TomFornelli) January 13, 2014
If Colin Kaepernick was wearing his helmet backward THAT would be unprofessional. And hilarious. Probably dangerous too.

— Tom Fornelli (@TomFornelli) January 12, 2014
Manti T'eo's girlfriend with a big special teams tackle on Eric Decker's return. #SDvsDEN #NFLPlayoffs

— Donnie Schemetti (@DonnieSchemetti) January 12, 2014
The Chargers knew Te'o wasn't right when his first question on the bench was "Does Lennay know I'm alright?"

— Hey, it's Matt! (@MBrooESQ) January 12, 2014
Sadly, I'm not programmed to analyze the classiness of a fake punt at the end of a game you already won.

— NYT 4th Down Bot (@NYT4thDownBot) January 12, 2014
Tim Tebow will remain the only Heisman QB to win a Playoff Game in the last 26 years

— NFL Stats (@NFL_Stats) January 12, 2014
Pick Six Newsletter
Get the day's big stories + fun stuff you love like mock drafts, picks and power rankings.
Please check the opt-in box to acknowledge that you would like to subscribe.
Thanks for signing up!
Keep an eye on your inbox for the latest sports news.
Sorry!
There was an error processing your subscription.
One Vikings player has now been suspended two different times this offseason

The Chiefs appear to be completely comfortable with the return of Tyreek Hill

Collins is taking the Lord Voldemort approach from the Harry Potter series with his former...
Not even leading the team in tackles guarantees you a spot on the Redskins' roster

The veteran receiver is getting the axe after just one season in Dallas

The Redskins running back seems to be in some financial trouble