NFL divulges draft's second- and third-round announcers
Here is the list of NFL alumni who will announce each team's second- and third-round NFL Draft picks.
• 1 min read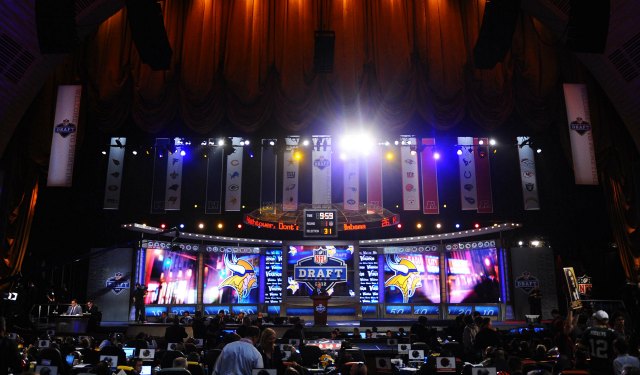 The 2013 NFL Draft occurs April 25-27.
(USATSI)
If you have a hankering to see some old friends announce their teams' picks in the second and third rounds of the NFL Draft, you're in luck. The NFL announced Wednesday the list of all of the NFL alumni who will be telling the world which team picked which player in prime time on April 26.
Here is the list (if there's an asterisk, that team does not currently have a second-round pick):

Arizona Cardinals, Larry Centers (FB)
Atlanta Falcons, Deion Sanders (CB)
Baltimore Ravens, Jonathan Ogden (OT)
Buffalo Bills, Chris Kelsay (DE)
Carolina Panthers, Mike Minter (S)
Chicago Bears, Neal Anderson (RB)
Cincinnati Bengals, Tim Krumrie (DT)
* Cleveland Browns, Dick Schafrath (T)
Dallas Cowboys , Tony Casillas (DT)
Denver Broncos, Randy Gradishar (LB)
Detroit Lions, Herman Moore (WR)
Green Bay Packers, Dave Robinson (LB)
Houston Texans, Steve McKinney (C)
* Indianapolis Colts, Tarik Glenn (T)
Jacksonville Jaguars, Mark Brunell (QB)
* Kansas City Chiefs, Gary Barbaro (DB)
Miami Dolphins, Larry Little (G)
Minnesota Vikings, Joey Browner (S)
New England Patriots, Kevin Faulk (RB)
* New Orleans Saints, Steve Gleason (S)
New York Giants, Rich Seubert (G)
New York Jets, Wayne Chrebet (WR)
* Oakland Raiders, Willie Brown (DB)
Philadelphia Eagles, Jeremiah Trotter (LB)
Pittsburgh Steelers, Merril Hoge (RB)
St. Louis Rams, Orlando Pace (T)
San Diego Chargers, Jim Hill (DB)
San Francisco 49ers, Guy McIntyre (G)
Seattle Seahawks, Isaiah Kacyvenski (LB)
Tampa Bay Buccaneers, Warren Sapp (DT)
Tennessee Titans, Keith Bulluck (LB)
Washington Redskins, LaVar Arrington (LB)
The NFC is going to be a blast to watch down the stretch

Someone apparently threw a drink at Jefferson as he left the field and he was not happy about...

All of the best highlights from Week 14 are right here
Wentz suffered a knee injury while diving for the end zone

Lewis among several coaches on hot seat, Cam's amazing run, and more from Week 14 in the N...

Here are the Week 14 grades for every team that played Sunday