NFL Draft smokescreens, draftable depth and tight-end breakdown
Let's cut through draft propaganda and see how deep some positions are and where the best tight ends can expect to be drafted.
More NFL offseason: Mock Drafts | Prospect Rankings | Pro days | Top free agents
Well, there's less than a week to go before the 2014 NFL Draft. Don't let clubs lead you to believe they aren't using the time to set up their final draft strategies.
Draftable depth by position
Pos.
Round 1-3
Round 4-7
Total
QB
7
6
13
RB
7
12
19
TE
5
10
15
WR
14
20
34
OT
9
10
19
OG
6
9
15
C
3
3
6
DE
10
10
20
DT
10
12
22
ILB
3
7
10
OLB
9
13
22
S
6
13
20
CB
12
18
30
TOTALS
101
147
249
This is smokescreen season.
General managers and coaches will tell the media and fans things like "We are taking calls about trading up and down," and "our draft board is set and we are ready to go."
There are the standard late rumors about risers and fallers. In the end, excited fans, a word of caution -- little of that information is valid. What still has value is more film study and less listening to propaganda.
With that in mind here is a continuation of my film evaluations. All I can offer is one man's opinion with the help of a few very qualified people who study the players.
Alongside is a general guide of what I perceive as the draftable depth at each position. It will be a factor for club decision makers as to when to take players in this draft.
It is important to realize the positions that don't have a large number of candidates in the first three rounds could cause teams to reach a little early in the draft.
Conversely, teams will wait on positions with large numbers in rounds 1-3 and still get a good player.
Tight ends in the draft
No position has more hybrids than tight end. Thirty years ago tight ends were glorified offensive linemen with few exceptions. Twenty years ago they were 50-50 receiver/blockers and most were strictly "in-line" players lining up next to offensive tackles. A decade ago saw the emergence of the hybrid and the rise of men with basketball skills. Today the question is can you find a guy who can do it all? For the past few months the draft talk has been about Eric Ebron in the first round and whoever comes next is anyone's guess. Here's a look at how the position is shaping up, including some film breakdown. I have interviewed many of the top tight ends and have a good feel for what they bring to the table. The Falcons, Bills, Packers, Chiefs, Dolphins, Jets, Giants, Steelers and Seahawks are all considering a tight end at some point in this draft and the pool will run dry quickly.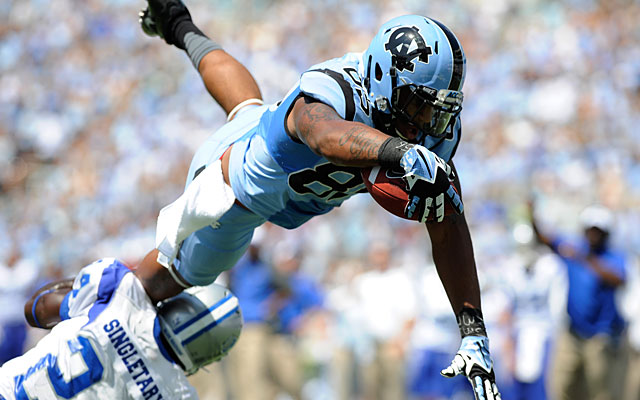 1. Eric Ebron, North Carolina: I watched Ebron's games against Miami and Cincinnati. He had 15 receptions for 277 yards and a touchdown. Ebron is talented and being portrayed as the next Jimmy Graham. He didn't score a touchdown in his final seven games but he is a matchup problem for any defense and should be drafted before No. 20 in the first round. Ebron is a slot tight end and no defense will see him as a man capable of run blocking at the point of attack and rarely used in pass protection. He is a fit with a team that is built on a passing attack.
2. Austin Seferian-Jenkins, Washington: The 6-foot-6, 271-pound Jenkins recently ran 4.56 and definitely got the attention of many clubs. He was trained in a pro offense under Steve Sarkisian and there's plenty of film of him run-blocking. As a receiver he did grab 146 passes and 21 touchdowns in his three seasons. I watched his final three games of 2013 (Oregon State, Washington State, BYU) when he had nine receptions and two touchdowns. I think in the NFL he has a chance to be a complete tight end and his basketball skills are visible on tape. In the right NFL offense -- like New England -- he could explode in production. I see him as an early second-round pick.
3. Jace Amaro, Texas Tech: Amaro had a breakout last season with over 100 receptions. He's a slot player with little to offer as a blocker. He is a solid route runner. The West Virginia and Oklahoma State games made me feel like he was a sure first-round pick with 24 receptions, 310 yards and three touchdowns. He tries to block effectively but he really is an oversized wide receiver and would be a great fit on a team playing 12 personnel (1 RB, 2TE, 2WR) as the move tight end. I see him as an early second-round pick.
4. C.J. Fiedorowicz, Iowa: I spent a week watching him at the Senior Bowl and was impressed with his all-around skills -- running routes, catching the ball and blocking. He is quicker than advertised and demonstrated a better ability to beat linebacker coverage. I watched Michigan and LSU tape (seven receptions, 98 yards, one touchdown) and some would label him a short possession type but he demonstrated at the Senior Bowl he can get up the seam. I like him more than Troy Niklas from Notre Dame and see him in the third round.
5. Troy Niklas, Notre Dame: I felt like he should have stayed in school another year after a decent 2013 but he told me he felt ready to come out. With just 37 receptions in his college career and some struggles as a pass blocker he needs time to develop. I watched the Pittsburgh game and he struggled with Aaron Donald when Donald moved out to end. He also had some problems with Stanford's Trent Murphy. I see him as a late third-round pick.
6. Arthur Lynch, Georgia: A great blocker and a solid player at the Senior Bowl. He had an impressive yards-per-catch average over the past two years at over 16 yards. I watched just about all of Georgia's games because of QB Aaron Murray and I saw a lot of Lynch. In Murray's final two games before his ACL injury Lynch caught eight passes, three for touchdowns. A team with a big emphasis on the run game and play-action passing will love this guy. He should be an early fourth-round type.
7. Crockett Gilmore, Colorado State: Gilmore is my under-the-radar tight end. He was a late entry to the Senior Bowl and impressed me. He was a better athlete than advertised and has the hands to snatch the ball. He is more than willing as a blocker and he has size. As a blocker you do see the former defensive end hand usage and ability to compete at the line of scrimmage. A smart team will not wait until the seventh round to take him.
The NFL on CBS broadcaster also broke down the differences between Dak, Goff and Wentz

The Legion of Boom is getting older and injuries are taking their toll

SportsLine's Mike McClure, a DFS pro with more than $1M in winnings, gives optimal lineup...
The Chargers are hoping that Philip Rivers can play on Sunday

This is the biggest showdown of the week in the NFL

The battle between the Rams' offense and Vikings' defense will be waged in the middle of the...