NFL Draft: Tape shows top-rated CBs Milliner, Rhodes are good, not elite
Alabama's Dee Milliner and Florida State's Xavier Rhodes are the top-rated CBs in the draft, but is either truly elite? Pete Prisco studies the tape and says both will be good, but don't expect great.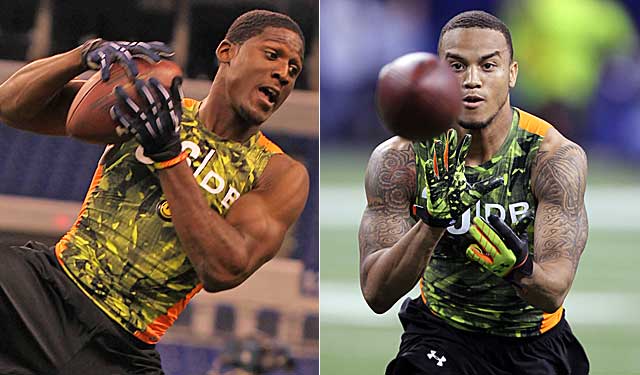 With all the rules that now favor the passing game, making it tougher and tougher on defensive players, finding an elite cover corner is seemingly a never-ending exercise for most NFL teams.
Where is the next Deion Sanders? Champ Bailey? Darrelle Revis?
That type of player takes the other team's best receiver in man coverage and allows freedom on the other side, in terms of rolling zones and double coverage that way.
The value, contrary to what some might think and say, is still high for that player. But if anybody thinks the top two corners in this year's draft are in that class, they are mistaken.
Alabama's Dee Milliner and Florida State's Xavier Rhodes are good, solid, prospects, but neither has the look of an elite corner.
Good, yes? Great? Don't see it. Not yet.
Most scouts and personnel people have Milliner ranked ahead of Rhodes. I prefer it the other way. But it's close.
I broke down both players over the past couple of weeks on tape and both came across as solid cover players, capable of playing man when asked to do so, and both are willing tacklers, although they aren't always great at it.
What I don't see is special cover skills from either, although I prefer Rhodes in man coverage.
I used four categories to compare them: Physical play, man-cover ability, zone-cover ability and which has the better upside.
1: Physical play
This is one thing you notice at times on tape from both. They will throw their bodies around in the run game or to come up to make plays on quick throws.
Rhodes might be a little more physical, but it's close. Alabama coach Nick Saban loves physical corners who tackle, and Milliner was a willing participant in the run game on tape I saw.
Both were solid when asked to play up near the line of scrimmage, though Milliner has a tendency to dive at runners' legs and get caught out of position more. Rhodes seems to have problems when the play goes away from him.
I had heard from some scouts that Rhodes wasn't good in the run game, which surprised me since he's 6-foot-2, 210 pounds. What I saw was a corner who was plenty good in the run game, when he was focused on it. It's not like he's afraid to hit somebody. He didn't always seem to be focused on it, maybe because he knows corners make their money in coverage.
Rhodes made a really nice play against Miami in the run game, one that showed off his ability to tackle. Miami ran at him, on the left side, and Rhodes beat the block of the fullback and dropped the back with a solo tackle for no gain. He did this type of thing a lot on tape I saw. When the play came at him, he was very good. He needs to refine his tackling technique, because he lunges at times. So does Milliner.
Milliner sometimes got caught up inside in the trash when he needed to stay outside. But both are big and physical enough to play in any style of defense in terms of the run game, though it'll take a little coaching to make them better.
Both are physical in coverage, but that's who Rhodes is as a corner. He loves to maul a receiver. Milliner can do it when asked, and did do it at times, but he's not as good at it yet as Rhodes.
2: Man-cover ability
Rhodes showed up more in this area on tape. He did a nice job in handling man coverage. He was smooth. He was physical in terms of getting his hands on the receiver and he anticipated routes better.
He used his long arms to get his hands on receivers at the line and carried with them down the field, almost too much at times. That's something he has to be careful with at the next level.
Milliner did some good things in man coverage, but I saw him get beat a handful of times because he allowed the receiver to get away from his jam near the line of scrimmage.
His footwork also cost him a touchdown against Michigan when Devin Gardner (then playing receiver) beat him on a corner route, when Milliner fell down, for an easy touchdown. He also was beat by Malcome Kennedy against Texas A&M on a similar move for a score, a play in which Milliner trailed Kennedy the entire time. Tennessee's Justin Hunter beat him on a crossing route for a big play as well in that game.
Milliner has good enough feet to become a solid man-coverage player, but must learn to backpedal better. That's not something he was asked to do a lot at Alabama. He did play the ball better in the air than Rhodes did.
Rhodes is a lot like the Seattle corners. He loves to get his hands on a receiver in press-man and turn and run with them, a la Richard Sherman and Brandon Browner of the Seahawks.
A lot of teams are looking for those types of corners, which is why Rhodes' value has risen. There were questions about his speed heading into the past two months, but he answered them by running 4.41 at the combine. Milliner, by the way, ran 4.31 at the combine. So both are fast enough and plays that way.
3: Zone-cover ability
Milliner seems to be more comfortable playing zone. That could be because they do it more at Alabama and he tended to make more plays when asked to play zone than did Rhodes.
At times, I thought Rhodes drifted too much and got caught out of position. But that's not what he is as a player. I think with more seasoning, he can be good at it. Remember he was a receiver when he came to FSU. He needs reps.
Nonetheless, there were several times when Rhodes seemed lost in zone coverage. He peeked into the backfield too much and paid for it.
For now, Milliner is the better of the two in zone coverage. But some scouts knock Milliner and Alabama corners in general because they play a lot of zone under Saban.
4: Upside
Milliner is the safer pick, but Rhodes might be the better selection because of Rhodes' ability to play more man coverage. I just think he's better at it, and he could be a lot like Seattle's Sherman. Milliner will be good. But I am not sure he can be elite.
"Look at the Alabama corners," one NFC personnel director said. "They struggle because they have a tough time adjusting to what the NFL wants."
Summary
Both of these corners should be gone in the first 15 picks. Both will be quality starters as rookies. But I prefer Rhodes largely because his skills remind me a lot of Sherman and Patrick Peterson of the Cardinals, two of the rising stars at the position.
The Chiefs took a big step toward winning the AFC West title

The Lions cruised to a victory but will need to win out to have any chance of reaching the...

Here's every official injury designation for each NFL team for Week 15
This might go down as the best catch of Week 15

Our computer model simulated every Week 15 NFL game 10,000 times with very surprising resu...

Ryan Shazier and the Steelers were the big winners in Pro Bowl voting that was unveiled on...