NFL Draft: Teams are already calling the Titans about the No. 1 overall pick
The Titans are already taking phone calls about the top pick in the NFL Draft.
When the Tennessee Titans hired Jon Robinson as the team's general manager last month, one of the first things Robinson did was let everyone know that the first pick in the 2016 NFL Draft is absolutely available. 
"We will look at any and all offers that come this way," Robinson said. 
One month later, it seems that a few teams have actually taken Robinson up on his offer. The Titans general manager revealed Monday that he's already fielded several calls for the top pick. 
"I've had a couple of conversations here and there. I think it is really more kind of exploratory at this point," Robinson said, via the team's official website.
Robinson also added that he expects talks to heat up with the NFL Combine about a week away.
"As we get a little bit closer, a little bit more through the process with the combine and interviews and pro days, I expect there will be a few more exploratory calls," Robinson said.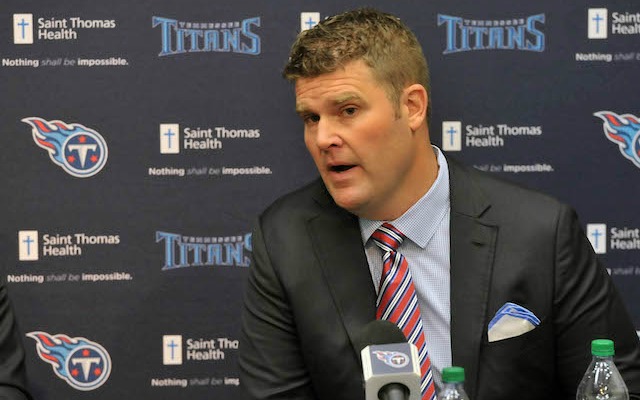 Of course, this is the NFL Draft we're talking about, so Robinson had to throw in a smokescreen. "And there may not be [any calls]. We'll see."
The Titans have a lot of holes to fill, so trading the top pick wouldn't be that crazy if they can get something of value return. However, getting value for the top pick isn't easy, which is one of the reasons why there hasn't been a trade at the spot since 2004, when Eli Manning was traded from the Chargers to the Giants. 
Since the Titans have the top pick, Robinson has been a popular person in Nashville lately. Apparently, fans all over the city are offering him draft advice. 
"I would say most of the public interaction has been, 'Hey, we're excited to have you here. We're excited about the future of Tennessee football,'" Robinson said. "Occasionally, they are quick to offer their pick. Some guy told me the other day, 'We need to take player X.' I kind of laughed and said, 'They're all under consideration at this point.' I think they kind of understand the poker game that goes with it."
As long as Robinson doesn't take advice from a homeless guy, like a certain unnamed NFL owner did in 2014, the Titans should be alright. The good news for Titans is that they don't need a quarterback, so moving down a few spots in the draft might end up being the most attractive option. 
The NFL Draft will be held April 28-30 in Chicago. 
The first-year cornerback has not been active in four weeks and drew a suspension earlier this...

McCown will help the coaching staff work with Bryce Petty and Christian Hackenberg

The Browns have a long way to go to be AFC North champs
Five selections against the spread for the upcoming Week 15 slate of NFL games

Here are 10 things to watch in Week 15, including a hot Bortles, a cold Brady and a new Eagles...

A couple of potential playoff teams have trouble covering against cellar dwellers in Week...