NFL execs say anonymous reports on Myles Jack overblown, 'disgusting'
Here's the reality on Myles Jack, one of the top prospects in the draft: His knee checks out and one NFL execs says these anonymous leaks are'disgusting.'
• 7 min read
For a few hours, I'll admit, I got caught up in it, too.
As the tweets and stories were flying around about Myles Jack's supposedly jacked-up knee coming out of his medical re-check ahead of the draft, and as the chatter in the scouting community was hijacked for a period of time by how far he might fall, I fell prey to the BS floating around.
I had a few conversations with scouts and execs in which I was already operating under the assumption that Jack was going to drop. Sadly, that's how it can tend to work this time of year, where perception and reality blur and the rhetoric and smears spread rapidly. And, sometimes, for a vacuum of a few hours or so, this little gossip circles turns particularly catty.
But then you start talking to people you really know and trust, to teams that aren't going to drafting an inside linebacker high but have nonetheless done all the work on him -- and whose doctors have read all the MRIs and accrued all the pertinent medical information.
And then you take a deep breath and you take a minute to sympathize with the kid in question -- Myles Jack in this case -- and you start to curse the kind of adult, whether it be the agent for a competing linebacker or an anonymous executive who is praying the kid falls to him, who would perpetrate the idea that Jack's knee was going to implode in the next 18 months.
You find yourself hating this time of year, and this silly pre-draft process, even more than you normally do, and you start counting down the days until the draft is over.
So, here is the reality on Myles Jack, according to numerous trusted sources who, again, don't have a vested interest in this other than the fact this find it detestable the kind of medical misinformation that gets so casually spread around in a cavalier manner every April.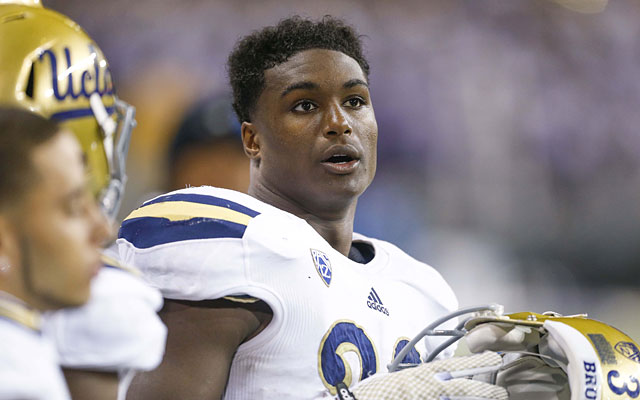 The timing of the UCLA linebacker's surgically repaired knee and recovery from a torn meniscus is not ideal -- and it's something teams are exploring and researching thoroughly -- but there are no indications it should significantly alter his draft status, according to those sources, and no concerns that he might have a truncated career because of it.
He remains one of the elite prospects in this draft, and while perhaps he ends up not going in the top five now (which was always a possibility, regardless), I didn't find a team who didn't believe he would be around outside the top 15, if not the top 10. He's still very much in consideration at the top of the draft, and while different medical teams certainly have some differing opinions about the scope of any projected recovery, the idea that Jack is now damaged good just did not jibe with anything I was hearing.
Here's one of the tweets that was floating out there about Jack: 
NFL source calls Myles Jack "a time bomb" whose knee could give him several good years, or not. Bone and cartilage starting to break away.

— Les Bowen (@LesBowen) April 18, 2016
"This Myles Jack stuff is getting blown way out of proportion," one NFL executive said. "I checked with our medical guys, again, and this stuff just is not true. It's not something we would be worried about. Some agent or some team must be behind it. We're not taking a linebacker there (in the first round), but if we were we wouldn't have any problems taking him. We passed him without any real issues. This kid is a great player. His change of direction is awesome. This is getting totally blown out of proportion."
Another high-ranking NFL executive: "Disgusting. There was a (different) leak last week about a top prospect and a procedure he had. The fact that the procedure happened in high school was buried in the report."
Another personnel exec: "If you get a feel for who has killed Jack for his medical, let me know. That kid is a player. We hope he falls to us."
Yeah, this is fairly ugly and nefarious, but unfortunately it comes with the territory. Jack's agent, John Thornton, posted some compelling video of Jack doing some fairly super-human things on Twitter.
Video of @MylesJack this morning in AZ after an intense workout with the Jags Saturday night in LA. Easy pic.twitter.com/zhRcptdu2J

— JohnThornton (@JohnThornton) April 18, 2016
Thornton also shared his thoughts on the stuff floating around about his client.
I wish these doctors/trainers would have shared concussion info like they are sharing "alleged" Myles Jack knee info ? #TheShield

— JohnThornton (@JohnThornton) April 18, 2016
In the end, thankfully, this won't really matter.
Smart NFL teams avoid this kind of stuff, sort through the baloney and groupthink and rely on their scout's eyes and their doctor's internal medical reports to make these decisions. Fact is, no NFL player is guaranteed a long career, many of these players have already been pushed to the limits, physically, by the college programs with no compensation and they enter the NFL with plenty of tread on their tires. If you get five quality years out of them on their rookie contracts, that's hardly the end of the world for general managers. The risks here are very real and well known.
I would not be surprised at all to see a team like Jacksonville still take Jack inside the top five. He's a proven playmaker and one of the standouts in this draft. I just hope his knee doesn't spontaneously combust as he walks across the stage to shake Roger Goodell's hand when his name is announced.
Re-checks not so good for Notre Dame's Jaylon Smith
Sadly, the medical re-checks to affirm some significant red flags for other players. Notre Dame linebacker Jaylon Smith, who suffered nerve damage playing in a meaningless bowl game, got bad news as the check solidified the fact he would not be playing football in 2016. Back at the combine several teams had already projected he would not be able to play this upcoming season, and that's the consensus following the re-check.
This kid was a top-five pick prior to the injury, which happened in literally his final college game, and a week ago I would have still projected him to have gone in the first round. Following the re-check, I don't feel as strongly about that, though I do remain hopeful for him.
"At this point you would really even still have to hope he is ready for the start of 2017," one executive told me. "That's not a given at this point. It's pretty bad."
There are concerns about nerves healing and drop foot. The kid is such a special player, maybe someone like a John Schneider in Seattle or a Ted Thompson in Green Bay sees so much future value in him they opt to basically use their first-round selection on a redshirt year, but that's anything but a given at this point.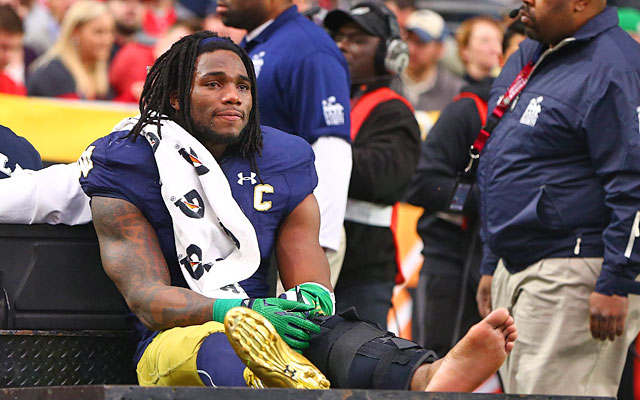 Teams will need to be patient with Karl Joseph
West Virginia safety Karl Joseph missed most of the season after suffering a knee injury in a non-contact drill, robbing him of his senior season after opting to stay in school. That knee is still a concern for NFL teams, including some that are considering him late in Day One or early in Day Two.
"He's going to need to miss some time," this exec said. "It's really on us (the NFL teams) and not him. There's no patience in this league. We hear the kid would probably be ready by Week 4, which is not a lot of time in the scope of his career, but we all want a kid who can step in and be ready for camp and play Week 1."
Teams are broken up into tables during the combine with those medical staffs sharing information as they come up with projections for players' health. There are ratings issued based on risk from 1-5, with 5 being the most troublesome designation.
Several teams said Smith is a 4 or a 5, while Jack had a rating of 3, which means they need to see the re-check information but there was not serious concern about the injury.
Joseph was listed as a 3B by one team, which showed slightly more concern but not to the extent of a player with a 4 or 5 rating. According to execs, those with the 4 or 5 designation would have the biggest risk of the medical greatly impacting the player's draft status.
Teams secretly high on safety Vonn Bell
Speaking of safeties, a lot of teams like Ohio State safety Vonn Bell more than is probably being represented in most mock drafts. He's in play for the first round.
Beckham got injured during the 2017 preseason and then fractured his ankle after just four...

The Eagles were one of the most aggressive teams in the NFL in 2017, and it helped them win...

The ex-Dolphins offensive lineman was detained over a threatening social media post
The Titans are getting ready to unveil a uniform that won't be 'anything close' to any other...

The NFL announced on Friday that 32 compensatory draft picks have been awarded to 15 teams