NFL Expert Picks: Who will be breakout player of the year?
CBSSports.com experts pick who they think will be the breakout player of the year
by

Eye on Football staff

• 1 min read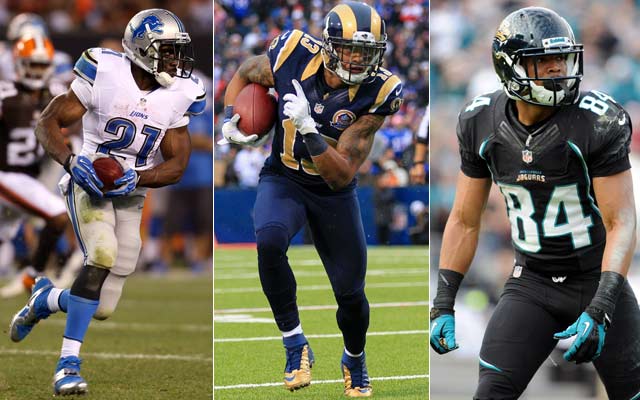 Will Brinson | Chris Givens The former Wake Forest product is heavily under the radar in St. Louis, but he shouldn't be. Givens has the best rapport with Sam Bradford in an offense that should feature lots of passing. Givens can get deep better than anyone on St. Louis roster and with defenses watching Tavon Austin on short routes and Jared Cook helping to split the seam, he'll be open for lots of bombs. 
Josh Katzowitz | Reggie Bush: I was thinking about Danny Amendola for this award, but he seems way too obvious. Instead, Bush is coming off the best two seasons of his career, and he'll be even better for Detroit. 
Jason La Canfora | Stevan Ridley/Shane Vareen: The Pats RB duo will get all the work they could want in the run game and the pass game. Big things await. And Danny Amendola can do everything an aging Wes Welker could do in this offense the last few years - except stay healthy The Pats will produce a new batch of offensive stars.
Ryan Wilson | Cecil Shorts: Yes, he 55 receptions for 979 yards last season, but no one outside of Jacksonville knew about him. If Blaine Gabbert can improve, Shorts will be the beneficiary.
Pete Prisco | Michael Brockers: He will be the next dominant inside player. He will be unblockable at times this season
John Breech | Danny Amendola: The former Rams receiver could have a huge year with Tom Brady throwing him passes. Amendola has never been to a Pro Bowl, never led the league in any receiving category, but if he stays healthy, that could all change in 2013.  
The home of the Falcons for 25 years was reduced to rubble in seconds

Sherman, like a lot of observers, didn't understand why the Bills started an unprepared rookie...

The Raiders RB sat through the 'Star Spangled Banner' but stood for the Mexican anthem on...
Plus the Eagles' formula for winning late, the AFC playoff mish mash and a budding young Vikings...

Here are the Week 11 grades for every team that played Sunday

The Eagles move to 9-1 after beating the Cowboys by four touchdowns