NFL Expert Picks: Who will win the NFL MVP award?
CBSSports.com expert picks make their selection on who they think will win the MVP this season.
by

Eye on Football staff

• 2 min read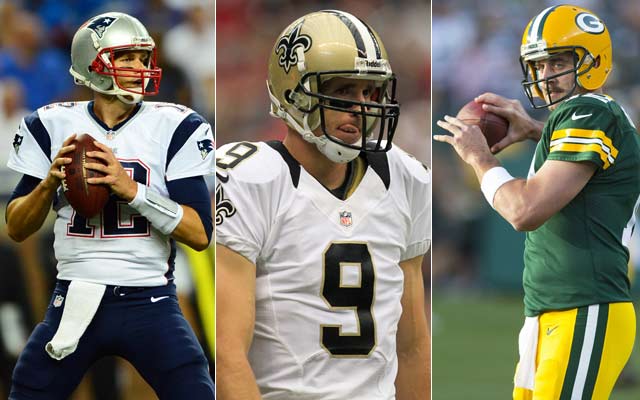 John Breech | Drew Brees: If the NFL handed out an SMVP (Second Most Valuable Player Award), Saints quarterback Drew Brees would have a stacked trophy case. Since signing with New Orleans before the 2006 season, Brees has finished second in the MVP voting three times (2006, 2009, 2011).

In those years, Brees lost out to old teammate LaDainian Tomlinson (2006), Peyton Manning (2009) and Aaron Rodgers (2011).

Losing out in 2011 was probably the toughest because Brees put together arguably one of the top-10 seasons ever by a quarterback (5,476 yards, 46 touchdown passes, 14 interceptions) -- only to lose the award to Rodgers, who put together what was probably one of the top-5 seasons ever by a quarterback (4,643 yards, 45 touchdown passes, six interceptions).

Brees has won a Super Bowl MVP, two AP offensive player of the year awards and he's led the NFL in both passing yards and touchdown passes four times. The only thing he's missing is an MVP award and 2013 is the year he's going to get it.

If Brees is consistent about one thing, it's that he's consistently good. If Brees can throw for over 5,000 yards and 40 touchdown passes like he has the last two seasons and turn the Saints from a 7-9 team in 2012 to a playoff team in 2013, then he'll in the driver's seat to take home his first ever MVP award. Unless of course Rodgers throws for 6,000 yards and 60 touchdown passes.
Jason La Canfora | Russell Wilson: Few played better than him a year ago, the cast around him should be even better and this kid is the real deal. Could easily end up being the best player on what could be the league's best team.
Pete Prisco | Aaron Rodgers: He is the league's best quarterback and the Packers will have a good record, best in the NFC. He will push for 5,000 yards and 35 touchdown passes.
Will Brinson | Tom Brady: The idea that Brady won't put up big stats in 2013 is silly to me. He's Tom Brady. And when he does lob up big numbers and the Patriots win double-digit games despite losing all their best receiving targets, Brady will get the MVP votes.
Josh Katzowitz | Tom Brady: The Patriots are still going to be tremendous, and Tom Brady is still going to throw for a ton of yards and a ton of touchdowns to new guys like Danny Amendola, Zach Sudfeld and Aaron Dobson.
Ryan Wilson | Tom Brady: The Patriots begin the season without their top-five receivers from last year but Brady is still Brady. Which means that he'll get by with Zach Sudfeld and Kenbrell Thompkins and no one will remember that Wes Welker is now with the Broncos.
The list of what-ifs runs long: Will anyone overpay for him? Will Eagles refuse to trade h...

Here's an up-to-date look at the 2018 Pro Bowl roster

New England is 3-0 wearing white in Super Bowls under Bill Belichick
Bettors are favoring the Eagles to keep Super Bowl LII close, but the Patriots remain clear...

No one wants to give the Eagles any respect

The three-time Grammy winner will sing before Super Bowl LII on Feb. 4