NFL FA musings: Woods, Ohrnberger, Roberts could be bargains
With free agency starting, unless a team is in the top-of-the-line free agents, bargain shopping is best. That's where Al Woods, Rich Ohrnberger and Andre Roberts come in.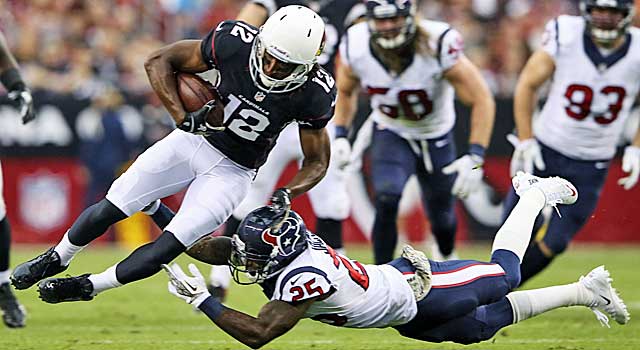 More NFL offseason: Mock Drafts | Prospect Rankings | Pro Days | Top free agents
As I studied some available free agents in more detail, a handful of down-the-line players caught my eye, players who could be real bargains.
Among those players were:
• Pittsburgh Steelers NT/-DE Al Woods : He bounced around some before seeing action this season. He played a nose and end for the Steelers and did a decent job. He isn't a star, but he is the kind of rotation lineman teams need. He has the size to be a 3-4 nose or end or play inside in a 4-3.
Here's a look at Woods making a play inside against the Cincinnati Bengals .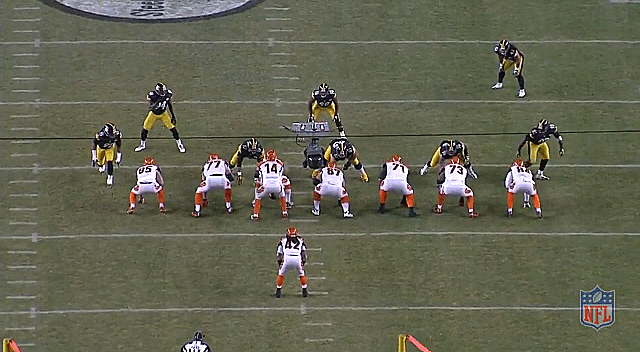 • San Diego Chargers C-/G Rich Ohrnberger : He did some good things at guard and center when forced into the lineup by injuries. He played well at right guard against the Jacksonville Jaguars and then did a solid job at center in the playoff victory over Cincinnati when Nick Hardwick went down.
Here's Ohrnberger making a nice block against the Bengals in the playoffs. You can see he does a good job of cutting off Bengals defensive tackle Domato Peko in the middle of the line.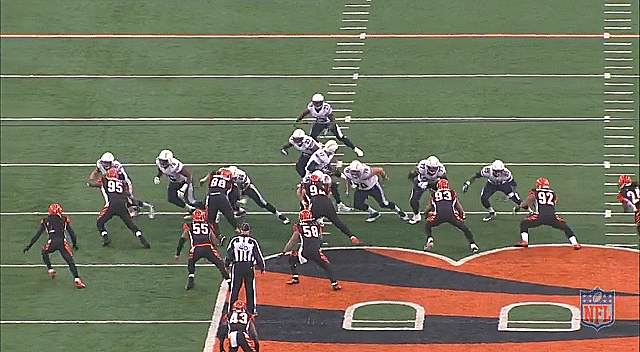 • Arizona Cardinals WR Andre Roberts : With the emergence of Michael Floyd opposite Larry Fitzgerald last season, Roberts' production dropped. But for a team looking for a slot receiver, he makes sense. I also think he can play outside.
• New York Giants CB Trumaine McBride : This former seventh-round pick got on the field because of injuries and played well. He is a smaller corner, but he has coverage skills and is worth a look.
• Cardinals TE Jim Dray : He is a blocking tight end, and offers little in the passing game. But teams need this type of tight end because all the starters becoming more like receivers. He has value.
Rules of free agency
Since free agency opens Tuesday, it's time for some of my rules of free agency, sort of my 10 commandments of the period.
1. Try to bring back your own: You know what you have. You know what they can do. Do your best to get them back -- if you want them on the roster.
2. Don't get sentimental: While it's smart to keep your own, don't keep them if they are coming to the end just because they've been a part of your team. Cutting ties at the right time is an art for a GM.
3. Never sign a running back from another team: Yeah, Seattle got away with it by trading for Marshawn Lynch. But too many times the player has been beaten up and it's not worth it. Don't do it. Sorry, Ben Tate .
4. Don't sign players 30 or older to long-term deals: The value won't be there, no matter what you might think.
5. Look for players ready to take off: Maybe a third receiver or nickel corner ready to be a starter. That's where you get value.
6. Don't overpay based on need: Yes, you want to fill the spot. But spending too much to do so can bite a team in the butt.
7. Don't spend just to spend: That's just fiscal irresponsibility. Cap room should not mean cap stupidity.
8. Be wary of QBs who flash for short periods: They usually aren't your franchise passer, no matter how you might try to evaluate them. So don't get all warm and fuzzy over the Matt Flynn s and Matt Cassel s of the league. They are what they are.
9. Sign two or three cheap linemen: You want them in camp to compete. The more bodies you have fighting for spots on the line, the better. Offensive linemen sometimes are late bloomers, particularly inside.
10. Wait on bargains: Unless you get a premier offensive lineman, corner or pass rusher, let the market play out. Then jump in and get a bargain later.
More observations
• The idea that some team would give up two first-round picks and pay to get New Orleans Saints tight end Jimmy Graham is foolish. That's way too much for a player who was taken away at key times in key games. I love Graham. He's the prototype tight end for this era. But he's not worth that. Those draft picks are cheap labor. That matters. It would be a really bad move to give up that bounty to get a one-dimensional tight end. It won't happen, or it shouldn't.
• Give running back Rashard Mendenhall credit for sticking to his beliefs in his decision to retire. But, please, can the media stop putting him on a pedestal because he did so? It's an early retirement. Nothing more.
• Corner Brandon Browner was re-instated just in time for free agency. He will be suspended for the first four games, but the bigger issue as I see it is that he turns 30 this summer. Browner is a physical corner who doesn't run that well. What happens when he slows even more? Byron Maxwell , who took over as the starter when Browner was suspended, played better.
• Should the San Francisco 49ers pay up for Colin Kaepernick ? I wouldn't. I would make him wait. I would take my chances to see what he does this season, especially in terms of growing as a passer, and then go from there. Halfway through the season, the 49ers could reassess. If he says no, you can always tag him. Kaepernick has done some really good things, but he's far from polished as a passer. He needs to be better in the pocket. So make him wait. But he's ultimately going to get paid, one way or the other.
• The Baltimore Ravens want left tackle Eugene Monroe back, but his asking price is said to be way too high -- $10 million a year -- for their liking right now. Look for him to get a lot of early action from other tackle-needy teams.
• I can't stand it when I hear a player say that the team he signed with made him feel wanted. Translation: They paid him. Nothing more.
• So Brian Urlacher doesn't think there's loyalty in the NFL. Well, yeah. He should know better. It's a business. Period.
• I know some raved about the deal linebacker D'Qwell Jackson got from the Indianapolis Colts , but I just didn't see an explosive player on tape in 2013. I think it's a big overpay on Indy's art. Why not keep that money to make sure corner Vontae Davis is back on the roster? He would be a much bigger part of what they would do on defense going forward.
• The Jaguars re-signing Chad Henne was something the team felt it had to do. The coaches loved the way Henne handled himself in the locker room and worked with younger players. It doesn't preclude them from taking a quarterback with the third pick in the draft, but it does give them some wiggle room. They don't have to force it. I don't think Henne is close to being the answer, but he is good enough for a team building to more. He is the bridge to their next guy.
• The Green Bay Packers did the right thing by re-signing corner Sam Shields . Some will say the deal (an average of $10 million per season) is too high. But you have a 26-year-old player who can lock down in man defense and is just now coming into his own. That's the type of player who should get paid. I've studied a lot of Shields tape the past month, and I think he has a chance to be a star.
• Who the hell cares if they move the extra point back? I'm all for eliminating special teams, period. Play football. There are ways to make that a reality.
Andy Dalton doesn't seem too concerned about being replaced

The Patriots coach and quarterback quietly donated some serious money to Watt's fund

The top pick in the 2018 draft will come from Oklahoma State but it's not QB Mason Rudolph
Nick Kostos won big on Monday nights last season and gives his best 3-team NFL parlay for Week...

While the offense in Pittsburgh tries to gain traction, the defense has looked great

Lacy, currently the odd back out in Seattle, wonders what trolls get out of fat shaming him...