NFL fines Vontaze Burfict for low hit that Big Ben deemed intentional
The Bengals linebacker will appeal the fine.
• 1 min read
It turns out Vontaze Burfict will be fined for his low hit on Steelers quarterback Ben Roethlisberger. A day after Burfict's agent told ESPN that the Bengals linebacker wouldn't face any further NFL discipline, he changed course, revealing that Burfict was actually fined for that hit.
Agent Audie Attar told ESPN's Adam Schefter about the fine Thursday. According to Attar, Burfict plans to appeal.
As it turns out, NFL fined Bengals LB Vontaze Burfict today for hit on Ben Roethlisberger, per agent Audie Attar. Burfict appealing fine.

— Adam Schefter (@AdamSchefter) December 18, 2015
Here's a look at the hit in question, which wasn't flagged by the officials on Sunday:
How could this hit by Vontaze Burfict not be a penalty. Watch this cheap shot as he targets Ben's ankle pic.twitter.com/O4ZcT1FC5m

— Charlie Batch (@CharlieBatch16) December 13, 2015
Earlier this week, Roethlisberger went on 93.7 The Fan, a CBS Sports Radio Station, and accused Burfict, who has a history of bad blood with the Steelers, of intentionally "going for" his legs.
"I don't buy that he was pushed," Roethlisberger said. "He definitely was diving in low and going for my legs. It's tough. I am just glad I didn't get hurt."
It seems the NFL agreed with Roethlisberger's assessment of the hit.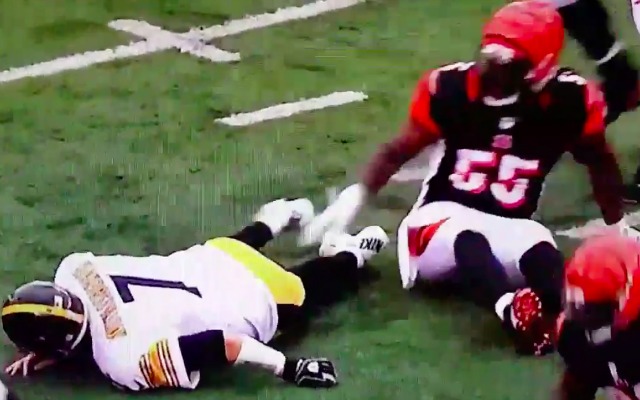 New England is acquiring the dangerous return man and 2013 first-round pick

Indianapolis could easily consider moving down again with either the Cardinals or Bills

Burfict claims he was prescribed medication after being concussed on a hit from Smith-Schu...
Payton described in his farewell tribune to Benson how the owner was optimistic despite de...

Mike Maccagnan told us he'd trade up for a QB this year after signaling intention to move down...

The Raiders are reportedly planning on partnering Beast Mode with Muscle Hamster