NFL free agency: Going inside with semi-available center Alex Mack
The Browns have left the door open to poachers by transition tagging Alex Mack. Here's why this exceptional center could draw big, creative bids.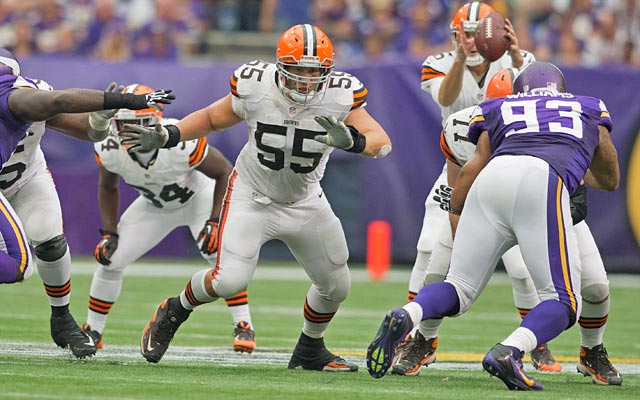 More NFL offseason: Mock Drafts | Prospect Rankings | Pro Days | Top free agents
I planned to do an extensive breakdown of Cleveland Browns center Alex Mack when it appeared the Browns would not place the franchise tag on him and he'd be free on the market.
The reason I picked Mack was because I saw him as the cleanest free agent available. He was relatively young at 28, hasn't missed a game in five seasons or a play, making 80 consecutive starts, and he's arguably the best center in the NFL at a time when centers are becoming more valuable than even in the past.
The push to multiple defensive fronts, with loads of exotic looks, has made a smart, athletic, power center -- a combination that is hard to find -- almost a must for any good offense.
Mack has most of that -- if not all.
When the Browns put the transition tag on Mack, which means they have the right to match any offer he receives, the thinking was that it would pretty much assume he's going back to the Browns. So far he hasn't signed the $10 million one-year tender, so not so fast.
There is still some thinking around the league that Mack could get some action from other teams that are flush with cash. Yes, the Browns have cap room, and would likely match, but why did they risk losing him for essentially $1 million a year, which is the difference between the franchise number and the transition number?
Personnel men I talked with this week were stunned at that thinking.
"Why do that for $1 million savings?" one personnel man said.
Another called it "stupid."
After doing a deep dive into Mack's tape, I have to say I agree. Why risk it? I voted Mack as my All-Pro center last year, but after doing a much more detailed look at his game, I came away even more impressed.
For a team in need of center, he is worth attacking with a creative offer. The Browns could match, and likely would, but why not try it?
On tape, I saw a player who is smart, knows how to use angles, can get out and pull on sweeps and lead on screen plays and reverses and doesn't back down when faced with a tough-guy on his nose. He isn't overpowering like some stronger centers, but he plays with such good technique that it's hard to beat him. Even when the initial punch knocks him off-balance, Mack has the leverage to re-group and handle his man. He is good at getting to the second level and handling linebackers most of the time.
Some big power players straight up can give him some problems -- he is a tall center -- but he fights his way through. It didn't help that he had really poor guard play next to him in 2013.
Playing center requires intelligence to make the calls, great hands, good balance, athletic ability and power at the point of attack. Mack scored 26 on the Wonderlic test coming out of school and centers usually are among the highest-scoring players each year. With all the calls they make at the line, they have to be smart and he shows that off.
While watching the Browns, Mack appears to do a good job of identifying fronts and sliding the right way or being ready for the blitzes, stunts and twists thrown at his line.
That is key these days.
Here's a breakdown of some of the things I noticed about his play while studying six of games in detail.
Smarts
Against the Patriots, Mack made a line call where he expected a tackle-end stunt by the Patriots and a blitz by the nickel corner. It was a first-and-10 play from the Cleveland 20, and the Browns blocked it perfectly to allow Jason Campbell to hit Jordan Cameron for a 13-yard gain.
Here's a look: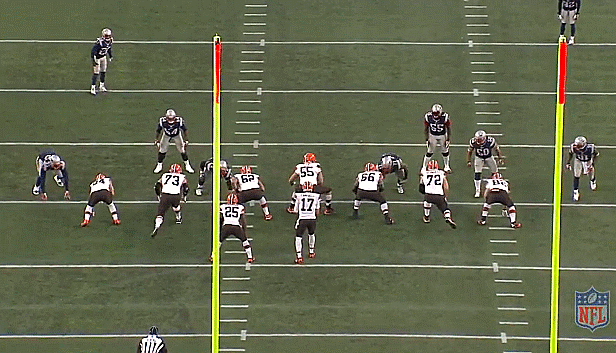 On the play, you can see Mack was ready for defensive end Rob Ninkovich as he looped around Sealver Siliga. He took him on as Ninkovich exploded into him. Initially, it appeared Ninkovich would win that battle, but, as he does a lot, Mack was able to re-group and get his legs under him and handle Ninkovich to allow the completion. You can see right tackle Mitchell Schwartz picked up blitzer Aqib Talib and right guard Shawn Lauvao handled Siliga. The Browns were ready for the look and Mack did a nice job picking up the looping Ninkovich.
Athleticism
Centers must have the ability to get to the second level and get outside and lead on screen passes and reverses at times. Mack has that ability, maybe as much as any center in the league. He has really impressive feet for a guy who is 6-4 and 311 pounds.
Here's a look at a block he made on the second level that required good feet. It came against the Bengals.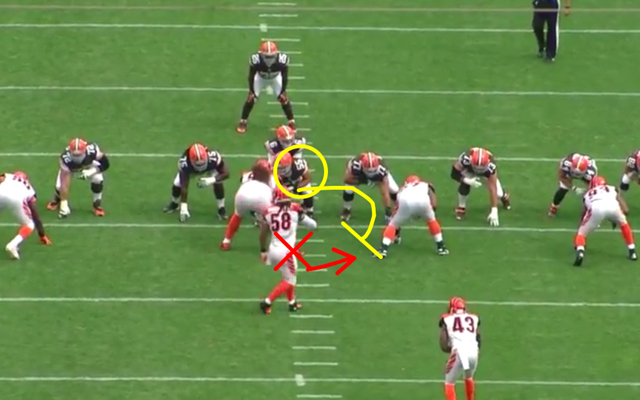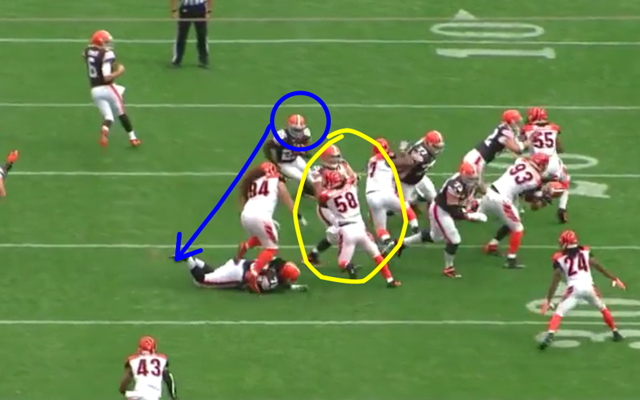 He had Domata Peko shaded on his nose. But the zone run called from him to get out on linebacker Rey Maualuga with the guard cutting Peko. Mack did a great job of not only getting out on Maualuga but getting into his body to allow the runner Chris Ogbonnaya to cut back to the right.
That athletic ability helps him get on a lineman quickly. He explodes into them with power on his run blocks. Here's a look at one against the Lions four-man front.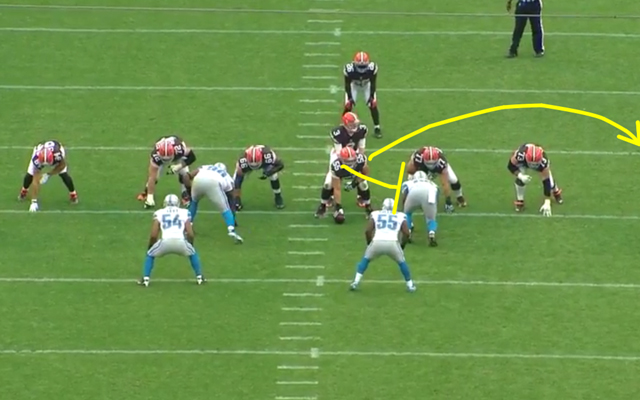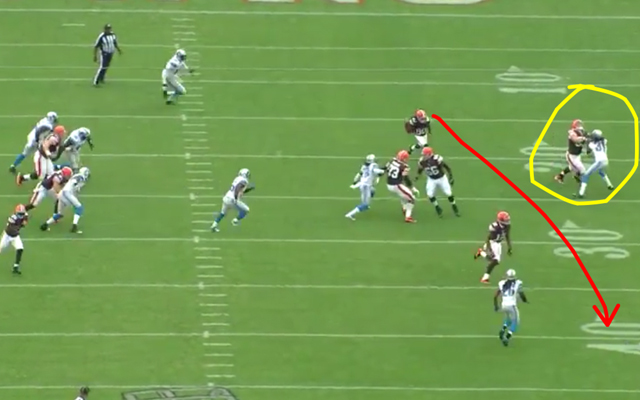 The power play called for Mack to block out on Lions defensive tackle Nick Fairley, who is a quick inside player, while left guard John Greco pulled around him. Mack got on Fairley with a quick move, and then used his great technique to get underneath him to create the running lane. It was textbook center play by Mack.
Here's another example of his power in the run game against the Bengals and Peko. He handled him with a quick power move and then stayed on him throughout the play.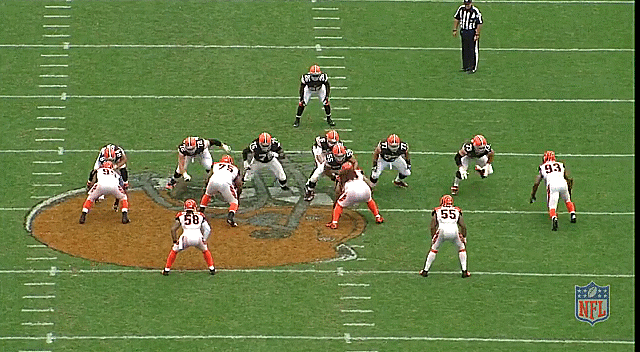 I wanted to see how Mack did when he had power nose tackles on him or shaded over him. He did have some issues at times, like most centers do, but what he lacked in pure power he made up with in quickness and technique.
Here's a look at a play against Dontari Poe of the Chiefs. It's a combo double-team with Greco.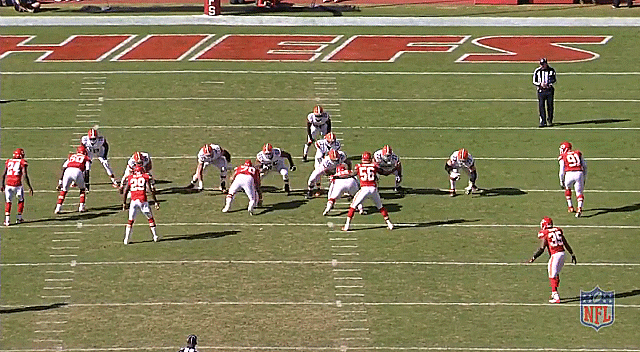 The key is how quickly Mack attacked Poe to get push. That allowed the combo block to get back in the way of linebacker Derrick Johnson to keep him from coming over to make the play.
One of the best things about Mack's game is he's rarely on the ground. Scouts will often say that they study to see if the linemen stay on their feet. If they are on the ground a lot, that's not a good thing. In the tapes I studied, I saw a handful of times where Mack wound up on the ground. That's huge for a center.
Ability to move
There are a lot of centers who have athletic ability in a box, but can't move outside. They are too stiff to do so. But Mack can move and get outside to lead plays. The Browns ran several sweeps on the tapes I watched, and on every play they asked Mack to initially do some blocking inside before moving outside to help lead the play. That takes skill.
Here's a look at one of those plays against the Lions.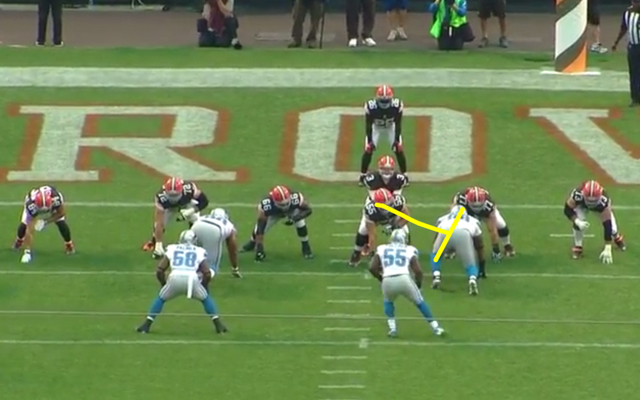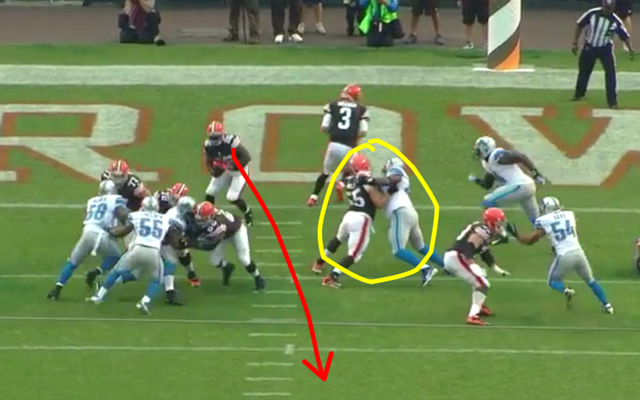 Toughness
What else do you need to show how tough he is than what he did in 2011? He played a game with a bout of appendicitis, had surgery the next week during the team's bye, and then played the following week.
That's tough.
But he also plays tough. As you watch him on tape, you can see him finishing blocks, never backing down to anyone. I saw him get nasty once with Ndamukong Suh of the Lions on a play, never letting up as he stayed on his block.
Mack is nasty when he wants to be. You need that in the middle of the line.
Don't question his toughness.
Negatives
Mack can sometimes get too aggressive in pass protection and in the run game. That's when he can run into some problems. Here's an example against Poe.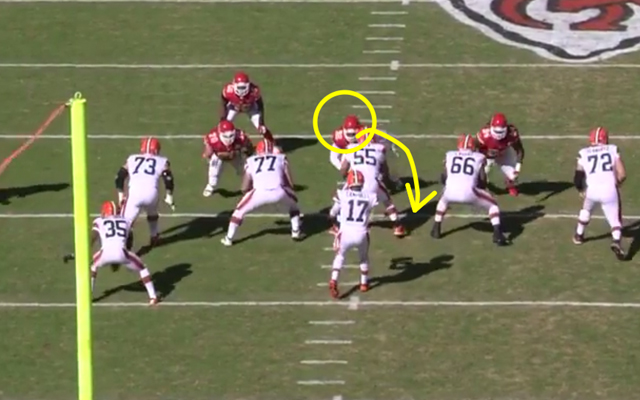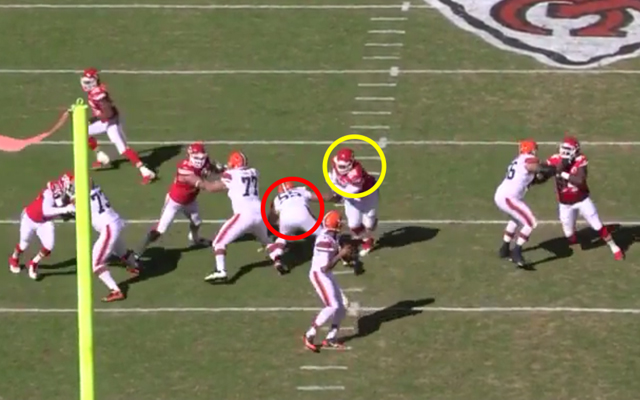 Mack had Poe in a one-on-one situation and came out at him way too aggressively. Poe was able to shove him to the ground and move inside of him with ease. This was one of the few times I saw Mack on the ground.
Another problem he has at times is when he does get to the second level to block the linebackers he lets them take the fight to him. He gets blown up at times and he seems to get off-balance. A lot of times he can get his feet back under him, but at other times he does not.
The last criticism is the power players on his face. He can sometimes get too high and lose those one-on-one battles. But he never backs down. That's a great trait. Blocking 350-pounders on your nose is tough for any center, even the greatest who have played the position.
Summary
I've talked to too many personnel people and scouts who love Mack's game -- maybe more so than fans and media. They, like me, wonder what he'd be like with good guards next to him who could help, rather than him always being the guy leading them.
Mack went to the Pro Bowl last season and should be going a lot more. He is worth a look for any team that might be considering prying him away from the Browns. If the Browns are smart, they won't dare let him leave.
Warren Sapp was one of several players named in a lawsuit against NFL Network

Check out the uniforms that Denver and Indianapolis will be wearing on Thursday

The Cowboys are going to need a few things to go their way to get into the postseason
Rudolph will be put under the microscope in Mobile by clubs looking for a quarterback early...

This fan is taking the Saints to court for using 'football games as a platform for protest...

Can Aaron Rodgers get the Packers to the postseason? Even if they win out, they'll need he...