NFL free agency notes: Ten biggest voids left by departing players
We're entering the second phase of NFL free agency, when most of the power names are gone. There still are plenty of bargains and questions to be answered as we hurtle toward the draft in May.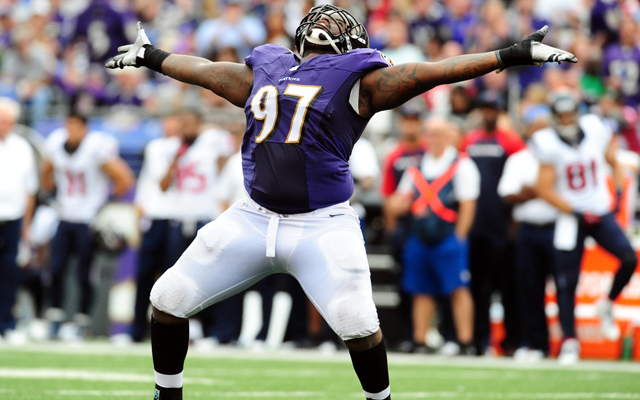 More NFL offseason: Mock Drafts | Prospect Rankings | Pro Days | Top free agents
We're entering the second phase of NFL free agency, when most of the power names are gone. There still are plenty of bargains and questions to be answered as we hurtle toward the draft in May.
Filling free agency voids
When any team acquires a free agent, it sparks speculation about what the move means among its fans. But it leaves a question for the team losing that player: How is that player replaced? Not every team can run out and sign a free agent of equal talent or find a comparable player in the draft, leaving a void on the roster. Let's look at 10 teams left with filling such a void I'm not sure will be filled through free agency or the draft:
1. QB Josh McCown: He left the Bears to become the starter for the Bucs. Great deal for Tampa, but who replaces what McCown did for the Bears last year?
2. Kansas City loses three important O-linemen: There is very little chance the Chiefs acquire three linemen to replace Jon Asamoah, Branden Albert and Geoff Schwartz, which means the pressure on Alex Smith is going to be felt next season.
3. LT Jared Veldheer: He left the Raiders, and is a plug-in left tackle for Arizona. The Raiders have not replaced him in free agency and may have to turn to the first round of the draft to fill his spot. That's fine, but eliminates chances to fill another need in the first round, and that is something they can't afford.
4. DL Arthur Jones: He was emerging as a key member of the Ravens' front before signing with the Colts. Baltimore has not acquired a replacement, and none appear to be left in free agency.
5. DT Linval Joseph: A very solid defensive tackle who left the Giants for the Vikings. Justin Tuck, who also left the Giants (for the Raiders), said, "Linval was the kind of player the Giants will miss. He's always working hard on the field and in the weight room."
6. CB Alterraun Verner: A steal for the Bucs (from the Titans) as a 25-year-old emerging star. Tennessee has not replaced him, and with Colts QB Andrew Luck in the division that's not a good idea.
7. LB Karlos Dansby: He may be turning 33 this fall (and now with the Browns), but the Cardinals will miss his leadership and production. Look at the free-agent list to see if you can find a veteran leader who could sign with Arizona and keep this defense progressing.
8. C Evan Dietrich-Smith: He was the man Packers QB Aaron Rodgers counted on to call protections and manage the linemen. With Smith in Tampa Bay now, the Packers may have to play a rookie center if they can't develop one or sign a veteran.
9. WR Steve Smith: Not only was Smith the Panthers' most productive receiver, but he also was their emotional leader. At 35, his release (he signed with the Ravens) makes sense for the Panthers to move on. But replacing his talent is a tall task and one that may be impossible for 2014. The pressure on Cam Newton to be Carolina's true leader minus Smith and the retirement of All-Pro tackle Jordan Gross is a big challenge.
10. DL Jason Hatcher: He led the Cowboys with 11 sacks last season, but now he's with the Redskins (and DeMarcus Ware signed with the Broncos). As bad as the Cowboys defense was last season, it could be worse if they don't sign or draft better players than Jeremy Mincey.
Re-inventing through a short deal
There are more than 40 players who have signed one-year deals, and they do it for a couple of reasons. For some it's all they can get, they're 30 or older -- or both. For others, it's a chance to re-establish themselves and get back in the market next year.
Players falling into the latter category include: Hakeem Nicks, Jeremy Maclin, Darren McFadden, Louis Delmas, Stevie Brown, Brandon Spikes, B.J. Raji, and even Darrelle Revis -- considering the structure of his second year. Don't be surprised to see guys like Josh Freeman, Mark Sanchez (when he's released), Jermichael Finley, Kenny Britt and Henry Melton strongly consider a one-year deal, rather than a bad four-year deal.
There will be more one-year deals this week, as many good players simply can't get the deal they want.
Here come the pay cuts
As the second phase of free agency gets under way pay cuts will be a driving force. In the first phase, there was lots of restructuring. This is the reduction phase right now. The markets are being set at all positions and free agency cash, not cap space, will start to dry up.
Approximately eight teams, give or take one, are at less than $8 million of cap space and they need more room for the draft, a reserve pool for the season and more to absorb the injured reserve issues. We have already seen players like Ike Taylor, Zach Miller, Chad Greenway, Dwight Freeney take pay cuts to stay with their teams and it won't stop there.
When players around the league watch Julius Peppers, Darrelle Revis, DeMarcus Ware and Lamarr Woodley get cut it's a wake-up call for lesser players sitting on big 2014 salaries that it might be a good idea to take the pay cut, rather than be shown the door.
When I handled pay-cut situations for the Jets, the trick was to offer a number that reflected the league's current financial situation, but make it perfectly clear that we would release the player if he didn't accept the reduction. It is appropriate for the club to offer incentives and an opportunity for the player on a reduced deal to earn back what he has lost. Keep an eye on Carolina, Dallas, Detroit, Kansas City, New Orleans, Pittsburgh, San Diego and San Francisco to be active in the pay-cut business.
Best of the rest
Free agency has been fast and furious, as predicted, but many players still are looking for deals. And there will be a growing number of unemployed players, applying even more pressure to those already out of a job.
Here's my top 10 players left in free agency:
1: DE Jared Allen (23 sacks the past two seasons)
2: DT Henry Melton
3: CB Dominique Rodgers Cromartie CB
4: RB Knowshon Moreno
5: QB Michael Vick
6: G Brian De La Puente
7: WR James Jones
8: DL Alex Carrington
9: OLB/DE Shaun Phillips
10: Antonio Cromartie CB
I would expect most of these players signed by the end of the week.
The Cardinals GM explains his process for finding Carson Palmer's successor

Stefen Wisniewski narrowly missed out on a chance to earn $250K, but the Eagles gave it to...

Shazier heads into the Steelers' facility every day and helps with 'personnel stuff'
Foles's life has completely changed by leading the Eagles to a win over the Patriots in Super...

For all of the attention Patrick Mahomes will receive, fixing the defense has to be Kansas...

Watt raised more than $37 million in the aftermath of Hurricane Harvey