NFL free agency: Waiting game usually winds up as better idea
Half the teams in the NFL dive into free agency checkbooks first. The other half wait to hunt for bargains, and are usually right.
More NFL offseason: Mock Drafts | Prospect Rankings | Pro Days | Top free agents
Free agency is here, and as usual there was a fast and furious signing period to start it off with about half the league jumping right in and throwing money at close to 40 players. The other half of the league plays the waiting game for the market to settle down and look for bargains.
History says the conservative approach might be the better philosophy.
Remember last year when the Seahawks grabbed Michael Bennett and Cliff Avril later into the process and when the Cardinals signed John Abraham when it looked like his career was over?
Have you noticed that right after the flurry of signings came the announcements about players visiting clubs. That usually means they don't have a deal and they are trying to drum up some competition for their services. I talked with Arthur Jones, who left the Ravens for the Colts, and Zane Beadles, who said goodbye to the Broncos and joined the Jaguars, and both laughed at the idea of needing to visit a team before signing. The deal was all they needed to join a new club.
Offensive tackles
There was no surprise when the left tackle market exploded in the opening minutes of free agency. I can't ever remember a year when three left tackles all under the age of 30 were ever on the market in a single year. Paying Branden Albert, Eugene Monroe and Jared Veldheer came as no surprise but Rodger Saffold's deal was a bit of a surprise, and all of these deals raise some questions.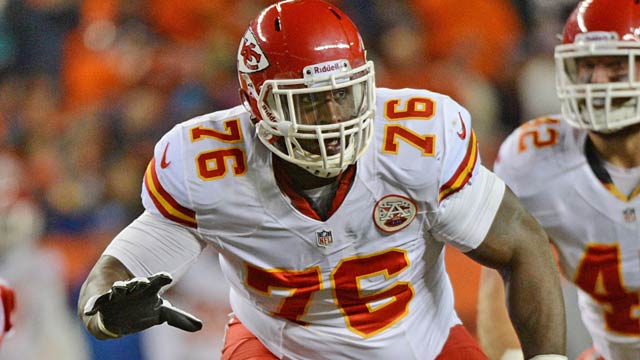 Look at the history at left tackle for the Miami Dolphins. They had Jake Long, a first-round pick and solid player. But they couldn't retain his services as Long left for a four-year, $34 million deal in St. Louis with just $12 million guaranteed. Enter Jonathan Martin and his $4.7 million rookie deal with $3 million guaranteed.
He was just shipped off to San Francisco for a seventh-round pick and the Dolphins will never see the pick in 2015 if he's cut. Martin is not winning an offensive tackle job with the Niners as long as Joe Staley and Anthony Davis are healthy. Now enter Branden Albert to the Dolphins on a five-year, $47 million deal with the second highest guaranteed money to an offensive lineman with $26 million, more than double what Jake Long took in St. Louis. Albert is a year older than Long and played in three less games last year (15 to 12). Long had just four penalties against him to 10 on Albert and Long had a better sack-to-pass attempt ratio than Albert. Miami has been trying to get the left tackle situation right for a few years now and let's hope the "big" money finally solved the issue.
Raider expectations
The Raiders came into free agency with the most salary cap space of any team in the NFL with close to $60 million. Raiders fans accepted the fact two years ago that there was going to be a correction period in the Raiders salary cap and looked forward to the start of the 2014 free agency as the time when things would radically turn around. They never tagged either Jared Veldheer or Lamarr Houston with all the new cap space and it made many Raiders fans suspicious of the plan. In a matter of minutes both players were gone in free agency and the phone lines on my radio show blew up Tuesday with frustrated fans.
As I look back a day later I can see the club didn't tag Veldheer because it secured the services of Rodger Saffold and Austin Howard but used $36 million of guaranteed money to do it. Now it looks like tagging Houston might have been a good idea, at least with a transition tag, because I think they would have matched the deal the Bears gave him. The loss of running back Rashad Jennings and the resigning of Darren McFadden sent another shot at Raider nation. Oakland can find someone to replace Jennings but it was interesting to see how fast he was signed by the Giants. McFadden's one-year deal isn't a cap breaker to say the least, but as one Raiders caller said "I feel like my ex-wife moved back in after robbing me." I love to listen to Raiders fan logic. Keep your eye on them; the Raiders have a plan going forward and they will secure some talent to upgrade the roster.
Get a pass rusher
The signings of Michael Johnson (Bucs), Houston and Everson Griffen (Vikings) was all about getting younger at the second most important tenet of the game -- getting after the quarterback. It took $59 million in guaranteed money to secure the services of these three pass rushers who had a combined total of 15 sacks between them last year. Jared Allen is still out there and he had 11 1/2 by himself in 2013.
Getting younger is a good concept, but don't eliminate production from the equation.
Everything you need to know about the Packers-Panthers game on Sunday afternoon

The Lions will be wearing their Color Rush uniforms for the first time on Thursday

The Lions look to maintain playoff positioning while the Bears attempt to play spoiler
The Panthers have hired an outside law firm to conduct the investigation

Here's every official injury designation for each NFL team for Week 15

Bennett was one of the few players who escaped punishment after Sunday's melee in Jacksonv...