NFL Grades Week 11: Cowboys look like contenders with Tony Romo
We are grading all of Sunday's games for Week 11. See how your team did.
Thanks to Tony Romo, Cowboys fans finally got to enjoy a fourth quarter on Sunday.
During Romo's eight-week absence, the Cowboys played seven games and in six of those games, the fourth quarter turned into a nightmare for Dallas.
In losses to the Falcons, Saints, Giants, Seahawks, Eagles and Buccaneers, the Cowboys were either tied or led in the fourth quarter, only to lose each game, usually in dramatic fashion. 
Those were Brandon Weeden's Cowboys that were losing though, and Matt Cassel's Cowboys. Those weren't Tony Romo's Cowboys. Tony Romo's Cowboys win in the fourth quarter, just like they did on Sunday. 
Romo has made a career of being clutch in the fourth quarter and he did it again on Sunday. The Cowboys quarterback went 4 of 5 for 45 yards and a touchdown in the fourth quarter against Miami. Romo's touchdown pass broke up a 14-14 tie and propelled the Cowboys to a 24-14 win at Sun Life Stadium that was played partly in a torrential downpour.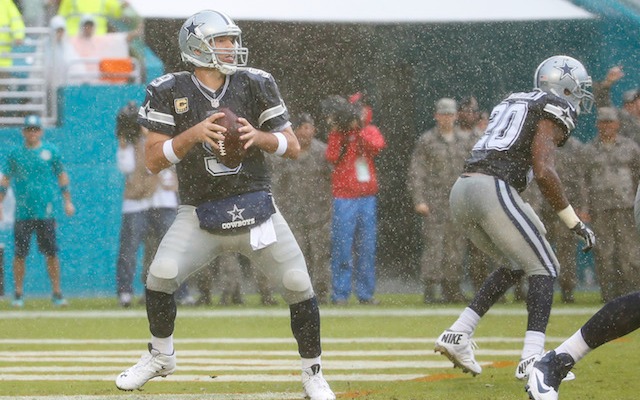 Obviously, Romo being on the field makes the Cowboys a better team, but it also seemed to give them a much better spark. Darren McFadden looked like he was running harder. The Cowboys defense almost looked relieved knowing that it had an offense that might actually put up points.
All of that led to what was probably the Cowboys' best all-around game of the season. McFadden rushed for his second-highest total of the season (129 yards) and the Cowboys' defense only gave up 210 yards, marking only the second time in three years that the Cowboys gave up under 215 total yards.
And then there was Romo, who was so desperate to win, HE WAS THROWING PASSES WITH HIS LEFT HAND.
ICYMI: @tonyromo made his first throw Sunday with his left hand. #WFAACowboys pic.twitter.com/oFOGqPYDp1

— WFAA Sports (@wfaasports) November 22, 2015
The Cowboys quarterback threw for 227 yards and seemed to shake off more and more rust as the game went on. Someone who was glad to see that rust come off was definitely Dez Bryant, who was on the receiving end of Romo's fourth quarter touchdown pass. 
Romo and Bryant have now connected for 50 total touchdowns, breaking the Cowboys record of 49 that was previously held by Troy Aikman and Michael Irvin. 
The most important thing that happened this week is that Cowboys seem to have their swagger back and it started with Romo. Six days before playing the Dolphins, Romo sent out a tweet with a clip from Major League and that clip said, "Well, I guess there's only one thing left to do, win the whole f------ thing."
The journey to winning the whole thing started on Sunday and it started in the best way possible. The Cowboys hit NFC East bingo in Week 11: Not only did they win, but the Redskins and Eagles both lost, moving Dallas to within one game of second place. The Cowboys also picked up a half game on the Giants, who have a bye this week. 
The Cowboys have to make up two games over the next six weeks and with Romo under center, it definitely feels like it's possible. 
Team
Grade
Analysis
Cardinals 34, Bengals 31
B
Andy Dalton finally figured out how to play in primetime, unfortunately for the Bengals though, the same can't be said for their defense. Carson Palmer torched the Bengals secondary for 282 yards in the second half, including a game-winning drive where he went 3 of 4 for 57 yards. As for Dalton, the Bengals quarterback threw for 315 yards and two touchdowns against a Cards defense that went into the game ranked third in the NFL. 
B+
Carson Palmer exploded in the second thanks to the fact that he found a new favorite target: J.J. Nelson. The Cardinals rookie had more receiving yards on Sunday (142) than he had in all his other games combined this season (70). Arizona's defense also came up big: Besides sacking Dalton four times, the Cards also forced a fourth quarter fumble that led to a pivotal field goal that put Arizona up 31-21 late in the game.  
Cowboys 24, Dolphins 14
A
Not only did Tony Romo's return rejuvenate the Cowboys passing game, but also sparked the team's ground game. Darren McFadden ran for 129 yards, his second-highest total of the season. Romo gets a pass for his two interceptions and that's mainly because he took eight weeks off.  
C-
The Dolphins have managed to somehow get worse every week since Dan Campbell took over in early October. Miami's offense was anemic against Dallas. The Dolphins had seven drives in the game where they were held to 15 yards or less. Not even Joe Philbin's Dolphins were this bad on offense this year. Miami totaled 210 yards in the game. Under Philbin this year, the team's lowest total was 226. 
Lions 18, Raiders 13
D
The Raiders season officially in a free fall thanks to their third straight loss. The blame here goes to the offense, which basically did nothing against Detroit. Derek Carr only threw for 169 yards and the Raiders leading rusher, Latavius Murray, only managed 28 yards. The Raiders 214 yards on offense was their lowest total of the season. 
B+
Everyone named Matt gets a game ball for this win. Not only did Matthew Stafford throw for 282 yards, but he also ran for 31 yards, which was the second-highest total of his career. Stafford's rushing total included a gutsy 5-yard TD on a QB draw in the fourth quarter. The other Matt who gave the Lions a big game was Matt Prater, who hit three field goals, including a 51-yarder. 
Colts 24, Falcons 21
B
The Colts turned the ball over three times and were outgained by almost 100 yards (375-276), so how'd they win this game? By shutting down the Falcons in the second half. Over the final 24 minutes of the game, the Falcons held Atlanta to 66 yards. The Colts defense also forced three turnovers in that same timeframe. Matt Hasselbeck finally played like a 40-year-old QB, throwing two interceptions to go along with two touchdown passes and 213 yards. 
C
The Falcons season has completely imploded after their 5-0 start. The loss to the Colts marks Atlanta's fourth loss in five games and this one might have been the ugliest because the Falcons blew a 21-7 third quarter lead. Things got so ugly that Falcons fans actually started booing Matt Ryan, which kind of makes sense because Ryan threw two fourth quarter interceptions, including a pick-6 to D'Qwell Jackson that tied the game at 21. Ryan threw three total interceptions in the game. 
Ravens 16, Rams 13
C-
Nick Foles might not have been the answer in St. Louis, but it doesn't look like Case Keenum is either. The Rams almost had as many punts (8) as completions (12) on Sunday. The Rams had eight possessions that ended in four or less plays due to a punt or a turnover. 
B-
The Ravens season went from bad to worse against St. Louis, even though they won the game. Baltimore coach John Harbaugh announced after the game that Joe Flacco will miss the rest of the 2015 season with an ACL tear. In Flacco's final game of the year, he wasn't great, but he did engineer a huge comeback: The Ravens were trailing 13-3 in this game with under 12 minutes left. 
Buccaneers 45, Eagles 17
A
It's hard to throw five touchdown passes and get overshadowed, but that's what happened to Jameis Winston. Winston had a big game (246 yards, 5 TDs), but Doug Martin's was bigger. The Dougginator ran for 235 yards against Philadelphia, the second highest total in franchise history. The only bad news for Martin is that he didn't get in the end zone. Martin and Barry Sanders are the only two players in NFL history to rush for at least 230 yards, but not score a TD. The Buccaneers 521 total yards was a franchise record.
F
If Mark Sanchez was auditioning for a job on Sunday, Sam Bradford's going to be able to sleep peacefully this week because there's no way Sanchez is going to be named the permanent starter after an ugly three-pick game against Tampa. This loss wasn't Sanchez's fault though, the Eagles defense had no answers for the Bucs offense, which became just the sixth team over the past 10 years to put up over 500 total yards on the Philly. 
Broncos 17, Bears 15
B
Brock Osweiler did something against the Bears that Peyton Manning wasn't really able to all season: Play mistake-free football. In his first start ever, which came on his 25th birthday, Osweiler gave himself a nice present by going 20 of 27 for 250 yards and two touchdowns in the win. More importantly, the Broncos quarterback didn't turn the ball over. Denver's defense came up big too, sacking Jay Cutler five times. 
B-
Former Broncos coach John Fox is probably going to kick himself all week for losing this game. The Bears could've won, but they didn't but they failed on two huge plays inside the Broncos five-yard line. On the first one, the Bears failed on fourth-and goal in the fourth quarter while trailing 17-9. The second failure came on a two-point conversion with just 24 seconds left. Running back Jeremy Lang was stuffed on a questionable call and the Bears were unable to tie the game. 
Texans 24, Jets 17
C
Todd Bowles made a few questionable decisions, Darrelle Revis got burnt for a long touchdown by DeAndre Hopkins and the Jets got beat by a third-string QB who wasn't even on an NFL team three weeks ago. That's how ugly things are in New York. Ryan Fitzpatrick's two fourth picks didn't help things either. The Jets have now lost four of five, which means it's time to start panicking in New York, unless you're a Giants fan. 
B
T.J. Yates might be the best quarterback on the Texans roster and he's only been on the team for three weeks, In his first start since being signed on Oct. 28, Yates did what any smart QB should do: He threw the ball to DeAndre Hopkins. Yates finished with 229 yards and two touchdowns with 118 of those yards and both TDs going to Hopkins. J.J. Watt also had a huge game: The Texans defensive end racked up two of Houston's three sacks. The Texans (5-5) have now won three in a row. 
Panthers 44, Redskins 16
D-
How ugly did things get for the Redskins? Kirk Cousins was sacked five times, the Redskins lost four fumbles, the offense was 2-of-9 on third down and the run game only totaled 14 yards. The rushing total was the second lowest in team history. Cousins was responsible for three turnovers and those three turnovers directly led to 27 points for Carolina. 
A
We knew Cam Newton could win a game with his legs and now we know Newton can win games with his arm. Newton threw a career-high five touchdown passes. Before Sunday, Newton had never even thrown four in a game. The Panthers defense held the Redskins to only 186 yards, which was their best defensive performance in two years. 
Chiefs 33, Chargers 3
A
The Chiefs defense completely shut down Philip Rivers and the Chargers offense. Before Sunday, Rivers' lowest total of the season was 241 yards, he threw for 178 against Kansas City. Rivers was under relentless pressure which led to three sacks and a pick-6 to Justin Houston. Oddly enough, Houston wasn't the only defensive player to score for Kansas City. Defensive lineman Donatri Poe scored on a RUSHING TOUCHDOWN in the first quarter. The Chiefs have now won 4 in a row to get back in the AFC playoff race. 
F
If the Chargers goal is to make the people of San Diego not care if the team moves to Los Angeles, it looks like that plan might be working. The highlight of this game for San Diego was halftime when LaDainian Tomlinson's jersey got retired. 
Packers 30, Vikings 13
A
Aaron Rodgers, Eddie Lacy and the Packers defense have all been heavliy criticized over the past three week, but that criticism might end soon because they all three game through on Sunday to put the Packers into first place. Rodgers wasn't perfect, but he still managed to throw for 212 yards and two touchdowns with his banged up arm. On the defensive end, the Packers tallied five sacks on Teddy Bridgewater. Datone Jones led the way by taking Bridgewater down twice. The Packers were the first team to score over 23 points on the Vikings this season.  
C
The Vikings had a chance to prove they're the best team in the NFC North and they fell flat on their face at home. Adrian Peterson was bottled up (45 yards) and if that wasn't bad enough, the Vikings let Eddie Lacy explode for 100 yards. It was Lacy's first 100-yard game of the season. 
Seahawks 29, 49ers 13
D
The good news for the 49ers is that Blaine Gabbert actually looked decent (22 of 34, 264 yards, 1 TD). The bad news is that Gabbert was the only player on the field for San Francisco that looked anywhere near decent. The 49ers defense was torched for 508 yards, marking the second time this season the defense has given up over 500 yards. How bad is that? Before Sunday, the 49ers hadn't given up over 500 yards twice in one season since 1965. 
B
Russell Wilson got called out by his coaches this week and responded by throwing three touchdown passes against the 49ers. Let's forget about Wilson though because Thomas Rawls was the star of the game. Marshawn Lynch's backup ran for 209 yards, which is the second-highest total in team history. Rawls' emergence will definitely make the Seahawks coaching staff feel better about benching Beast Mode in the future if he's dealing with any nagging injuries. The Seahawks 508 offensive yards marks the third highest total of the Pete Carroll era. 
Pick Six Newsletter
Get the day's big stories + fun stuff you love like mock drafts, picks and power rankings.
Please check the opt-in box to acknowledge that you would like to subscribe.
Thanks for signing up!
Keep an eye on your inbox for the latest sports news.
Sorry!
There was an error processing your subscription.
Running backs around the league have their eyes on Gordon's contract standoff with the Cha...

Looking at some under the radar games for early in the season and camp storylines on the Pick...
The retired QB has made it no secret that he's gotten interest from teams around the leagu...

The Texans need to keep their young franchise QB upright, but who's the right man to do it...

College football's best QBs have some work to do to bolster the reputation of the 2020 cla...