NFL Grades Week 17: Jets choke away chance at AFC playoff berth
We're grading all the Sunday NFL games for Week 17. Find out how your team did.
If Ryan Fitzpatrick ever decides to write a book about the Jets' 2015 season, he can call it Jet Semetary because New York's season ended in the same way as most Stephen King novels: In total horror. 
After a year where the Jets mostly defied odds, it was almost fitting that their playoff hopes were dashed by Rex Ryan because in Sunday's 22-17 loss to Buffalo, the Jets played like they were being coached by Ryan: They just couldn't win the big game. 
The ugliest part of the loss is the way Fitzpatrick regressed down the stretch. In the fourth quarter, Fitzpatrick played like the Fitzpatrick that most Jets fans thought they were getting when the team traded for him in March: An average journeyman who might win a few games. 
Against Buffalo, Fitzpatrick played what will likely go down as one of the worst fourth quarters in Jets history: He threw three interceptions and basically gave the game away.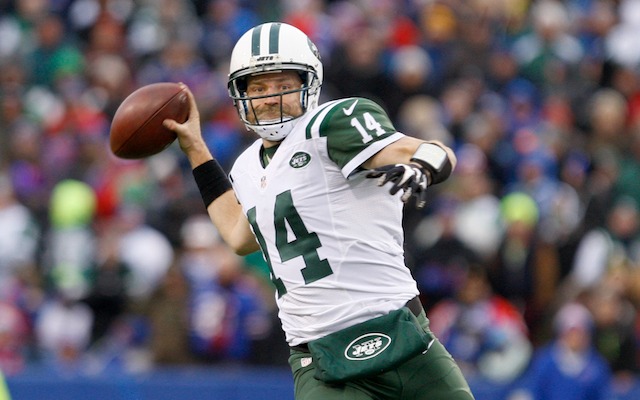 Fitzpatrick's fourth quarter showing was shocking because before Sunday, the Jets quarterback had only thrown three interceptions in the Jets' previous six games combined. Fitzpatrick matched that total in one quarter. 
The most damaging pick came on the Jets first drive of the first quarter when Fitzpatrick made a mistake he literally had not made all season: He threw a red zone interception. 
On second-and-10 from Buffalo's 14, Fitzpatrick was picked off by Leodis McKelvin in the end zone. The pick was huge because the Jets were trailing 19-17 at the time and if they would've just gotten a field goal, they would've taken the lead. 
On the Jets' next possession, the same thing happened: Fitzpatrick tried to use some of his Fitzmagic to make a play he shouldn't have tried to make. While he was being pressured by Bills defensive tackle Marcell Dareus, Fitzpatrick forced a horrible throw that was picked off by Bills linebacker Manny Lawson.
The final meaningful play of the #Jets season? Ryan Fitzpatrick targets Brandon Marshall and picked off, 2nd of game pic.twitter.com/9p2laB7Jzl

— Dov Kleiman (@NFL_RealUpdates) January 3, 2016
The Jets were only trailing by five points, so there was literally no reason for Fitzpatrick to make a risky throw like that, but he still did it.
Fitzpatrick got one more chance to lead the Jets into the playoffs, but that turned into a disaster too. Three plays into what could've been a potential game-winning drive, Fitzpatrick threw another interception.
A.J. Tarpley intercepts Ryan Fitzpatrick for the win! #NYJvsBUF https://t.co/QQEjsIUEAC

— NFL (@NFL) January 3, 2016
After 16 weeks of promising football, the Jets' season ended with a whimper: Three interceptions on three straight offensive series.  
With those three picks, Fitzpatrick became just the third player since 2000 to throw three picks in the fourth quarter of a Week 17 game TWICE in his career (Joe Flacco, Henry Burris are the others).
The good news for Fitzpatrick is that if he does write Jet Semetary, he'll be rich because Rex Ryan's family will probably buy every copy. Rex will probably be basking in this Jets' loss for months.
Team
Grade
Analysis
Vikings 20, Packers 13
B-
The Vikings won despite the fact that they had their second worst offensive performance of the season, totaling only 242 yards of offense. The Vikings worst offensive game came against the Seahawks, which is bad news because that's who Minnesota gets in the wild-card round after beating Green Bay. 
C
If the Packers are going to win in the playoffs, they're going ot need to figure out a way to protect Aaron Rodgers. The Packers quarterback was sacked 5 times against the Vikings and faced constant pressure. Despite those issues, Rodgers still managed to throw for 291 yards and a touchdown. 
Bills 22, Jets 17
F
Ryan Fitzpatrick picked a bad time to play his worst game of the year. Fitzpatrick completed a season-low 43.2 percent of his passes and threw three interceptions against Buffalo. Even worse? All three picks came in the fourth quarter. Basically, Fitzpatrick and the Jets choked away a playoff spot and now they'll be spending the postseason at home. 
A
The Jets season ended in the worst way possible: A loss to their former coach. Rex Ryan will probably spend the rest of his life talking about this game. One year after being fired by the Jets, Ryan kept the Jets out of the playoffs by beating his former team. The Bills coach should probably thank Sammy Watkins (136 yards) and his defense (forced three turnovers) for allowing giving him a win that he'll be able to rub in for the rest of time. 
Saints 20, Falcons 17
B
In what will surely go down as the greatest irony of the Saints' 2015 season: New Orleans won the game thanks to its worst unit. The Saints 31st-ranked pass defense came up with a big interception in the game's final minutes that sealed the win. Drew Brees put the Saints in a position to win by throwing for 323 yards and a touchdown, despite playing with an injured foot. 
C-
Matt Ryan threw an interception at the worst possible time, which pretty much epitomizes the Falcons' 2015 season. Ryan's pick with under two minutes left in the game led to the Saints game-winning field goal. The Falcons finished the year 3-8 after starting the season 5-0. 
Redskins 34, Cowboys 23
A
The Redskins benched most of their starters for the entire second half and still won this game by double-digits. Kirk Cousins managed to throw three touchdown passes despite the fact that he played less than two quarters. 
D-
The Cowboys turned the ball over four times and were generally horrible all game. However, they don't get an 'F' because they racked up 512 yards, which was the team's second-highest offensive total since 1999. Kellen Moore threw for 435 yards, which would've been more impressive if the Redskins were playing their starters and the Cowboys weren't blown out. The Cowboys finished the season with their worst record since 1989. 
Colts 30, Titans 24
B-
The Titans had every reason to lose Sunday so they could wrap up the No. 1 pick in the NFL Draft, but even with the incentive, they still didn't tank the game.
B+
The Colts won this game even though they had to play two quarterbacks -- Josh Freeman and Ryan Lindley -- who had only been on the roster for six days. SIX DAYS. Chuck Pagano should keep his job just for winning a game with those two. 
Lions 24, Bears 20
B+
If this was Calvin Johnson's final game in Detroit -- and it could've been because he has a $24.1 million cap hit next season -- he went out with a bang. Megatron caught 10 passes for 137 yards, tying his season-high for receptions and marking only the second time this year he went over 100 yards receiving. The person with the biggest smile after the Lions win might've been offensive coordinator Jim Bob Cooter. Using Cooter's offense, the Lions closed the season on a three-game winning streak, which should help Cooter keep his job in Detroit. 
C
Jay Cutler almost made it through the entire season without throwing multiple interceptions in any single game. Almost. Cutler threw three picks against the Lions, including an interception in Detroit territory with just 2 minutes left to seal the loss. Going into Sunday's game, Cutler had held the NFL's longest streak for not throwing multiple picks in a game. Cutler had thrown either zero or one interception in each of Chicago's first 15 games. 
Steelers 28, Browns 12
B-
The Steelers offense got all the headlines this year, but it was the team's defense that sealed Pittsburgh's wild-card berth on Sunday. With the Steelers clinging to a 17-12 lead in the fourth quarter, Pittsburgh defense turned into the Steel Curtain and forced turnovers on three consecutive Cleveland possessions. Those turnovers led to 11 points, which allowed the Steelers to seal the win. 
D
The most Browns week ever came to a fitting end. It started on Wednesday when their starting quarterback was declared out with a concussion, then that QB may or may not have gone to Las Vegas, which means he wasn't around to answer any gameplan questions from his replacement. That replacement (Austin Davis) then had no chance, getting sacked seven times and throwing two picks. This game was pretty much an argument for firing Mike Pettine. 
Dolphins 20, Patriots 10
F
New England seems to be falling apart at the wrong time. Not only did the Patriots close the season by losing four of their final six games, but the Miami loss might've been the ugliest. The Patriots only put up 196 yards of offense, which was the team's third-lowest total with Tom Brady since 2003.
A
Maybe Ryan Tannehill should ask a teammate's wife to call him out every week. Tannehill was called out last week by the wife of Dolphins corner Brent Grimes and he responded by playing his best game of the season (350 yards, 2 TDs). If Dolphins players want to keep interim coach Dan Campbell around, this was exactly the kind of game they needed to play.
Eagles 35, Giants 30
B+
With Chip Kelly out of the picture, the Eagles finally decided to see what DeMarco Murray's capable of and apparently, he's capable of a lot. The Eagles running back scored on 54-yard in the first quarter, which was one of two huge plays in the game for Philadelphia. The other big play came late in the third quarter when Walter Thurmond picked off Eli Manning and returned it 83-yards for a touchdown. That score gave the Eagles the lead for good. 
D
If this was Tom Coughlin's final game with Giants, he's probably going to try and forget it as quickly as possible. This loss was basically the story of the Giants season: They held a second half lead and then still somehow managed to lose. 
Bengals 24, Ravens 16
C
For the second straight week, Ryan Mallett proved that he's probably going to be the perfect guy to backup Joe Flacco next season. Mallet threw for 292 yards and a touchdown against the Bengals, but he wasn't perfect, he also threw two interceptions. 
B+
The Bengals (12-4) tied their franchise record for wins by beating the Ravens. However, that's a record that no one's going to care about if they lose in the first round of the playoffs for the fifth straight year. The Bengals should probably figure out how to convert a third down before next week: They went 0-for-9 against the Ravens. 
Texans 30, Jaguars 6
F
Blake Bortles' worst nightmare basically came true against Houston, if his worst nightmare is being crushed by J.J. Watt. Bortles was sacked eight times in the game, with Watt tallying three of those sacks. Texans defensive end Whitney Mercilus also had an impressive game with 3.5 sacks. 
A
The Texans finally got their starting quarterback on Sunday, which was almost ironic because with the way Houston's defense played, the Texans didn't even need a quarterback. The Texans forced four turnovers in the game, a total that includes a fourth quarter pick-6 by Kareem Jackson. Jackson's point were all the Texans needed to win. 
Panthers 38, Buccaneers 10
F
Jameis Winston might just bench himself the next time the Bucs play the Panthers. The Bucs quarterback had an impressive rookie season, throwing only 13 picks. However, it should be noted that almost half of those (6) came against the Panthers. For the season, Winston threw two touchdowns and six interceptions against the Panthers while throwing 20 touchdowns and 7 interceptions against everyone else. 
A
Cam Newton didn't have Ted Ginn to throw to, so he made a star out of someone else: Devin Funchess. Funchess caught seven passes for 120 yards and a touchdown. As for Newton, he likely wrapped up the MVP with four total touchdowns. The Panthers quarterback threw two scoring passes and rushed for two. 
Chiefs 23, Raiders 17
C
After a promising 4-3 start, the Raiders fizzled down the stretch, going 3-6 over their final seven games. The Raiders gave up 189 yards rushing to Kansas City, which is basically a recipe for a loss in Oakland, Since 2004, the Raiders are 1-39 when they give up over 180 yards rushing. 
B+
Thanks to the Chiefs defense, Derek Carr will probably be hearing footsteps the entire offseason. Kansas City sacked Carr six times, and it was a team effort: All six sacks were recorded by different players. 
Seahawks 36, Cardinals 6
A+
The Seahawks might need to give Russell Wilson another raise. When this game mattered, Wilson was almost perfect. The Seahawks quarterback threw for 155 yards and three touchdowns in the first half, which put the game so far out of reach that the Cardinals decided to bench Carson Palmer in the second half. 
F
If I'm the Cardinals, I don't ever want to see the Seahawks again. 
Broncos 27, Chargers 20
B+
The Chargers had nothing to play for and half of their roster was injured, but still, somehow, they almost pulled off the upset. That's a testament to Philip Rivers, who played mostly mistake free football against the NFL's No. 1 defense. 
B+
Gary Kubiak has been trying all season to avoid a quarterback controversy, but it looks like he's going to get one now. Peyton Manning led the Broncos to the win after Kubiak was forced to bench a struggling Osweiler in the third quarter. 
49ers 19, Rams 16 OT
B-
The Rams have zero offense without Todd Gurley, so it wasn't exactly surprising to see St. Louis struggle with Gurley on the sideline. 
B+
Blaine Gabbert did something on Sunday that not even Russell Wilson could do: Beat the Seahawks. Maybe the Rams underestimated Gabbert, maybe they gave up, but whatever the reason was, Gabbert was able to shred the Rams for 354 passing yards. That number marks Gabbert's career-high. Before Sunday, he'd never thrown for over 320 yards in a game. 
Warren Sapp was one of several players named in a lawsuit against NFL Network

Check out the uniforms that Denver and Indianapolis will be wearing on Thursday

The Cowboys are going to need a few things to go their way to get into the postseason
Rudolph will be put under the microscope in Mobile by clubs looking for a quarterback early...

This fan is taking the Saints to court for using 'football games as a platform for protest...

Can Aaron Rodgers get the Packers to the postseason? Even if they win out, they'll need he...