NFL Hall of Famer Deacon Jones has died at 74
Deacon Jones, a Hall of Fame defensive end who was a pioneering defender, died at the age of 74, according to Redskins GM Bruce Allen.
• 1 min read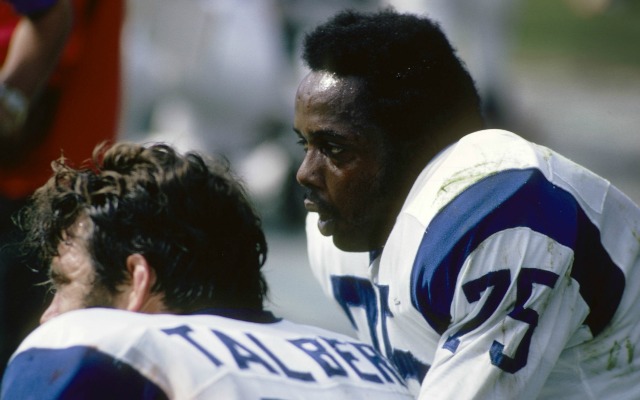 Deacon Jones, a Pro Football Hall of Famer considered by many to be one of the greatest defensive ends of all time, has died at the age of 74, according to Redskins general manager Bruce Allen.


The #Redskins have learned via EVP/GM Bruce Allen that @profootballhof David "Deacon" Jones has passed away from natural causes. He was 74.

— Redskins (@Redskins) June 4, 2013


Jones was drafted by the Los Angeles Rams in the 14th round of the 1961 NFL Draft, and he spent most of his 14-year career with his original team, racking up eight Pro Bowl berths and five All-Pro honors. He also spent time with the Chargers in 1972 (where he, again, made the Pro Bowl) and 1973 before playing again for Redskins coach George Allen in his final season of his career in 1974. Jones and the Allens remained close throughout the years. 
Along the way, Jones became a valuable member of the "Fearsome Foursome," earned the "Secretary of Defense" nickname, and he reportedly was the first to make use of the head slap in order to get a jump on the opposing offensive linemen.
"Deacon Jones was one of the greatest players in NFL history. Off the field, he was a true giant," Redskins general manager Bruce Allen said in a statement. "[Jones'] passion and spirit will continue to inspire those who knew him. He was cherished member of the Allen family... "I will always consider [Deacon Jones] my big brother."
Here are the spoken words of Jones as he describes some of his top games.


Go ahead and doubt Pete -- because this is the week he turns it around with this picks

The president believes people are really responding to his criticism of the NFL

CTE has previously been thought to only be diagnosable in deceased patients
The Chiefs are up to No. 2 while the Falcons maintain their top perch

Our computer model simulated every Week 4 NFL game 10,000 times with very surprising resul...

There are only two unbeaten teams left in the league. Which team is better?