NFL Monday Combine Musings: Under-radar free agents to watch
After spending the weekend at the combine, there are some under-the-radar free agents getting some buzz. Here's a look at eight of them to top the Monday Musings.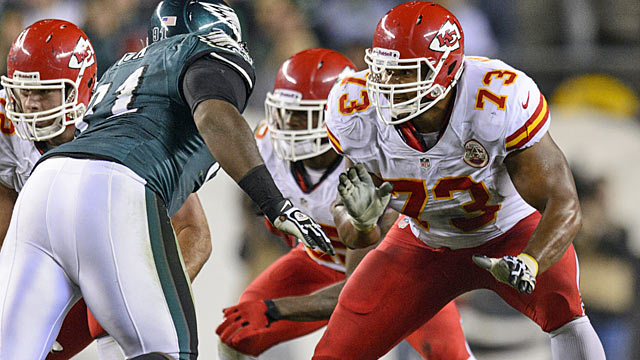 NFL offseason: Top free agents | NFL Mock Drafts | Prospect Rankings
With the combine behind us, and free agency coming in a couple of weeks, here are some of the down-the-line free agents who could be getting  more action than expected when the period begins:
1. Jon Asamoah, G, Chiefs: He is 25 and he is a mauler as a physical run player. He did get hurt last season, and didn't get his job back when he returned, but with his size, power and age, I would expect several teams to be in the mix to land him. 
2. Jason Worilds, OLB, Steelers: The Steelers would love to have him back, but they have cap issues. It will be tough to re-sign him unless they make some tough decisions, like restructuring high-cap deals for players like corner Ike Taylor. In a league starved for pass rushers, Worilds is coming off his best season with 8 1/2 sacks and he turns 26 March 3. 
3. Willie Young, DE, Lions: Speed rushers have great value, and Young is that. He is 28 and is coming off his first full season as a starter. He played mostly as a backup his first three seasons. He had three sacks last season, but there is potential for more. With so many teams looking for edge rushers, he will get some action. 
4. Linval Joseph, DT. Giants: Hearing a lot of teams will be in the hunt for Joseph, who is coming off an impressive season in the middle of the Giants line. At 25, he's the right age. He is listed at 6-4, 323 pounds. 
5. Rodger Saffold, G-T, Rams: He was a second-round pick as a tackle, and struggled some at the position. But he moved inside to guard last season and had the look of a potential Pro Bowl player there. The versatility is a big plus. 
6. Chris Cook, CB, Vikings: At 6-2, 215 pounds, he has the size teams now crave at the position. He is a solid man cover player who seems to drift when asked to play in zone. But still has the physical makeup teams like from their corners. He has had some off-field issues. 
7. Trumaine McBride, CB, Giants: He took over as a starter last season when Corey Webster got hurt and played well. At 5-9, he could help a team looking for a nickel corner. 
8. Stevenson Sylvester, LB, Steelers: He has started only two games in four seasons, but he's been really good on special teams. I think he might be ready to step in and start for a team on a full-time basis -- and might not cost that much.
• I keep hearing how impressed the scouts were with how Johnny Manziel handled himself. He seemed to come across as a "football-head," which means a kid who loves the game. And all the personnel people I talked to are intrigued with his game. They love watching him play. One NFC offensive coordinator said, "I know it was Duke, but I couldn't turn off that bowl game." But so many coaches and personnel men have concerns about his ability to see the field and anticipate throws. That's a problem in the NFL. "He does that run-around, spin stuff in the NFL and he will get killed," one GM said. All in all, I thought it was a good weekend for Manziel, even if he didn't throw. 
• The free-agent corner class looks deep. But as one personnel man said, "They're all out there for a reason. You don't let good corners hit the market without question marks." So true. A look at the top corners shows just that. Tennessee's Alterraun Verner and Miami's Brent Grimes are short. Aqib Talib has some character concerns and has some injury issues. Some scouts question the drive of Denver's Dominique Rodgers-Cromartie. On and on it goes. Corners are too valuable to hit the market. So when they do, there's usually a reason if you look deep enough. That doesn't mean they can't be worth their new contract. It just means a deeper dive is required. 
• Yes, South Carolina defensive end Jadeveon Clowney is a beast. He was impressive running the 40 at 4.5 Monday. And I do have him ranked first overall on my top-32 list. But this is a legitimate question: Why only three sacks last season? Yes, he was doubled some, but great players find a way. He needed to get the quarterback down more than that. My theory: He knew it didn't matter. He will be a top-3 pick. 
• For all the hype about Clowney's 40 times, I offer this: When Seattle defensive end Michael Bennett went to the combine, he ran a 5.0 40. He's now the top free-agent defensive end on the market. 
• I wrote in my combine notes Saturday that some scouts thought Missouri defensive end Michael Sam, who came out publicly and said he was gay, could go undrafted.. That was from the tape. But his workouts here didn't help. He didn't do well on the bench press and his 40 times were not good for a 261-pound pass rusher.  Sam will go late in the draft, but he is far from a quality prospect. 
• Most expect the Bengals to let defensive end Michael Johnson walk after giving Carlos Dunlap and Geno Atkins big deals last year. But I hear the Bengals will actually try to re-sign Johnson. They felt he played at a high level last season, even if his sack numbers were down. Johnson is good against the run. If he hits the market, he will see a lot of activity. He is 26, which means he has a lot of good football in front of him. 
• There is so much tampering going on in the NFL these days, it's unreal. Deals are being made. Contracts are being lined up. And nobody cares. Why? All the teams do it. Why call anybody else out when they all do it? But let's not act like it isn't happening. It is -- in a big way. 
• Some of the so-called blocking tight ends in free agency will get some action. With the league moving to more move tight ends, the basketball-player types, the blocking tight ends need to be on rosters to supplement them. Guys like Carolina's Ben Hartsock will get some action.
• With Ohio State Ryan Shazier adding 15 pounds from last season, it should help his draft stock. Teams are looking for that Seattle-type of linebacker who can run and chase and cover. Shazier has those skills. 
• Virginia Tech quarterback Logan Thomas should just move to tight end. Too many teams don't think he can play quarterback in the league. But, man, he has the size and tools to make the move to tight end. 
• Years ago when Derrick Brooks came out of Florida State, teams wanted to move him to safety. He did not want to move. And now he's going into the Hall of Fame. FSU linebacker Telvin Smith, who is 6-3, 218 pounds, is small for a linebacker, much like Brooks, but he ran 4.44 here to open a lot of eyes. I see him as a perfect style of player in this current NFL, a linebacker who can run. He will get up to 225 and end up being a quality starter -- and special teams player. 
With their 2017 season over, it's time for Jaguars fans to turn their attention to the dra...

With just a few tweaks to the roster, the Jaguars could be the new AFC powerhouse next sea...

Go ahead and buy your championship gear ahead of time, Eagles fans
Philadelphia fans might want to take it down a notch and not poke the bear

It was a valiant effort from the city, but fans would not be deterred

It was utter and total chaos in Philadelphia after the Eagles beat the Vikings