NFL MVP Projection: Aaron Rodgers moving up heading into Week 3
Peyton Manning is still on top of the CBSSports.com NFL MVP Projection, but Packers quarterback Aaron Rodgers is moving up quickly.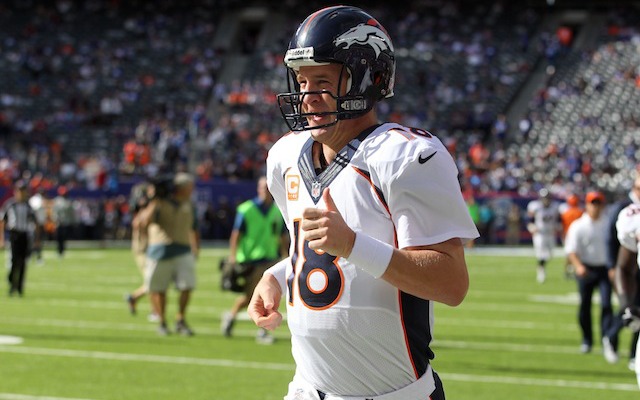 Here's why Peyton Manning is on track to win the NFL MVP Award after only two weeks: because you can write the opening paragraph of a Denver Broncos game story before the Broncos even play. Let me show you. 
Peyton Manning was on fire against [insert team], throwing [pick a number between two and seven] touchdown passes and zero interceptions as Denver rolled to a [pick a number over 35]-[pick a number 25 points lower than the number you just picked] win over the [pick any team on the Broncos schedule]. 
It's that easy. Copy and paste, write your own Broncos game stories at home.  
If it wasn't clear above, Peyton Manning's on the top of our MVP Projections after Week 2, but who are the other seven players on the list? Aaron Rodgers is one of them, otherwise he wouldn't be in the headline, but I'll let you read on and find out the rest.
MVP Projection
1. Broncos quarterback Peyton Manning: Manning didn't throw seven touchdown passes against the New York Giants on Sunday, but he was still impressive. In the win over his little brother Eli, Peyton threw for 307 yards and two touchdowns. Thanks to that performance, Peyton is now the first player in NFL history to throw at least nine touchdown passes with no interceptions through the first two weeks of the season. It seems like the words 'Peyton Manning' and 'NFL history' are probably going to be used a lot together this year. 
2. Green Bay Packers quarterback Aaron Rodgers : Rodgers threw for 335-yards and three touchdowns against the Washington Redskins on Sunday -- in the first half. Washington obviously didn't do a discount-double check on its defensive game plan. Rodgers' 813 passing yards leads the league while his completion percentage (69.3) and yards per attempt (10.29) are both top 3. 
3.  Houston Texans linebacker Brian Cushing : With 11 tackles and two sacks, Cushing played a huge part in the Texans 30-24 overtime win over Tennessee. If you combine that with the game-tying fourth quarter pick-6 Cushing had against the Philip Rivers and the San Diego Chargers in Week 1, you have the recipe for an early season MVP candidate on the defensive side of the ball.
4. Chargers quarterback Philip Rivers: Rivers might throw seven interceptions against Tennessee on Sunday and be banned from this list forever, but for now, he's on it. Rivers has only thrown one interception this season and the irony is if he hadn't thrown it, the Chargers probably would've beaten the Texans and Rivers -- not Rodgers -- would be No. 2 on this list.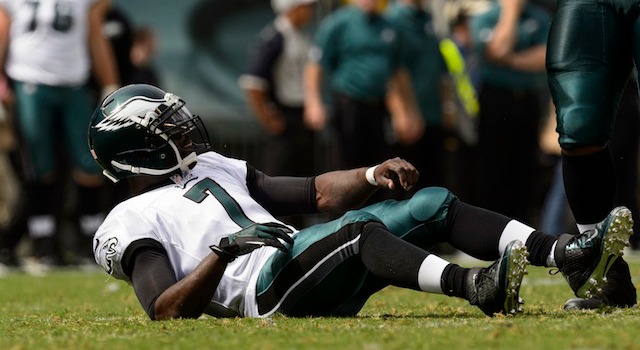 5.  Philadelphia Eagles quarterback Michael Vick : If Vick doesn't get injured and that's a big if because he always gets injured, he could have a career year. Vick leads the league in yards per attempt (10.29) and is one of only three quarterbacks in the NFL, along with Peyton Manning and Alex Smith , who have thrown four or more touchdown passes and no interceptions.
6. Eagles running back LeSean McCoy : After rushing the ball 49 times in Week 1, the Eagles only ran 19 run plays in Week 2. Tendencies? Chip Kelly doesn't believe in those. McCoy only got 11 carries against San Diego and his yardage total suffered, but his production was still impressive: he averaged 4.8 yards per carry. 
7. Buffalo Bills defensive end Mario Williams : When the Bills signed Williams to an almost $100 million contract in March of 2012, they were probably hoping he would do something to earn the money. Williams started doing that in Week 2 with a franchise-record tying 4.5 sacks against Carolina. 
8. Eagles wide receiver DeSean Jackson : When Calvin Johnson set the NFL single-season receiving yard record of 1,964 yards last year, he had 205 yards through two games. Jackson has 297 and is on pace for 2,376 yards.
Also, if you didn't notice, there are three Eagles on this list. That was done to make a point and here's that point: If Chip Kelly's offense doesn't slow down and Philadelphia's in the playoff chase at the end of the season, at least one Eagles offensive player will have to be in the MVP conversation. In Chip Kelly's fantasy world, Vick, McCoy and Jackson will finish 1-2-3 in the MVP voting and the Eagles will change their mascot to a Duck. Kelly's fantasy would probably also include all Eagles preseason games being played in Eugene, Ore. 
---
Follow John Breech on Google+
Cardinals' running back says he's feeling more energized

The Vikings' receiver is wearing his heart on his foot

The Ravens need help on the offensive line after dealing with injuries and a surprise reti...
The new Dolphins quarterback offered high praise for his receiver after his first preseason...

LeSean McCoy was probably a pretty popular person in the Bills locker room on Thursday

Kaepernick is unsigned, but he is continuing to make waves off the field