NFL MVP Projection: Cam Newton makes list, Manning still on top
A win over Tom Brady is the fastest way to earn a spot on the MVP Projection list.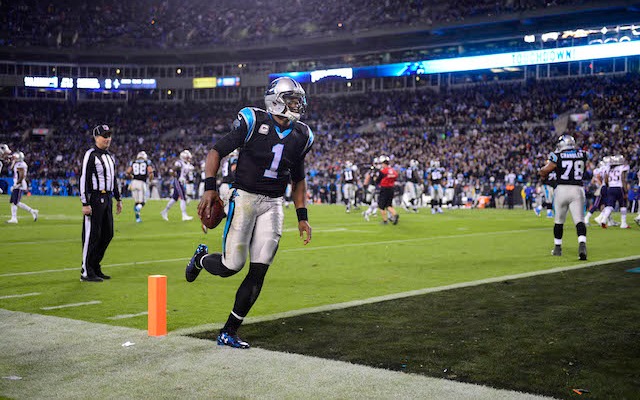 Carolina Panthers quarterback Cam Newton is the only player making his first appearance on the MVP Projection list this week, so lets welcome Cam Newton. Now that we've welcomed Cam, lets do what we've done all season and talk about Peyton Manning .
Manning's been on top of the MVP Projection list since Week 1 and that's not changing this week even though Manning only threw one touchdown pass against the Kansas City Chiefs , the fewest he's thrown in a game all season.
That gives Manning 34 touchdown passes for the season, which got me to wondering: Has Manning ever topped that number through 10 games in any of his other MVP seasons?
The answer to that question is yes. Manning won the MVP Award in 2003, 2004, 2008 and 2009 and he actually threw more touchdowns passes through 10 games in 2004. 
In 2004, Manning totaled 2,960 yards, 35 touchdown passes and seven interceptions through 10 games. Through 10 games this season, Manning's thrown for 3,572 yards, 34 touchdowns, along with six interceptions. So Manning's on a record pace for touchdowns, but he's been on it before. Manning ended 2004 with a then NFL-record 49 touchdown passes. 
Manning broke Dan Marino's record of 48 touchdown passes, a record Marino set in 1984. Marino won the MVP Award the year he set the record. 
Tom Brady broke Manning's touchdown record when he threw 50 touchdown passes in 2007 and Brady would go onto win the MVP that year. Since 1963 every quarterback that's tied or set the touchdown pass record has gone on to win the MVP Award. That seems to be good news for Manning, who's on pace to throw 54.4 touchdown passes this season. 
This information should be useful if you enter a Peyton Manning trivia contest at any point over the next six weeks. 
Enough talk about touchdown passes and trivia contests though, lets get to the projection. 
NFL MVP Projection
1. Denver Broncos quarterback Peyton Manning: Peyton Manning probably could have played with a stab wound against the Chiefs in Week 11 and been fine. Manning played against Kansas City with a sprained ankle and didn't get hit once, it was a combination of quick releases by Manning and great blocking by his offensive line. If the Broncos line is going to block like that when Manning is injured, Peyton should probably log on to WebMD.com every week and come up with a different ailment to tell the line about.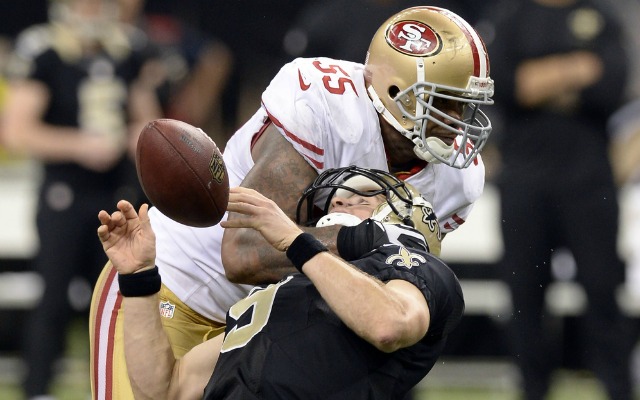 2. New Orleans Saints quarterback Drew Brees : Drew Brees almost wasn't on the list this week because he almost got choked to death by San Francisco 49ers linebacker Ahmad Brooks on a play where Brooks was flagged for a personal foul. Brooks wasn't happy about the penalty, but Brees was because it turned a sack and a 10-yard loss into a first down for the Saints. Brees won't have much time to ice his neck this week though because the Saints play on Thursday against the Atlanta Falcons . 
3.  Indianapolis Colts quarterback Andrew Luck : If the MVP Projection list was based on a player's ability to give a halftime speech, then Luck would be at the top this week. Luck ripped into his teammates at halftime of the Colts win over Tennessee and apparently his speech worked because Indianapolis came back from a 17-6 halftime deficit to win 30-27. I'm not sure what Luck talked about, but he went to Stanford, so his speech probably had something to do with Euler's equation of complex analysis. I guess my theory here is that he confused the team into playing better. 
4. Seattle Seahawks quarterback Russell Wilson : If you feel like all Russell Wilson does is win, that's not entirely inaccurate. The Seahawks win over the Minnesota Vikings on Sunday was the 21st win of Wilson's two-year career, tying him with Dan Marino for the most wins in a quarterback's first two seasons. Only Ben Roethlisberger has more (22) and Wilson can tie him with a win over the Saints in Week 13. We can argue all day about whether or not wins are a good way to gauge the play of a quarterback, but where ever you stand on that argument, we can probably agree that the Seahawks wouldn't have 21 wins over the past two seasons without Wilson. 
5.  Philadelphia Eagles running back LeSean McCoy : Through 11 weeks this season, LeSean McCoy has rushed for 1,009 yards, making him the first and only running back in the NFL who's crossed the 1,000 yard mark so far this year. Last year, Adrian Peterson was the first running back to cross the 1,000 yard mark and that worked out well for him.  
6. Panthers quarterback Cam Newton: I was going to put Tom Brady here, but Luke Kuechly grabbed my keyboard and made me put Cam Newton. And the refs said it was OK, so Newton's staying here. I'm not sure what impressed me more about Newton on Monday, his 14-yard run in the third quarter where he actually ran 75 yards (below) or his 13-play, 83-yard fourth quarter drive that ended with Newton throwing the game-winning touchdown to Ted Ginn Jr. 
7. Chiefs running back Jamaal Charles : If you stayed up and watched the Broncos-Chiefs game until the end, you may have noticed that on the final play of the game, Alex Smith checked down. It was the most Alex Smith thing ever. Smith could have taken a shot down field -- an interception doesn't matter with five seconds left -- but he didn't, he checked down. What I'm trying to say here is that the Chiefs are 9-1 with a quarterback who would check down a check down after he checked down another check down if Andy Reid designed a play that did that. Jamaal Charles is why the Chiefs offense is able to function. 
8. Detroit Lions wide receiver Calvin Johnson : Megatron almost fell off the MVP Projection this week, but then I realized I'd look foolish if I dropped off someone who had 179 receiving yards and two touchdowns in Week 11. There have only been 12 performances this season where a wide receiver went over 179 yards and Johnson has two of them. The problem with Johnson is that when he plays well, it doesn't always mean the Lions win. Detroit has lost three times this season when Megatron went over 115 yards receiving. The reason Johnson's on this list though is because he's on pace for 1,805 yards, which would be the third best season by a receiver in NFL history. Oh and he's on that pace even though he missed a game. So that's pretty impressive.
Did I leave someone off the list? Have you ever used Alex Smith on a Playstation 3 and not checked down just to see what it was like? Can you explain Euler's equation of complex analysis? Let me know in the comment section or on Twitter.
---
Follow John Breech on Google+
Cowboys rookie Jourdan Lewis got some good news on Tuesday.

The Ravens might need some help at running back

The Jaguars are making people rich
It looks like Michael Vick is hoping to make the transition from player to coach

The former undrafted free agent is about to get a huge raise

Both Malik Hooker and Andrew Luck are on the PUP list, so maybe it's time to start worryin...