NFL MVP Projection: Chiefs RB Jamaal Charles makes list debut
There are two new faces on the MVP Projection list this week. One of them is Chiefs running back Jamaal Charles. The other one has his own hashtag on Twitter.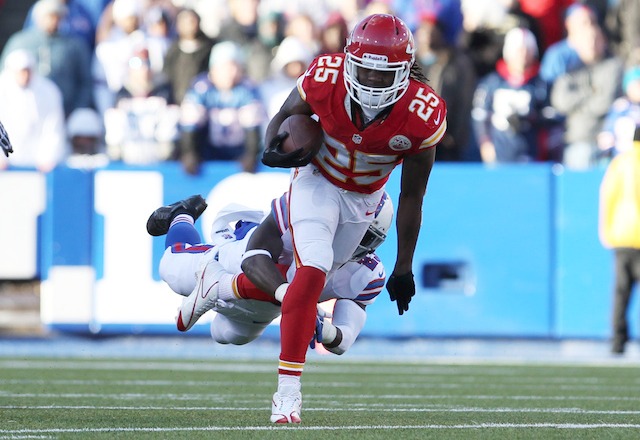 Week 9 was a weird one in the NFL. There were a lot of MVP performances by players that will never be in the MVP conversation. Ever. 
Take Nick Foles for example, since Peyton Manning was on a bye, someone had to play like Peyton Manning and Foles decided to be that person. Foles tied an NFL-record with seven touchdown passes, but Foles isn't on the projection list this week and I don't think he will be for the rest of the season. Unless he throws eight touchdown passes against the Packers, then I might think about it. 
There are two players making their debut on the list this week, which means I had to drop two players. So sorry in advance to Philip Rivers and Andy Dalton. Although the apology to Dalton is a fake one because I'm still bitter that the week I put him on this list, he goes out and literally loses a game by getting sacked in the end zone for a walk-off safety. 
Lets stop talking about walk-off safeties and get to the projection. 
MVP Projection
1. Broncos quarterback Peyton Manning: The big winner of Week 9 was Cooper Manning because he got to spend time with his brothers Peyton and Eli. I'm guessing it was pretty boring though, they probably just watched football on their phone all weekend. 
2. Colts quarterback Andrew Luck: Statistically, Andrew Luck is an average quarterback. He has less passing yards than Carson Palmer, he has less touchdown passes than Andy Dalton and he has a lower completion percentage then Chad Henne. What Luck leads the league in though is heart. Actually, I just made that up, heart isn't a real stat, but if it existed, I think he'd be in a tie with Russell Wilson for the lead. Speaking of real stats, Luck is tied for the most fourth quarter comebacks in 2013 with three. That means Luck's basically won three games for the Colts this season and in my book that makes him valuable. 
3. Saints quarterback Drew Brees: There was only room on this list for one quarterback that lost in Week 9, so Philip Rivers is out and Brees is in. If you want to blame Danny Woodhead for the loss and Rivers' subsequent drop off the list, that's fine Chargers fans, but don't blame me. By the way, if you're wondering how important Brees is to the Saints, New Orleans called 66 plays against the Jets and 51 of them were passes. The Saints weren't even trying to pretend to run the ball. 
4. Lions wide receiver Calvin Johnson: Megatron is moving up one spot in this week's projection and now you're probably wondering 'How is Megatron moving up one spot? He didn't even play last week, he had a bye.' First of all, Megatron was my favorite Transformer as a kid and second of all, someone wearing his jersey WON THE WORLD SERIES OF POKER. The Lions fan who won the World Series of Poker is going home with $8,361,570, which is ironic because that's how many receiving yards I think Johnson will finish with this season. 
5. Chiefs linebacker Tamba Hali: This was the week I was finally going to move Chiefs running back Jamaal Charles ahead of Tamba Hali on this list. I said to myself, 'I'm going to watch the Chiefs crush the Bills and Jamaal Charles is going to blow me away and I can finally put him ahead of Tamba Hali.' Instead, here's what happened: Hali scored more touchdowns than Charles in Week 9 and now I feel vindicated for having Hali ahead of Charles. As long as Hali keeps scoring touchdowns and keeps tipping people $1,000, he is staying ahead of Charles on this list. 
6. Chiefs running back Jamaal Charles: If you took Alex Smith off the Chiefs offense and replaced him with a cat, Kansas City would probably still be 9-0 and the cat would probably have three more touchdown passes than Smith has right now -- Smith has only thrown two touchdown passes since Oct. 1. However, if you took Charles off the Chiefs offense, the team would be 2-7 and they would only have two wins because of Tamba Hali. Not only does Charles lead Kansas City in rushing, he's also the Chiefs second leading receiver -- first, if we're going by receptions. 
7. Saints tight end Jimmy Graham: Jimmy Graham has played the last two weeks with only one healthy foot and he still totaled 153 receiving yards and four touchdowns in the two games combined. To appreciate what Jimmy's done, I typed this entire paragraph with only one hand. It took me seven hours. If Graham doesn't win the MVP, he'll definitely win the MVPOOF -- Most Valuable Player On One Foot. Also, MVPOOF kind of has a nice ring to it. The NFL should start handing that award out. 
8. Bills linebacker Kiko Alonso: If Kiko Alonso is good enough to be a family court judge in Buffalo, then he's good enough to be on this list. Alonso isn't actually a family court judge in Buffalo, but he received at least one vote for the job on Election Day. Alonso also received a vote to be a tax collector in Pennsylvania. As for actual football reasons he's here: He's tied for the most interceptions in the NFL, he has the third most tackles and he has his own hashtag on Twitter. 
Shameless plug pic.twitter.com/I5KWrNqvdC "@mrdeadlier:that movie just got 100x better RT @MSZWNY: I am #LegendofKikoAlonso #AddaWordRuinaMovie

— Jordan M. (@J_Marrs_) October 5, 2013
Did I leave someone off the list? Did you vote for Kiko Alonso for a public office in Buffalo? Is your favorite transformer Megatron? Let me know in the comment section or on Twitter.
Everything you need to know about the Packers-Steelers game on Sunday night

The Patriots dynamic duo will be playing on Sunday against the Dolphins

Here's every official injury designation for each NFL team for Week 12
Larry Hartstein is on an 8-2 NFL run and gives his best three-team NFL parlay for Week 12

Plus baby names, kicker issues and other things of interest from NFL on Thanksgiving

It was foretold, and King delivered