NFL MVP Projection: One Heisman Trophy winner on the list
It's Heisman week, so it's worth mentioning that Cam Newton is the only player on this week's MVP Projection list that can call himself a rightful owner of college football's biggest trophy.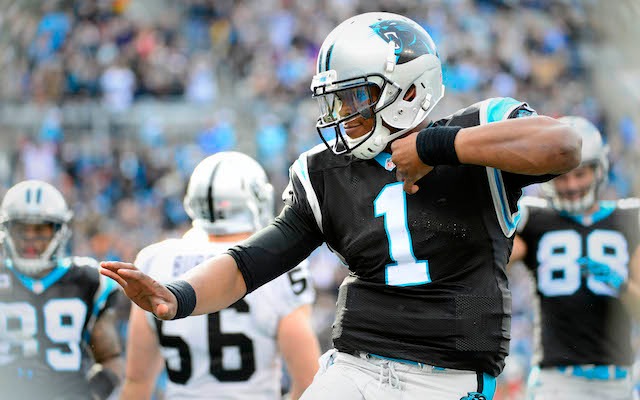 The Heisman Trophy's being handed out on Saturday, which makes right now the perfect time to ask: Has any Heisman winner ever been named NFL MVP?
If you keep track of Heisman Trophy winners, you're probably well aware of the fact that there's been a recent phenomenon of Heisman winners falling on their face once they get to the NFL. There's a Heisman winner from 2007, who I won't name -- rhymes with Jim Jebow -- who isn't even in the league anymore. 
There's a Heisman winner from 2011, who I also won't name, but he got benched by Mike Shanahan on Wednesday. 
Anyway, the answer to my original question is yes. Four players have won both the Heisman Trophy and the NFL MVP Award. 
Paul Hornung was the first to do it. Hornung won the Heisman with Notre Dame in 1956 and followed that up with an NFL MVP Award as a Green Bay Packer in 1961. Hornung was followed by O.J. Simpson. Simpson won the Heisman in 1968 while at USC and then was named NFL MVP in 1973 as a running back for the Buffalo Bills . 
Another USC Trojan pulled off the Heisman-MVP double after Simpson. In 1981 Marcus Allen won the Heisman, four years later, the Oakland Raiders running back was named NFL MVP. The last player to pull this rare double off was Oklahoma State's Barry Sanders. Sanders won the Heisman in 1988 and then as a Detroit Lions  running back, he split the MVP Award in 1997 with Brett Favre. 
Enough Heisman talk though, lets get to the projection. OK fine, before we get to the projection lets look at the top-three Heisman finalists from 1997. 
Charles Woodson, Ryan Leaf & Peyton Manning hang out while shooting a commercial weeks before the 1998 draft: pic.twitter.com/YQPWFqD3ZH

— Andy Gray (@si_vault) April 25, 2013
NFL MVP Projection
1. Denver Broncos quarterback Peyton Manning : Peyton Manning didn't wrap up the MVP Award with his four-touchdown, 397-yard performance against Kansas City on Sunday, but he did put it on the top shelf where Drew Brees and Russell Wilson can't reach it (I know. That was a lame height joke. Don't get mad at me though, I've only used two all height jokes year and I was due, I haven't used one since October). Manning now has 45 touchdown passes on the season and he only needs five more to tie Tom Brady 's NFL single-season record of 50. As I mentioned three weeks ago, tying or breaking the touchdown pass record is pretty much a free pass to the MVP Award. Since 1963 every quarterback that's tied or set the touchdown pass record has gone on to win the MVP. Highest Heisman Finish: Second place, 1997. 
2. New Orleans Saints quarterback Drew Brees: Drew Brees threw for 313 yards in the Saints win over the Carolina Panthers , giving him 50,026 total passing yards in his career. The reason I'm telling you this is because I wanted everyone to know that Brees got to 50,000 yards faster than Peyton Manning. Brees got to 50,000 yards in 183 games, it took Manning 191 games. That nugget won't help Brees beat Manning in the MVP race, but it should help Brees sleep better at night knowing he beat Manning at something. Again. Highest Heisman Finish: Third place, 2000.
3. Seattle Seahawks quarterback Russell Wilson: Guess where Russell Wilson will be on Sunday? At MetLife Stadium. The same MetLife Stadium that you won't be allowed to tailgate at if you decide to attend Super Bowl XLVIII. What does MetLife Stadium have to do with Russell Wilson? Everything. If Wilson beats the New York Giants on Sunday, he'll have a chance to do something only two quarterbacks have done since 2000: Win a regular season game at the Super Bowl stadium and then win the Super Bowl at the Super Bowl stadium. Tom Brady did it in 2003 when the Super Bowl was played in Houston and Drew Brees did it in 2009 when the Super Bowl was played in Miami. This is trivia you can't find on Jeopardy. Stump your friends with it this weekend. Highest Heisman Finish: Ninth place, 2011.
4.  Philadelphia Eagles running back LeSean McCoy : If there was only one criteria for the MVP Award and that criteria was how well you played in the snow, LeSean McCoy would be the unanimous winner of the 2013 NFL MVP. Actually, McCoy might not win the award unanimously, Lions returner Jeremy Ross would probably get a vote or two for scoring two return touchdowns against the Eagles in 25-feet of snow. As for McCoy, he rushed for an Eagles franchise-record 217 yards, breaking Steve Van Buren's 64-year-old record of 205 yards. McCoy picked up 148 of his yards in the fourth quarter when he morphed into something that I'm pretty sure was half-man, half-sled. If you missed the game, you can see what it looked like below. Highest Heisman Finish: N/A.
I just turned on Lions-Eagles and I feel like I'm watching a Christmas special pic.twitter.com/j2D0JlZtJr

— John Breech (@johnbreech) December 8, 2013
5. New England Patriots quaterback Tom Brady: Just in case you didn't know, the NFL MVP is a regular season award. Votes are due before the playoffs begin, so the postseason has no bearing on whether a player is named MVP or not. I usually don't have a problem with that, but I will this year if the Patriots win the Super Bowl. If Brady can take his banged up team to the promised land without Rob Gronkowski , then that makes him the most valuable player in my book. I don't really have a book, but if I did. Highest Heisman Finish: N/A.
6. Panthers quarterback Cam Newton : We have now reached the only player on this list that has a Heisman in his basement somewhere: Cam Newton. Actually, he probably doesn't keep it in his basement, it's probably in his bathroom. If I had a Heisman Trophy, I'd keep it at a friend's apartment because no one would ever look for it there so I wouldn't have to worry about it being stolen. Back to Newton, Cam didn't play well against the Saints, but he'll get at chance to redeem himself at home against New Orleans in Week 16. Highest Heisman Finish: Winner, 2010.
7. Saints tight end Jimmy Graham : The reason Jimmy Graham probably wants to be paid as a receiver is because being a tight end isn't any fun. Graham's about to break Rob Gronkowski's single-season record for most touchdown catches by a tight end and it means nothing. Well, it means something, it just means nothing in terms of the MVP race. Gronkowski set the tight end record in 2011 with 17 touchdowns. Graham, who has 14 touchdowns through 13 games, needs four touchdown catches in the Saints final three games to break Gronk's record. Highest Heisman Finish: N/A.
---
Follow John Breech on Google+ or you can even sometimes find him on Twitter
Check out the uniforms that Kansas City and Oakland will be wearing on Thursday

Cliff Avril's NFL career might be over

Oct. 18 is a very special day in NFL lore
The Falcons should not be making any plans for Minnesota in February

The Colts star quarterback could end up missing the entire 2017 season

Not even two Super Bowl wins is enough to get Eli Manning any respect