NFL MVP Projection: Patriots QB Tom Brady makes a big jump
Tom Brady was added to the MVP Projection list this week, which makes sense because heading into Week 13, the list is dominated by quarterbacks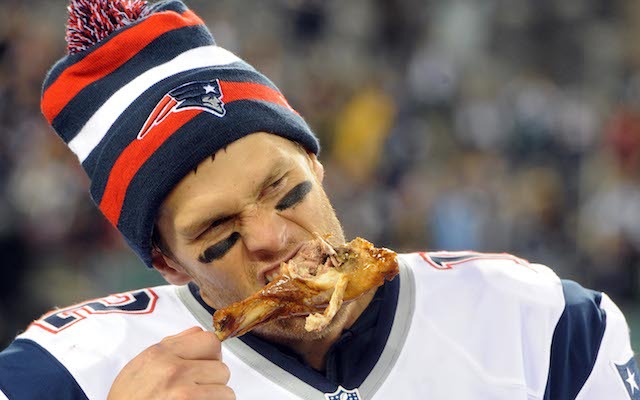 It finally happened and I'm not proud of it: the MVP Projection list is almost all quarterbacks. Six of the eight players on this week's list are quarterbacks, that's the most for any MVP Projection list this season. That's a big jump from Week 9, when there were a season-low three quarterbacks on the MVP Projection list. 
I promised myself when the season started that I'd look objectively at other positions and wouldn't only list quarterbacks. Now, I'm inching closer to only listing quarterbacks and I hate myself for it. Actually, it's more of a strong dislike, not a hatred. Kind of like the way Green Bay's Josh Sitton feels about the 'scumbag' Lions. 
As everyone seems to say, the NFL is a quarterback league and as we head into Week 13, it's kind of shaken out that way. The only non-quarterbacks on this week's list are running backs Jamaal Charles and LeSean McCoy.  
NFL MVP Projection
1. Broncos quarterback Peyton Manning: We saw what Peyton Manning can do when it's 22 degrees at kickoff and unfortunately for the Broncos, it wasn't much. Denver still has to play three games that will most likely be in rough weather, fortunately for Manning two of those are at home. I think what I'm trying to is if Manning throws for 150 yards a game in December, he's probably not going to win the MVP Award. The guy who engraves the names on the MVP trophy is probably pretty mad right now just thinking about Manning not winning it, because I'm pretty sure he at least had Manning's first name written after the first nine weeks of the season. He wouldn't start with the last name because then Eli might steal it. 
2. Saints quarterback Drew Brees: If Drew Brees is serious about winning the MVP award this year -- and I'm not sure he is, because I watched the Falcons game and I want more from my MVP than 278 yards against the NFL's 24th ranked pass defense -- but if Brees is serious, then he needs to take his game to another level. Actually, Brees just needs to take his game to another level because if he doesn't, the Saints might go 0-4 in the next four weeks. The stretch includes games at Seattle, at home against Carolina, on the road against St. Louis and then on the road against Carolina.   
3. Patriots quarterback Tom Brady: Here's why Tom Brady and his meager stats are at No. 3: because he's faced three other quarterbacks on this list and he's 2-1 against them. And that's a 2-1 with an asterisk because if Luke Kuechly had been called for his bear hug of Rob Gronkowski in Week 11, then the Patriots might have won, then Brady would be 3-0, New England's overall record would be 9-2 and I'm not good with tiebreakers, but I think that would have put the Patriots at the No. 1 overall seed in the AFC right now. Then, we would have all asked ourselves, 'How are the Patriots any good this year?' And then we would all nod agreeingly because we would all know the answer. 
4. Seahawks quarterback Russell Wilson: I bet Russell Wilson spent his bye week playing scrabble and the only thing he spelled was 'GOHAWKS.' I bet he spelled it 11 times, I bet he got a triple-word score every time he spelled it and I bet he won every game he played. And in case you're wondering, 'GOHAWKS' on a triple word score would be worth 54 points. If the Seahawks score that many against the Saints this week, Wilson will probably move up this list. Oh and I'm kind of sad there are no more bye weeks because one of my favorite things to do for players on this list is imagine how they spent their bye week. The Seahawks fan below spent his bye week preparing Feast Mode. 
Happy #FeastMode @MoneyLynch @DougBaldwinJr @Earl_Thomas @DangeRussWilson @RSherman_25 @BIrvin_WVU11 @ShowtimeTate pic.twitter.com/GUVM9o0mwz

— Tim Williams (@realtimwilliams) November 28, 2013
5. Panthers quarterback Cam Newton: The fastest way to get on the MVP Projection list is to lead a fourth-quarter game-winning drive against a good team. Cam Newton did that in Week 11 against the Patriots. The fastest way to move up this list once you're on it is to do that whole fourth quarter game-winning drive thing again. Newton did that against the Dolphins on Sunday. You know what Newton also did on Sunday? He was the leading rusher for both teams against Miami. So Cam is up from No. 6 to No. 5 this week. 
6. Eagles running back LeSean McCoy: I thought about putting Nick Foles on this list, but it doesn't seem fair to LeSean McCoy to put a quarterback on this list who's only started five games this season. And it also doesn't seem fair because 26 percent of Foles' passing yards and 43.8 percent of his touchdown passes this season all came in one game. You know what else isn't fair to McCoy? The fact that I talked about Foles when I should have been talking about McCoy. 
7. Chiefs running back Jamaal Charles: If you're wondering what kind of season Jamaal Charles is having, let me try and put it in perspective for you: Only 15 times since 1960 has a player recorded at least 900 yards rushing, 400 yards receiving and 10 touchdowns through the first 11 games of the season. Priest Holmes did it in 2003 for Kansas City, which was the last time the Chiefs started a season 9-0. The bad news here for Chiefs fans is that Kansas City lost in the first round of the playoffs that year. Coincidentally, Manning and Brady are two people Holmes finished behind in the MVP voting that year. It looks like Charles is headed for the same fate. 
8. Colts quarterback Andrew Luck: Andrew Luck is one bad pass away from falling off the MVP Projection list. Seriously, if he overthrows Coby Fleener by five yards against the Titans on Sunday, he's gone. The Colts were outscored a 93-12 in the first half during the month of November, Luck needs fix that. I know he doesn't play defense and doesn't really control the 93 points part, but that 12 probably needs to be closer to 50 -- or 80. 
---
Follow John Breech on Google+ or if you prefer Twitter, he does that too.
Rivers has been the NFL's best quarterback over the last four weeks

Here's every official injury designation for each NFL team for Week 15

SportsLine's football insider is all over the Bears and another huge NFL underdog to win this...
Bowles declined to explain why Wilkerson won't make the trip to New Orleans

Donald is on a Hall of Fame track four years into his NFL career, Wilson says

The inaugural youth world championships kicked off on Dec. 14 with more than 100 teams