NFL MVP Projection: Peyton Manning on top heading into Week 2
Denver Broncos quarterback Peyton Manning is at the top of our CBSSports.com's MVP Projection heading into Week 2.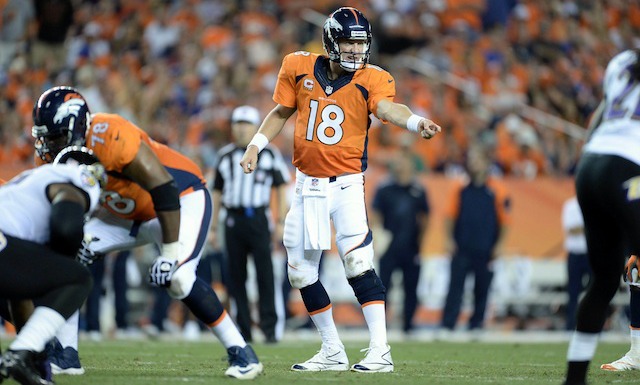 It's never too early to start talking about who the NFL MVP will be, so lets start talking about who the NFL MVP will be. Every Thursday, we'll take a look at the prior week of NFL action and look at three players who may have made their way into or out of the MVP conversation.   
There will be a couple of rules here. First, since we're only listing three players, we won't list two players playing the same position. Lets call that the 'this list would be boring because it would only include quarterbacks' rule. 
Second, we'll try and have an under-the-radar player on the list that most people may have missed in the prior week. This week, that honor goes to St. Louis Rams defensive end Robert Quinn.  
MVP Projection
1. Broncos quarterback Peyton Manning: Manning looked like the best player in the NFL in Week 1. The 37-year-old quarterback threw an NFL record-tying seven touchdown passes in the Broncos 49-27 win over the Ravens. If you're starting to feel like Manning throws for over 300 yards every week, he kind of does. Manning's 462-yard performance in Week 1 was way over 300 and it marked an NFL record 73rd time he's thrown for over 300 yards. 
2. Eagles running back LeSean McCoy: If you drink some coconut water and think about it, you might be able to convince yourself that McCoy's performance against the Redskins was actually the most impressive performance in Week 1 by any player -- including Manning. Manning's 462 yards and seven touchdowns came in a week where it seemed like everyone threw for 462 yards and seven touchdowns. Week 1 saw 63 touchdown passes thrown, the most in any week ever in league history. 
As for McCoy, his 184 yards rushing was 72 yards more than the next closest player (Raiders quarterback Terrelle Pryor) and 83 more than the next closest running back (New England's Shane Vereen)McCoy also almost outrushed an entire division by himself: The AFC North only ran for a total of 200 yards in Week 1. 
3. Rams defensive end Robert Quinn: Sure, a defensive player hasn't won an MVP award since Giants linebacker Lawrence Taylor did it in 1986, but that doesn't mean it can't happen this year. If Quinn does what he did on Sunday 15 more times, he's going to win the MVP award. 
What did Quinn do on Sunday? The Rams 2011 first-round draft pick recorded three sacks and forced two fumbles in St. Louis' 27-24 win over Arizona. The 23-year-old came up huge in the fourth quarter with a force fumble that led to the a game-tying 38-yard field goal by the Rams. 
Falcons quarterback Matt Ryan should probably avoid Quinn at all costs on Sunday. 
This is taking trash-talk to the next level

All of the best highlights from Week 15 are right here

For the second week in a row, Johnson honors the injured Steelers linebacker
Gene Steratore will be in charge of calling the Cowboys and Raiders game on Sunday night

The Colts quarterback may have to deal with more issues if he suffers a setback