NFL MVP Projection: Philip Rivers and LeSean McCoy are on the list
Chargers quarterback Philip Rivers and Eagles running back LeSean McCoy are the newest additions to the MVP Projection list this week.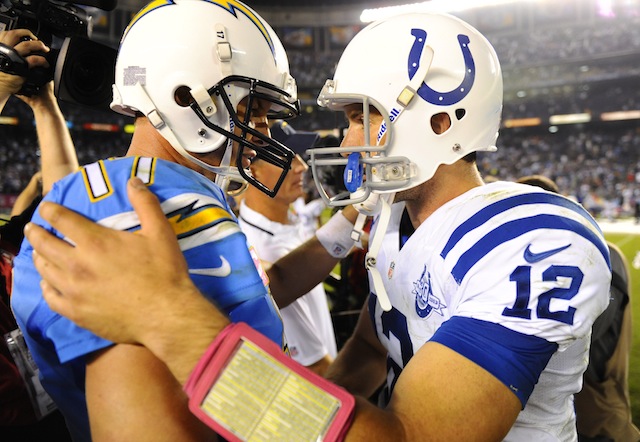 This week, we're welcoming LeSean McCoy and Philip Rivers to the MVP Projection list and I'm telling you that because they actually have something in common: they both play for a team that's 3-3. 
We can probably agree that no one on a .500 team is going to win the MVP Award, so that led me to do something I only do once a week: research. The question I researched: How bad of a team can you be on and still win the MVP Award?
The answer is no one has ever won the award playing for a .500 team. 
Since the NFL expanded the schedule to 16 games in 1978, there have only been three MVP winners who played on a team that won 10 games or less. One of those winners came last year when the Vikings went 10-6 and Adrian Peterson won the award. 
Another one of those winners came in 2000 when the St. Louis Rams also went 10-6 and Marshall Faulk took home the MVP Award. 
The worst record ever for an MVP winner? You'll have to read to the bottom to find out. I know, that was a horrible tease, and I'm sorry. 
MVP Projection
1. Broncos quarterback Peyton Manning: I'm not sure who's in charge of making the NFL schedule, but if you're reading, can Peyton Manning never play in Indianapolis again? I know divisions rotate playing other divisions and first place teams play first place teams and so on, but can it never happen again. This week has been too much. Who am I kidding? Jim Irsay is the gift that keeps on giving. Peyton should play in Indy every week. Anyway, I thought about dropping Peyton completely off this list after what he did against the Jaguars -- two lost fumbles, a pick-six -- but then I remembered the Broncos are 6-0 and that's largely because Peyton is on pace to throw for 5,811 yards and 59 touchdowns.
2. Patriots quarterback Tom Brady: You can try and tell me that Tom Brady has regressed this season, but I won't listen. Not only will I not listen, I'll eat pretzels while I ignore you. If Brady wasn't in New England, the Ryan Mallett-led Patriots would be 0-6 and Bill Belichick would be thinking about re-signing Tim Tebow. Do you know who Brady was throwing passes to on Sunday? AUSTIN COLLIE. Before the Saints game, Collie had not appeared in an NFL game in over a year. Tom Brady is beating undefeated teams with people who have not played in an NFL game in an over a year. 
3. Saints quarterback Drew Brees: If you thought Brees looked bad against the Patriots, he did. Brees only completed 47.2 percent of his passes, the fifth-worst completion percentage of his 13-year career. Not to mention, if Brees and the Saints offense could have picked up ONE FIRST DOWN in the final three minutes against New England -- and the Saints had the ball twice in the final three minutes -- New Orleans would have won. Maybe Brees just needs some rest. Since the Saints have already basically clinched NFC South, maybe Sean Payton should just sit Brees until the playoffs. 
4. Saints tight end Jimmy Graham: If you're wondering how good Jimmy Graham's been this season, consider this: he caught zero passes for zero yards against the Patriots and he still leads the NFL in receiving yards. Not just tight ends, but the entire NFL. The problem right now is that Graham is injured and we can't have injured people on the MVP projection list because injured people aren't valuable and being valuable is obviously a key component of being a Most Valuable Player. Lets hope Graham gets better so he can stay on this list.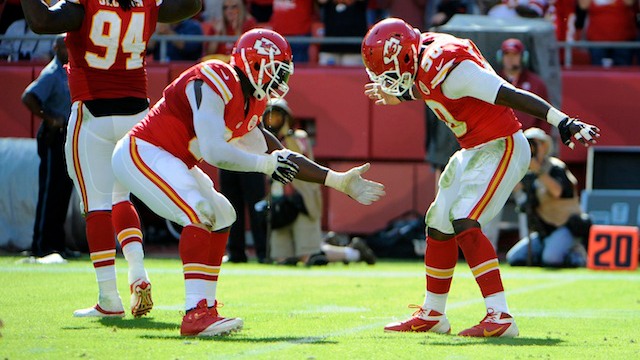 5. Chiefs linebacker Tamba Hali: Chiefs linebacker Justin Houston has been replaced on this list by Tamba Hali. Not because Houston played bad against the Raiders on Sunday, but because Hali played better. Here's what you need to know about Hali: he's fourth in the NFL in sacks (7.5), he had a pick-six in Week 1 and he has two forced fumbles, which is tied for the fifth-most in the NFL. Also, Raiders quarterback Terrelle Pryor will probably be spending his bye week having nightmares about Hali. That's horrible way to spend a bye week. 
6. Chargers quarterback Philip Rivers: This spot on the projection list has turned into a 'King of the Hill.' First, Russell Wilson had it, but then he lost to Andrew Luck. Then Luck had it, but he lost to Rivers on Monday, so now Rivers gets the spot. Anyway, I guess the point here is, if you see Chad Henne in this spot next week, now you know why. Rivers has the third most passing yards in the NFL (1,847) and is tied with Drew Brees and Tony Romo for the second most touchdown passes (14). 
7. Colts linebacker Robert Mathis: Robert Mathis was Peyton Manning's teammate for nine years in Indianapolis. That's nine seasons worth of practices where Mathis showed up and wasn't allowed to hit Manning because quarterbacks are sissies and aren't allowed to be hit in practice. Mathis is tied for the NFL lead in sacks (9.5) and he'll be able to hit Manning all he wants on Sunday and Manning knows it. Manning was asked on Wednesday if facing Indy would be like facing Eli, his response, "I know Robert Mathis hits harder than Eli." Peyton is probably right about that one. 
8. Eagles running back LeSean McCoy: LeSean McCoy was on this list for the first two weeks of the season, but then I had to take him off because the Eagles fell to 1-3 and no one from a team two games under .500 has ever won the MVP award. Trust me, look it up. Since the schedule expanded to 16 games in 1978, the worst team an MVP has ever played for was the 1997 Detroit Lions. Barry Sanders won the award for a 9-7 Lions team because he rushed for 2,053 yards, which was 303 yards more than the next closest person. Through six weeks, McCoy already has 99 more rushing yards than the next closest player, so he's kind of on pace to win the rushing crown by a lot. Unfortunately, if the Eagles lose this week, I'll have to take him back off the list. 
Note: Barry Sanders was co-MVP with Brett Favre.
Did I leave someone off the list? Did I rank Peyton Manning too low? Let me know in the comment section or on Twitter or hit me up on Friendster. Actually, don't hit me up on Friendster. I don't even have a Friendster.
The Chargers are hoping that Philip Rivers can play on Sunday

This is the biggest showdown of the week in the NFL

The battle between the Rams' offense and Vikings' defense will be waged in the middle of the...
An 'inappropriate' comment by the Cowboys' owner was caught on video in 2013

Here's every official injury designation for each NFL team for Week 11

The Chargers can't seem to avoid controversy this year