NFL MVP Projection: Russell Wilson in discussion heading to Week 4
Seattle quarterback Russell Wilson is now on the NFL MVP projection list after throwing four touchdown passes in the Seahawks 45-17 win over Jacksonville.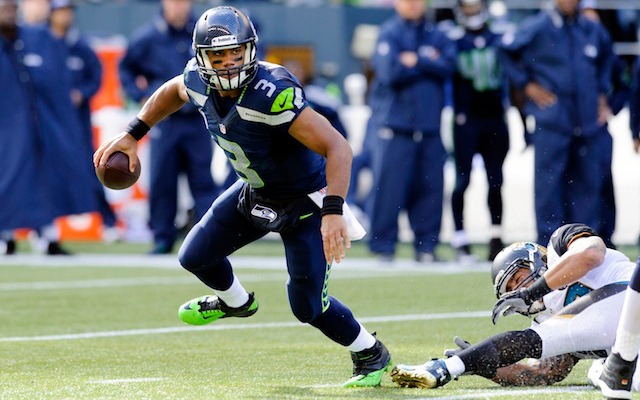 After watching Peyton Manning play for three weeks, I've decided that the NFL needs to give out two awards this season: an MVP and an MVPTNPM. That stands for Most Valuable Player That's Not Peyton Manning. 
That's a long acronym and it probably won't fit on a trophy, but everyone will want to win it anyway. Think about it, any player that wins the award will be able to brag about it for the rest of his life.
"Remember that year when the Broncos went 16-0 and won every game by an average of 57 points and Peyton Manning won the MVP and was elected to the Hall of Fame while he was still playing because they decided to waive the five-year waiting period for him? I was the MVPTNPM that year." 
That's a good story, I could see Tony Romo telling it to his grandkids someday. 
Anyway, I'll write an email to Roger Goodell about this and let you know if he gets back to me. 
MVP Projection
1. Broncos quarterback Peyton Manning: The city of Denver is 5,280 feet above sea level, which is weird because that's how many touchdown passes Manning is on pace to throw this season. Manning's three touchdown passes against the Raiders on Monday gives him 12 for the season. Guess how many other quarterbacks in NFL history have had 12 touchdown passes through three games? Zero. 
MVPTNPM Projection
2. Seahawks quarterback Russell Wilson: If Peyton Manning didn't exist -- and that's a big IF because he obviously exists, just ask the Ravens, Giants, Raiders and anyone that watched Book of Manning this week -- everyone would be talking about Wilson. Wilson's six touchdown passes are tied for fourth in the league and he's been ruthlessly efficient. It's probably a good thing he's not No. 1 in this projection though because most critics feel he's too short to win the MVP. The MVPTNPM though? Wilson's the perfect height for that.
3. Chiefs linebacker Justin Houston: You might have heard that Peyton Manning's on pace for some big numbers, 6,096 passing yards and 64 touchdowns to be exact. What we should be talking about though is the pace Houston is on. Houston has 7.5 sacks through three games, which means he's on pace for 40 sacks. Lets hope he gets there so we don't have to talk about Michael Strahan, Brett Favre or the phantom sack that helped Strahan set the record ever again.
4. Saints quarterback Drew Brees: Brees is one of four players that has thrown for over 1,000 yards so far this season, but only him and Manning have done it for an undefeated team. The big difference between Manning and Brees though is that Manning's not running for his life on every play. Brees has been sacked 10 times this season, only four quarterbacks have been sacked more. If Brees gets more protection, he might start putting up some Manning-like numbers. 
5. Eagles running back LeSean McCoy: If the Eagles could win a game or two, everyone would be talking about McCoy. Actually, they'd probably still talk about Peyton Manning, but then they'd talk about McCoy after that. If you're wondering how good McCoy's been this season, he's rushed for 397 yards in three games, no other running back in the NFL has cracked the 300-yard mark yet. 
6. Cowboys quarterback Tony Romo: People love to blame Romo for things, so instead of pointing out all the reasons why he's No. 6 on this list, lets point out why he's not higher: Because he couldn't beat the Chiefs. If Romo wouldn't have thrown 12 incomplete passes or lost a fumble against the Chiefs, maybe Dallas scores two extra points and wins the game. That's on you Romo. It's your fault the Cowboys aren't undefeated. 
7. Packers quarterback Aaron Rodgers: You can't really blame the Packers 1-2 record on Rodgers -- OR CAN YOU? Rodgers and the Green Bay offense have put up over 28 points per game this season, so they're doing their part. However, Rodgers is starting to turn into Tony Romo when it comes to clutch time. Including Sunday's loss to the Bengals, Rodgers is now 5-17 in his career in games decided by four points or less. 
8. Texans linebacker Brian Cushing: If you look at final score of the Ravens-Texans game from Sunday, it looks like the Houston defense imploded against Baltimore, but it didn't. The Texans only gave up 236 offensive yards. The Ravens scored touchdowns on a punt return and an interception return in Baltimore's 30-9 win. Cushing's a big part of the Texans No. 2 ranked defense and he's also a big part of why the Texans are 2-1: he had a fourth quarter pick-6 against the Chargers in Week 1 that tied that game 28 in a game Houston eventually won on a last second field goal. 
Did I leave someone off the list? Let me know in the comment section or on Twitter or have it written in the sky over San Francisco and I'll probably see it. 
CBS All Access allows viewers to stream every NFL on CBS game in their local market

CBS All Access allows viewers to stream every NFL on CBS game in their local market

CBS All Access allows viewers to stream every NFL on CBS game in their local market
CBS All Access allows viewers to stream every NFL on CBS game in their local market

CBS All Access allows viewers to stream every NFL on CBS game in their local market

Everything you need to know heading into Week 11 is right here