NFL MVP Projection: Russell Wilson making strong push for No. 1
Russell Wilson's 310-yard, three touchdown performance against the Saints on Monday has the Seahawks quarterback at No. 2 in this week's MVP Projection.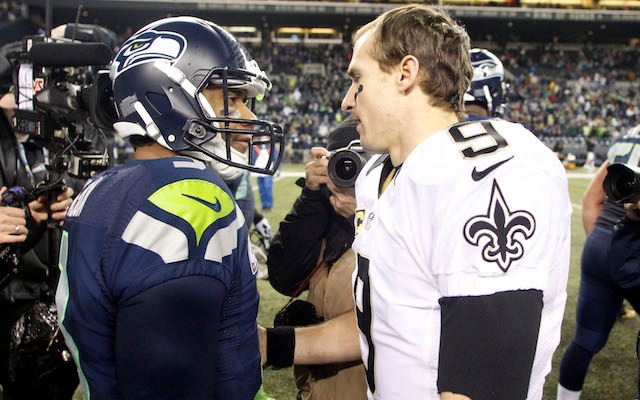 It's December in the NFL, which means one thing: It's time to root for your favorite player not to win the MVP Award. Over the past 13 seasons, the NFL MVP Award has basically been a playoff curse, no player that's won the award has gone on to win the Super Bowl. 
That means you can have the Lombardi Trophy or you can have the MVP Award, but you can't have both. 
Of the 14 winners over the past 13 seasons -- Peyton Manning and Steve McNair split the award in 2003 -- only five of the 14 have even made it to the Super Bowl. Manning did it in 2009 with the Colts, Tom Brady did it in 2007 with the Patriots, Shaun Alexander did it in 2005 with the Seahawks, Rich Gannon did it in 2002 with the Raiders and Kurt Warner did it in 2001 with the Rams. 
Last year's MVP, Vikings running back Adrian Peterson, saw his team knocked out in the Wild Card round. Peterson is one of three MVP's since 2000 who's seen his team knocked out of the playoffs in the Wild Card round. The other two are the Rams Marshall Faulk in 2000 and Manning in 2008. 
The last player to win the MVP Award and the Super Bowl in the same year? That would be Warner, who was named league MVP in 1999 and then named Super Bowl MVP after leading the Rams to a 23-16 win over the Titans. 
Based on this week's MVP Projection, this is all bad news for Manning.
NFL MVP Projection
1. Broncos quarterback Peyton Manning: Just when you think Peyton Manning's grip on the MVP Award is loosening, he goes out and throws for 403 yards and five touchdowns. Here's how impressive that is: Since 2005, there have only been 10 instances where a quarterback has thrown for over 400 yards with at least five touchdown passes in a regular season game. Manning has two of those 10 performances and they both came this year, including Sunday's 35-28 win over the Chiefs. 
2. Seahawks quarterback Russell Wilson: Last week Drew Brees was No. 2 on this list and Russell Wilson was No. 4, but then Monday happened. What happened on Monday? Wilson ran laps around Brees, then swam laps around him, then ran a triathlon around him, then ran an ultra-marathon around him. Wilson outplayed Brees in every way a quarterback can outplay another quarterback. Then to add insult to injury, Wilson rushed for more yards than any of the Saints running backs. I'm not sure exactly how you earn someone's MVP vote, but what Wilson did on Monday seems like a good way to do it.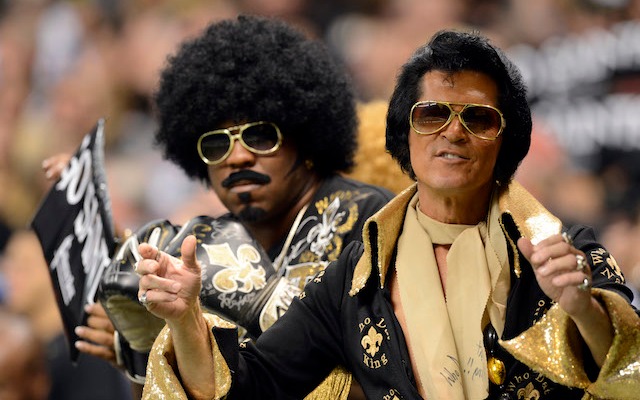 3. Saints quarterback Drew Brees: One bad game won't kill your chances of winning the MVP race. Unless that game's on national television against the No. 1 team in your conference. Then it might. Brees looked lost on the field against the Seahawks on Monday and only managed to throw for 147 yards. It was the first time since the 2010 regular season finale that Brees didn't throw for over 200 yards in a game. Brees' MVP campaign is starting to look a lot like Ross Perot's presidential campaign in 1992: he's still in the conversation, but no one thinks he's going to win.  
4. Panthers quarterback Cam Newton: Guess who the leading rusher was in the Panthers-Buccaneers game last week? Cam Newton. Guess who the leading rusher was in the Panthers-Dolphins game two weeks ago? Cam Newton. Guess who the leading rusher was in the Panthers-Patriots game three weeks ago? Cam Newton. Just in case you forgot, Cam Newton's not running back, he's a quarterback. Since Week 6, Newton has been the most dynamic quarterback in the NFL not named Russell Wilson. Cam Newton might not win the MVP, but he's the closest thing to Tecmo Bowl Randall Cunningham that the NFL has today. 
5. Patriots quarterback Tom Brady: If getting hot at the end of the season plays any part in winning the MVP Award, then Tom Brady might be the new favorite. Over New England's past four games, Brady has thrown for 1,443 yards and 10 touchdowns. No other quarterback has even thrown for 1,300 yards in that span. Brady is getting hot at the right time and if the Patriots finish 13-3, Brady almost has to be in the MVP conversation. I mean, Stevan Ridley didn't carry the Patriots to 13-3 and I don't think Julian Edelman did. And unlike Russell Wilson, Cam Newton and Drew Brees, Brady doesn't have the luxury of playing with a top-10 defense.
6. Eagles running back LeSean McCoy: There's only room for one running back on the list this week and that running back is LeSean McCoy. The Eagles have the second best running game in the NFL and that second best running game is what's opening up the passing game for Nick Foles. Foles should be writing a thank you note to McCoy for every NFL record he breaks this season and by my count, that means he owes McCoy 1.5 thank you cards so far. 
7. Eagles quarterback Nick Foles: If Nick Foles is good enough to be Chip Kelly's starting quarterback for the next 1,000 years, then he's good enough to be on this list. Every time Foles plays, I expect him to throw his first interception of the season and every week it doesn't happen. So here's how this is going to work, if the Eagles keep winning and Foles keeps not throwing interceptions, then he stays on this list. If Foles ends the season with 30 touchdown passes, zero interceptions and the Eagles are 11-5, then I think he definitely has to be in the MVP conversation. 
8. Cowboys quarterback Tony Romo: Tony Romo's made this list twice this season and both times, the Cowboys lost their next game. Basically he's on the list this week because I need to know if this is an actual jinx we're working with here or just a weird coincidence. I'm also mentioning because Jerry Jones thinks Romo needs to win more in December. The Cowboys first December game is this week. 
---
Follow John Breech on Google+ or you can even sometimes find him on Twitter
SportsLine's Mike McClure, a DFS pro with more than $1M in winnings, gives optimal lineup...

Check here for the latest news, rumors and updates for NFL coaching changes and searches

The Titans have tapped Texans defensive coordinator Mike Vrabel to take over as head coach
The government shutdown has come at a horrible time for NFL fans in the U.S. military

Bengals owner Mike Brown seems to be a huge fan of continuity

Our computer model simulated the AFC and NFC title games 10,000 times with surprising resu...