NFL MVP Projection: Will Peyton Manning win unanimously?
Peyton Manning has all but locked up the NFL MVP Award. Now the question becomes: Can he become the second person in NFL history to win the award unanimously?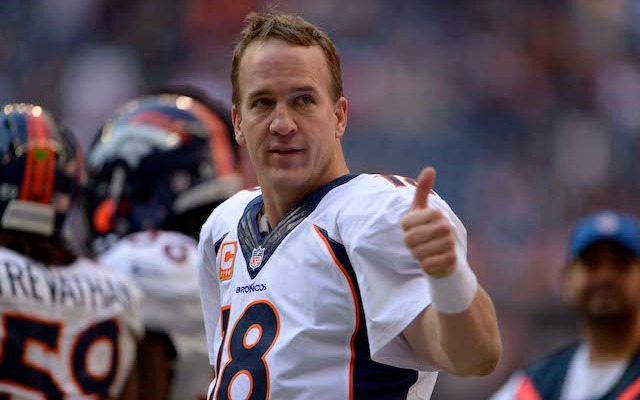 Peyton Manning isn't just going after Tom Brady's on-the-field records, Manning's going for his off-the-field records too. Manning broke Brady's single-season touchdown pass record on Sunday by throwing his 48th, 49th, 50th and 51st touchdown passes of the season against the Texans. 
That performance might make it possible for Manning to match another Brady record, an MVP record. If Manning were to win the MVP award unanimously, he'd become only the second player in NFL history to earn every vote, joining Brady, who did it in 2010. 
Manning's won the MVP Award four times in his career and here's a look at how the voting has broken down in the top-3 of each of those wins. 
2003 (50 votes)
Peyton Manning: 16 votes
Steve McNair: 16 votes
Tom Brady: Eight votes
2004 (48 votes)
Peyton Manning: 47 votes
Michael Vick: One vote
2008 (50 votes)
Peyton Manning: 32 votes
Chad Pennington (Jets): Four votes
Michael Turner (Falcons): Four votes
2009 (50 votes)
Peyton Manning: 39.5 votes
Drew Brees: 7.5 votes
Philip Rivers: Two votes
Anyway, lets stop talking about old MVP ballots and get to the projection.  
NFL MVP Projection
1. Broncos quarterback Peyton Manning: If you like drama in your MVP race, then you probably don't like Peyton Manning right now. Manning more or less sewed up the award with a 400-yard, four touchdown pass performance in the Broncos win over Houston. Tom Brady probably doesn't like Peyton Manning right now either because Manning's four touchdown passes gave him 51 for the year, breaking Brady's single-season record. If Manning has 266 yards by halftime against Oakland on Sunday, they can probably just give the MVP award then. If Manning reaches that number, he'll break Drew Brees' single-season record for passing yards (2,476) set in 2011. 
2. Saints quarterback Drew Brees: Drew Brees might be an MVP candidate, but don't tell that to Saints coach Sean Payton. On a fourth-and-12 play against Carolina, Payton called a fake field goal and let backup quarterback Luke McCown throw a pass. Think about this, Payton pulled Brees off the field to let McCown try and convert a fourth-and-12. As you can imagine, things didn't go well and McCown threw an incompletion. As if your coach going with the backup quarterback on a pivotal play isn't bad enough, Brees then had to watch his defense let Cam Newton march down the field and throw a game-winning touchdown pass with under 30 seconds left. Brees is probably giving everyone on the team the silent treatment this week, except for Jimmy Graham, I don't think he would do that to Jimmy Graham. 
3. Eagles running back LeSean McCoy: There's only one player in the NFL dominating his position this season like Peyton Manning's dominating the quarterback position and that's LeSean McCoy. Through 15 games, McCoy has 1,476 rushing yards, which is 14.7 percent more than his next closest competitor. To put that in perspective, Manning only has 9 percent more passing yards than his next closest competitor. The Eagles have won six of their past seven games and the only game they lost in that span was in Week 15 when Chip Kelly went crazy and decided to only give McCoy the ball eight times. Kelly must not have known that the Eagles are 1-6 since 2010 when McCoy gets 10 or less carries. 
4. Seahawks quarterback Russell Wilson: The argument against Russell Wilson winning the MVP this season has been: 1. he might not even be the MVP of his own offense and 2. The Seahawks win with defense. If you want to know how important Wilson is to the Seahawks, just look at their last three games. In Week 14 and Week 16, Wilson played two of his worst games of the season and Seattle lost both times. In Week 15, Wilson played bad too, but Seattle was playing the Giants and Eli Manning was giving the Seahawks defense early Christmas presents in the form of interceptions, so Seattle ended up winning. Wilson can also do something Brees and Peyton Manning can't do: Run the ball. Wilson's rushed for 540 yards so far this season, a number that ranks 34th in the NFL.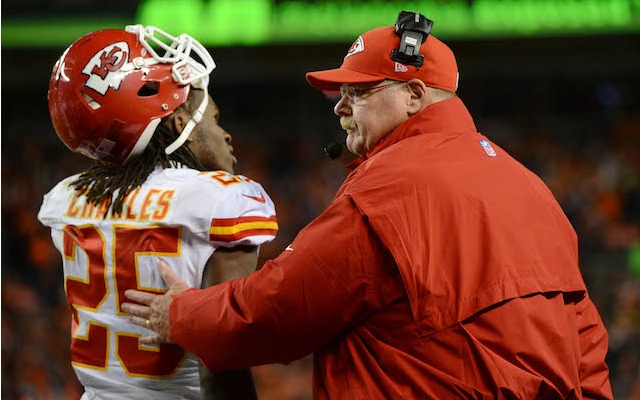 5. Chiefs running back Jamaal Charles: If Kansas City Chiefs coach Andy Reid decides to rest Jamaal Charles this week, you can't really blame him because here's what the Chiefs would lose if Charles got hurt: Their leading rusher, their leading receiver and their leading scorer. That's right, Charles leads the team in all three categories. Reid shouldn't let Charles anywhere near the field on Sunday, he shouldn't even let Charles out of the locker room. As a matter of fact, Reid should just tell Charles to watch the game from a local Applebee's. 
6. Patriots quarterback Tom Brady: After Patriots tight end Rob Gronkowksi went down in Week 15, everyone said the New England offense would fall apart -- and by 'everyone said the New England offense would fall apart,' I mean me. That didn't happen though. The Patriots came back from a 26-14 fourth quarter deficit against the Browns that week without Gronkowski to win the game. Then Week 16 happened. Without Gronkowski, the Patriots put up their second-highest scoring total of the season in a 41-7 win over Baltimore. Sure the Patriots defense scored two touchdowns, but Brady had New England up 27-7 before that happened. I think we need to start respecting Brady more. And no, I can't believe I just typed either.  
---
Follow John Breech on Google+ or you can even sometimes find him on Twitter
The study, published on Thursday, found that even at younger levels football can be danger...

The Eagles and Vikings have two of the best defensive fronts in the NFL

Starting left guard Stefen Wisniewski says the Eagles' success is about more than just one...
Kaepernick made the pledge in October 2016 in the middle of his campaign for social equali...

These prospects aren't first-round locks now but could be in for a rise after the Senior B...

Newman was the oldest defensive player in the league to get regular snaps this season