NFL, NFLPA at odds over who will oversee HGH appeals process
While the NFL and NFLPA met last week, the hang-up for HGH testing remains on who will be the overseer of appeals, Jason La Canfora report
• 1 min read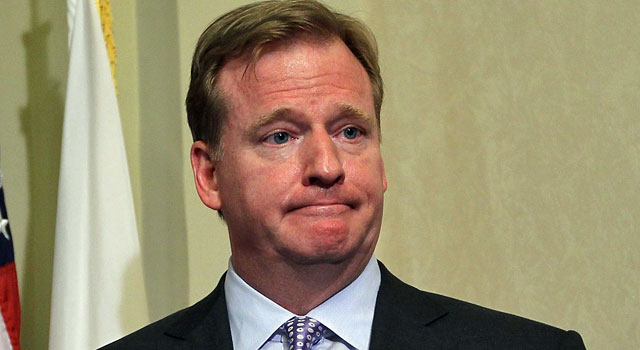 The issue of whether a neutral arbitrator will oversee appeals of "non-positive" performance enhancing drug tests continues to hold up the application of HGH testing in the NFL, and, subsequently, has stalled the implementation of several other changes to the drug program already agreed to between the league and the players' union.

According to league and union sources, lawyers for both sides met again last week to try to hash out the issue. But the NFLPA does not appear willing to relent on the contention that an outside arbitrator, and not the commissioner, should assume appeal power over cases where there is not a positive test but there may be evidence to suggest a player was involved in using PEDs. That scenario would be akin to what Major League Baseball has been dealing with on the Biogenesis cases, and, sources said, it remains the only hang-up preventing a bevy of other agreed upon changes to become official.

As part of the negotiations to finally get HGH testing in place, sources said the sides agree to increased penalties for players found guilty of alcohol-related crimes like drunk driving. Also that Adderall, a drug used for ADD that several players have claimed resulted in recent positive drug tests, is being moved from being classified as a "performance-enhancing drug" to a "substance of abuse," which would result in lesser penalties, overall. Furthermore, moving forward -- once the sides finally start HGH testing -- all appeals for positive drug tests would be done by neutral parties and no longer overseen by the league.

But without both sides signing the binding agreement on HGH testing, none of that comes into play. Issues like where samples would be stored, new protocols for urine collectors, etc., have already been agreed to. And, in discussions this past week, the sides made very little progress during their meeting.

Even if the sides were to finally put HGH testing into place, sources said it would take two-to-three months to conduct a "population study," where blood is drawn from players and a threshold is determined as to what constitutes a positive test. So without a speedy resolution, it's difficult to imagine we would see testing in place in time to lead to actual discipline in this regular season, if the program is even in place by then at all.
Here's an up-to-date look at the 2018 Pro Bowl roster

New England is 3-0 wearing white in Super Bowls under Bill Belichick

Bettors are favoring the Eagles to keep Super Bowl LII close, but the Patriots remain clear...
No one wants to give the Eagles any respect

The three-time Grammy winner will sing before Super Bowl LII on Feb. 4

Here's a look at the NFL's entire postseason schedule for 2018