NFL notes: Kudos to Browns with Manziel, NFL with suspended Mathis
The Browns' plan to keep Johnny Manziel out of the spotlight is sound, while the NFL had no choice but to suspend Robert Mathis.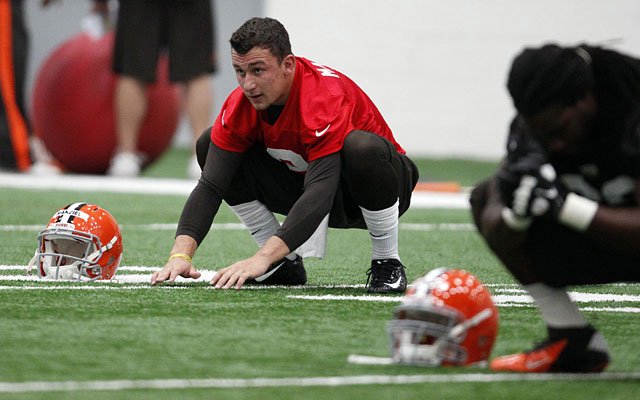 NFL offseason: 2014 Draft Tracker, grades | Free agents | Minicamp, OTA dates
The NFL Draft is over and you would think the football business would slow down but there are always things going on that provide clues to the upcoming season and this week is no exception.
1. I like the Cleveland plan: The Browns organization knew there would be some backlash for not letting the national media in to watch Johnny Manziel practice but I like the way they handled the situation. It put the attention on the club and not the player. Until Manziel gets a grip on the job it helps him stay focused and away from issues he can't control like people reading into what he is doing at practice or speculating on how good or bad he looks at practice.
I've already read how Zach Mettenberger completed his first pass (a long bomb) or Derek Carr fumbled his first snap and those guys don't have near the spotlight Manziel has on him. I interviewed Johnny Football right after he was drafted and I was impressed with his attitude and plan to work his way into the NFL. Go watch his news conference from the practice facility and you will see a guy that knows he has to win the respect of the veterans and, as he said, "earn my keep." Those are words from a smart guy who does not want to turn off his teammates with self-promotion.
The day will come when he wins over his teammates and coaches and then we will see him as the leader and spokesman this club needs. GM Ray Farmer and coach Mike Pettine are helping Manziel, not hurting him, at this early stage of his development. Announcing him as the backup was brilliant and as Manziel said, "I don't want to be mediocre when I go out there."
Manziel called some of his off-field decisions at Texas A&M "reckless" but it doesn't appear he or the Browns intend on being reckless going forward. Monday I sit down with Farmer to discuss the plan and so far I'm in favor of it.
2. The Robert Mathis case: I have great respect for Mathis, the Colts linebacker. Here's a guy everyone loves to cheer for -- undersized kid from Alabama A&M, drafted in the third round in 2003, now a star in any defense Indy puts him in. I've interviewed Mathis a number of times and he is a first-class person who happens to have 117½ sacks in his 11 seasons (10.7 per season). His agent Hadley Englehard is a top-notch representative with whom I negotiated when I was in the business. NFLPA president Eric Winston is a man I consider a friend. But I can't stand on their side when it comes to Mathis and his four-game suspension.
Believe me, the NFL doesn't want to suspend a guy like Mathis but he left them no choice. Robert knowingly took a banned substance that he did not get checked out by an independent administrator or consult with the team doctor or training staff. The last thing the NFL can afford to do is ignore the rules and be sympathetic to the good guys or make exceptions for special cases unless the whole case is discussed before the player makes his choice. I'm sure there is truth to Mathis' fertility issues that led him to the banned substance but it wasn't even approved by the FDA for fertility in males. There will be similar cases going forward and I hope the player, his agent and the NFLPA president sit down with the proper medical people and the league to discuss their options before future decisions.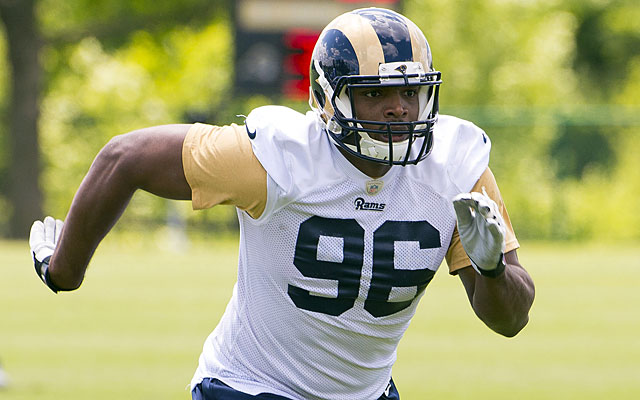 3. The light went on for Michael Sam: The Sam reality show/documentary series has been postponed and that's a good thing for a young man trying to battle the odds of a seventh-round pick making a team. Sam said he wanted to be judged as a football player and so he will be by leaving the reality show on the shelf for another time. Last year's 249th pick, quarterback Sean Renfree from Duke, made the Falcons. It is possible for Sam to stick with the Rams, but a total focus on the task at hand is necessary. The show was going to be an issue at this time, and in fact, it's a much better story if and when he makes a team, earns the respect of his veteran teammates and the coaches can tell the story of how he made the team. The NFL disputes the claim that it knew about the show before the draft, and that tells me that no negotiations for the rights to use NFL logos or names were ever held. That would have been a big hurdle to cross.
4. First-round deals easy to predict: The days of rookie holdouts and huge contracts are gone. Now it is simply a matter of putting a signature on the deals and getting to work even for the first-round players. The first two draft picks signed from Round 1 are tone setters for the rest of the round. No. 5 pick Khalil Mack signed a four-year deal for $18.677 million. The deal last year in the same spot was Ziggy Ansah to the Lions for $18.594 million. Mack got a raise of $83,000 over four years. Later in the round, at No. 14, Kyle Fuller signed his four-year deal for $9.687 million. The same spot last year went to Star Lotuleli for $9.604 million. Fuller got an $83,000 raise over four years.
With the table set it is easy to predict what follows. Jadeveon Clowney will work off the Eric Fisher deal that paid the Chiefs tackle $22.19 million over four years. Don't be surprised if Clowney's deal comes in at $23.02 million over four years. At the bottom of the round a year ago Matt Elam got $6.767 million over four years, which sure makes Teddy Bridgewater's deal look like $6.85 million over four. I remember when rookie deals took us into early August and agents would hold players out in fear of someone below them getting a better deal. There's no reason that all the first-round players in the class of 2014 can't be signed by June 1.
Brady lofted it between two defenders and Lewis snatched it with one hand

Lawrence says the NFL should protect pass-rushers like it protects quarterbacks

With their 2017 season basically over, it's time for Redskins fans to turn their attention...
The Eagles quarterback reaffirmed his faith and said he plans on coming back stronger than...

The Buccaneers are 4-9 and firmly out of the playoff mix, and now their best player is hur...

It might be time for Johnny Football to head to the Great White North