NFL offseason notes: Hyped rookie QBs won't stay backups long
Don't believe the backup talk about Johnny Manziel, Blake Bortles and Derek Carr. All three will be pushing to start by Week 1. And speaking of talk, Eric Ebron needs to zip it.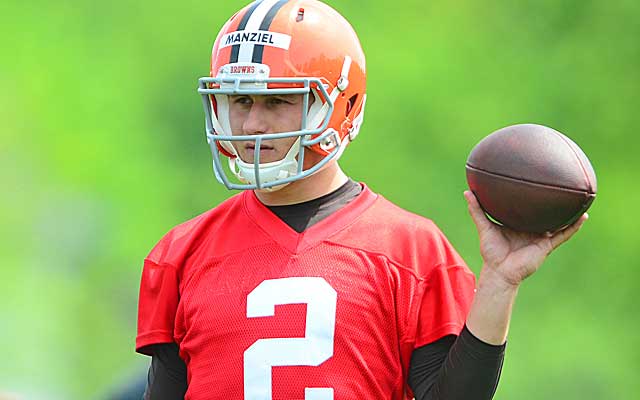 More NFL: Hoyer wants to make difference as Browns QB | News
As we head into Memorial Day weekend please take a few minutes to reflect on the American military people that gave their lives for us. Say something appreciative to a military person you meet at a parade or a family member at the barbeque you might attend this weekend that served our country. It is way more important than football any time of the year, but especially true this weekend. Now on to the football stories catching my attention this week.
Burying the rookie QBs on roster
Late May is a good time to claim the recently drafted quarterbacks have too much to learn to be starters. It really is a great way to take the media and the fan expectations out of the next few months so the young rookie quarterbacks can simply prepare for what inevitably will be their job as the starter. The Raiders claim its Matt Schaub's job and Derek Carr can sit back and wait for a catastrophe. The Jags like to describe third overall pick Blake Bortles as a guy in a redshirt season. The Browns want you to feel like Johnny Manziel is the third-string guy and the smoke screen continues around the league. In years past many young quarterbacks were pushed to the front of the line before they were ready. I like the idea the clubs are burying these quarterbacks on the roster, but make no mistake, by late August all of them will be in the conversation to start. And after the first slip-up by the veteran starter, everyone in the stands, as well as the media and probably the owners, will be asking: Why not the rookie QB?
The Bears' Marshall plan
I always enjoy talking about the Chicago Bears with their GM, Phil Emery. He answers questions and paints the picture of his plan for the team. I asked him why he chose to give Brandon Marshall a contract extension now. He said Marshall is not only a super-productive player (seven years of 100+ receptions) but also a "great leader" on the team. Wow, I immediately thought, given Marshall's history. The Broncos and Dolphins both sent him packing, even though he was super-productive, because he was anything but a leader. I'm glad to hear Marshall has grown up and changed his ways.
Emery also explained his pick of cornerback Kyle Fuller in the first round when many people thought the Bears would take a safety, especially with Calvin Pryor and Ha Clinton Dix still on the board. Emery had this to say: "You are only as tough as your corners." The Bears lined up for 58 percent of their defensive snaps in nickel (3 corners). There were also games when they were in nickel over 70 percent of the time. The need for another corner was a driving force behind Fuller.
Emery went on to say that the Bears' fourth-round selection, safety Brock Vereen, looked very good in camp, especially as a hybrid safety-corner with good man-to-man skills. It would be my opinion Vereen is the key to the draft, and the 2014 Bears defense. Hopefully he can deliver as a starting Chicago safety. The Bears also took defensive tackles in back-to-back rounds and both need to contribute early. Emery said second round pick Ego Ferguson needs to develop a pass rush move and third rounder Will Sutton needs to keep his weight down and demonstrate that initial quickness he had in 2012. I studied both tackles a lot in my pre-draft film studies and I think Sutton has the best chance to be an impact player earlier than Ferguson. Time will tell.
Keep your mouth shut, rookie
I chuckle when I hear rookies that have never put on pads for even a practice, let alone an NFL game, make bold statements. If a Patriot did it, the next team meeting would start with Bill Belichick shaking his head and chastising that player. Lucky for Eric Ebron, the very talented tight end drafted by the Lions, that he's not a Patriot. However, I'm sure Lions head coach Jim Caldwell or even GM Martin Mayhew had something to say to Ebron.
Mayhew told me last week that he had to have a conversation with a veteran about having too much to say on Twitter about a certain player's health. Now he has a rookie in Ebron boasting that the Lions' offensive options are insane with so much talent and that he wants to be the X-factor. Here's what I have to say besides, Eric, just shut up. Calvin Johnson is insane, and the rest of the pieces will make a good living off Johnson if the line can keep Matthew Stafford upright and the Lions aren't playing catch-up all game long. As for us (not you) ever seeing talent like this before, take a look at the 2013 Denver Broncos. And as for wanting to be an X-factor, take a lesson from Jimmy Graham or Rob Gronkowski. You've already had more to say than either guy ever did, and the only thing with an X on it may be you as defensive players are reading your comments. Don't get me wrong, I think Eric Ebron is a very talented young man and a great kid, but none of that talk helps a Lions team looking to turn things around after just 11 wins over the past two seasons.
Patriots QB's ring, given to one of his friends/family members, was auctioned off to an anonymous...

If the Redskins get petty, Cousins will try and get his vengeance through a grievance

The Dolphins also donated $100,000 to the victims' fund after the school shooting that killed...
The Cardinals GM explains his process for finding Carson Palmer's successor

Stefen Wisniewski narrowly missed out on a chance to earn $250K, but the Eagles gave it to...

Shazier heads into the Steelers' facility every day and helps with 'personnel stuff'