When NFL owners voted on Monday to lift the league's blackout policy for the 2015 season, the measure passed, but it didn't pass unanimously. The decision to suspend blackouts came after NFL owners voted in favor of it 31-1. 
So who was the lone dissenter? That would be Cincinnati Bengals owner Mike Brown. 
It's not a exactly a fan-friendly move to vote in favor of keeping a TV blackouts, but Brown had his reasons for being the lone objector.
The Bengals owner told the team's official website that his lone "no" vote had nothing to do with the blackout policy and everything to do with a clause that was connected to the vote. 
"I didn't vote against lifting the blackout as much as I voted against they tied to it a requirement that teams that are low-revenue teams, teams that aren't selling out, have to pay a higher visiting team share," Brown said.
Brown's problem is that he doesn't think the rule that passed with the blackout policy is fair. Under the new rule, homes teams have to split their revenue with away teams based on the revenue generated from selling 85 percent of the home team's tickets.  
Generally, the home team gets to keep two-thirds of the revenue, while the away team gets one-third.
However, with the new rule, if a team doesn't sell 85 percent of its tickets, then it has to make up the difference. So if the Bengals sell 75 percent of their tickets to a game, they'd have to get that number up to 85 percent, presumably by purchasing the extra 10 percent of tickets.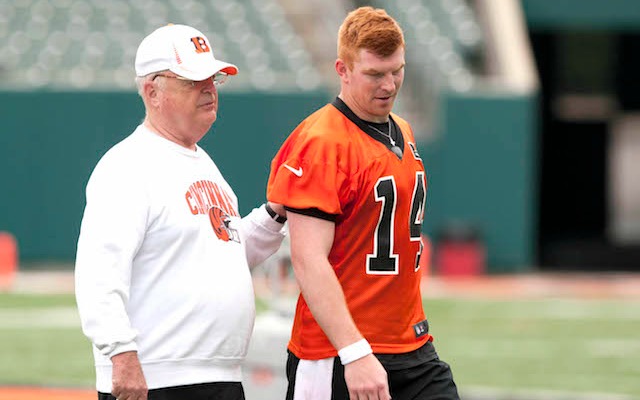 "This is the first time I believe that this has ever happened, that there's a selling floor," Bengals vice president Troy Blackburn told the team's website. "We just said if you want to suspend the blackout rule, suspend it, just apply the normal ticket sharing rules, then go on… (Now) your minimum visiting team payment is at least 85 percent. So if you have to share 80 percent, you are essentially buying five percent of the stadium."
The Bengals came close to being blacked out on several occasions last season, but overall, the team hasn't had a local blackout since November 2012.
Last year, the Bengals were helped by the fact that they took advantage of the NFL's relaxed blackout policy that allowed a team to declare a sellout if it had only sold 85 percent of its seats.
The catch there was that if the Bengals sold between 86 percent to 100 percent of their seats, they had to split their revenue 50-50 with the visiting team. If sales were 85 percent or under, the Bengals got their normal two-thirds home share, but the game would get blacked out on local TV.
If the Bengals don't sell at least 85 percent of their tickets to each home game, it's going to cost them money and Brown doesn't like it. 
"I find that discriminatory. I object to it. I think all teams should pay the same visiting teams share," Brown said. "I asked if that could be separated out. There didn't seem to be any interest in separating it out. It was joined in the resolution on the blackout together with lifting the blackout rule. So just to be consistent with what I said, I voted against it on principle. If it had been just the blackout rule standing alone, I would have voted to terminate the blackout. But it wasn't."  
Blackburn and Brown believe that the new policy is basically a "tax on smaller markets."
"We just said if you want to suspend the blackout rule, suspend it, just apply the normal ticket sharing rules then go on," Blackburn said. "It ends up being essentially a tax on the smaller markets. Is that a good thing?"
If the Bengals are right and the policy is a "essentially a tax on smaller markets," then you have to wonder why teams like the Jaguars, Chargers, Buccaneers and Raiders didn't side with Brown and vote against it. 
Either those other teams don't agree with Brown's thought process -- or they do agree, but didn't want to take the PR hit that would come with voting to keep blackouts alive in 2015.