NFL player poll finds that Raiders are least desirable team to play for
No one wants to play for the Raiders.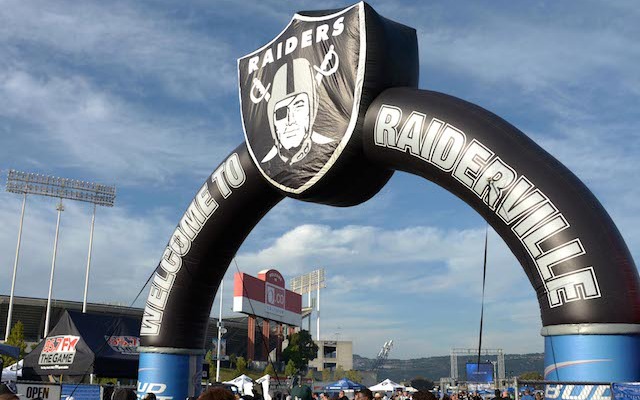 If the NFL wants to level the playing field in the AFC West, maybe the league should let the Raiders double their salary cap to $266 million. Apparently, a giant salary is the only way potential free agent players would be enticed to sign in Oakland. 
At least that's what the results were in an anonymous poll recently taken by ESPN.com. In the poll, 100 players were asked: "The only way I'd play for [team name] is if they doubled my salary." 
Basically, the question is 'what team is so bad that you'd only go there if you were given a boatload of money?'
Of the 82 players who responded to the poll, 23 percent of them responded with the Raiders. The only other teams to receive more than 10 percent of the votes? The Bills (19 percent) and Browns (16 percent). 
Raiders fullback Marcel Reece doesn't seem to believe the poll.
"Whoever said it, they're telling a lie," Reece said. "They didn't think about it. They thought about the one team that has the biggest stigma of negativity around them. From the media. From the masses."
Oh, and Raiders owner Mark Davis, if you're reading, Reese also said he'd be willing to play in Oakland for half his current salary. 
"I would play for this team if they paid me half of what they pay me, and I have taken pay cuts to stay," Reese said. "I guarantee you, if half those guys would have the opportunity to come play for this franchise, they'd be on board. They'd get it." 
Then again, maybe players don't want to sign with the Raiders because they wouldn't know where to live. The team is in Oakland right now, but by this time next year, they could be in San Antonio, Los Angeles or any other city that's willing to help build Davis and his team a new stadium. 
Everything you need to know about the Packers-Panthers game on Sunday afternoon

The Lions will be wearing their Color Rush uniforms for the first time on Thursday

The Lions look to maintain playoff positioning while the Bears attempt to play spoiler
The Panthers have hired an outside law firm to conduct the investigation

Here's every official injury designation for each NFL team for Week 15

Bennett was one of the few players who escaped punishment after Sunday's melee in Jacksonv...