NFL Playoff Picks: Saints over Eagles, 49ers beat Packers
Will Saints quarterback Drew Brees win his first ever playoff game on the road? Will Bengals quarterback Andy Dalton win his first playoff game ever?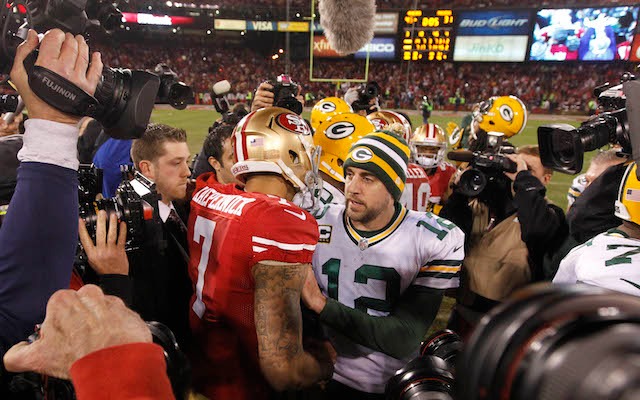 Back in August, my bosses here at CBSSports.com said, "Hey we need you to make some Super Bowl picks and try not to make them too horrible."
I said I could do the first thing and maybe the second thing. Anyway, I picked Cincinnati and San Francisco to meet in Super Bowl XLVIII. Now I'm in a dilemma though: Do I stick with those teams and pick the San Francisco 49ers and Cincinnati Bengals to win their wild-card games? Or do I pick against them?
Andy Dalton is 0-for-his life in the NFL playoffs.  That's not an encouraging stat. On the other hand, the 49ers haven't lost a first-round playoff game since 2001. That's encouraging. What's not encouraging though is that loss came in Green Bay, the same place San Francisco plays on Sunday. 
The other thing about picking playoff games is that they're almost impossible to pick. In the past two seasons, home teams have gone 7-1 in the wild-card round. So obviously, you should roll with the home teams when making your picks. Not so fast, though. In the two seasons before that (2009-10), home teams went 3-5. The only sure thing in the NFL playoffs is that there is no sure thing. Except that the Pittsburgh Steelers aren't in it. That was low. I'm sorry. Steelers fans, please send your hate mail to NFL headquarters, not to  Ryan Succop . Or me. 
Anyway, lets get to the picks. Actually, before we get to the picks, there's one more thing. This week I'm introducing the 'Why should I listen to this guy' meter because why should you listen to this guy? I mean, what do I know? 
Here's how it works, I've tabulated all my picks from the season and now you'll know how I did picking each individual team. For instance, if I went 0-16 picking New Orleans Saints games this season, then it wouldn't make much sense to call your bookie after reading my Saints pick. Also, you should never call your bookie after reading one of my picks and you should only have a bookie if you live in Las Vegas -- I think I'm required by law to point that out. 
On the other hand, if I went 16-0 picking Saints games, then you might be like, "Whoa, this guy is Saintstrodamus; he knows everything." Bottom line: After each pick below, I'll be including my regular season record for picking each team.
Now it's really time for the picks, and don't forget, you can check out the weekly picks from every CBSSports.com expert by clicking here. 
NFL Playoff Picks: Wild Card Weekend
January 4
Kansas City (11-5) at Indianapolis (11-5), 4:35 p.m. ET (NBC): The Kansas City Chiefs rested their starters in Week 17 and almost beat the San Diego Chargers . That tells me nothing about the Chiefs. What does tell me something about Kansas City though is in Week 16 when the Indianapolis Colts beat the Chiefs in every way you can beat a team -- and they did it on the road in Kansas City. I also don't like the fact that since Week 4, the Chiefs are 0-5 against teams with a winning record. Of Kansas City's 11 wins this season, 10 of them came against teams .500 or below. The Chiefs haven't been able to beat good teams all season and I don't see that changing on Saturday. Colts 23-20 over Chiefs. 
Record picking Kansas City games this season: 13-3
Record picking Indianapolis games this season: 10-6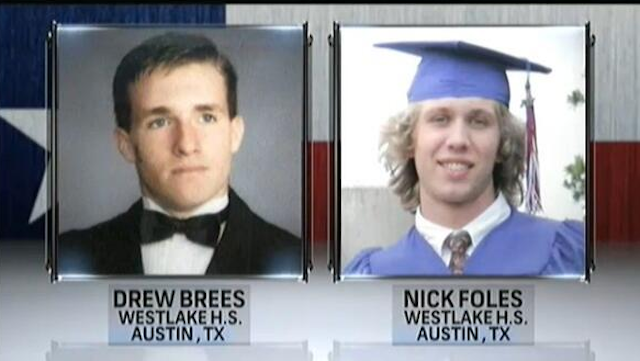 New Orleans (11-5) at Philadelphia (10-6), 8:10 p.m. ET (NBC): The Saints have been horrible on the road this season (3-5), but the good news for New Orleans is that the Philadelphia Eagles have been almost equally as bad at home (4-4). Drew Brees is 0-3 on the road in the playoffs, but two of those losses weren't exactly his fault. In the Saints two most recent playoff road losses -- at Seattle in 2010 and at San Francisco in 2011 -- Brees averaged 433 passing yards, three touchdowns and one interception. And he did that against defenses that were ranked 27th and 16th against the pass. What I'm trying to say is that Brees is going to pick apart the Eagles' 32nd ranked pass defense. I think Philadelphia's offense will put up points, just not more points than the Saints. No matter who wins, the real winner here is Westlake High School in Austin, Texas because that's where both Brees and Nick Foles  attended. Brees graduated in 1997. Foles got his diploma 10 years later in 2007. Saints 30-27 over Eagles. 
Record picking New Orleans games this season: 12-4
Record picking Philadelphia games this season: 7-9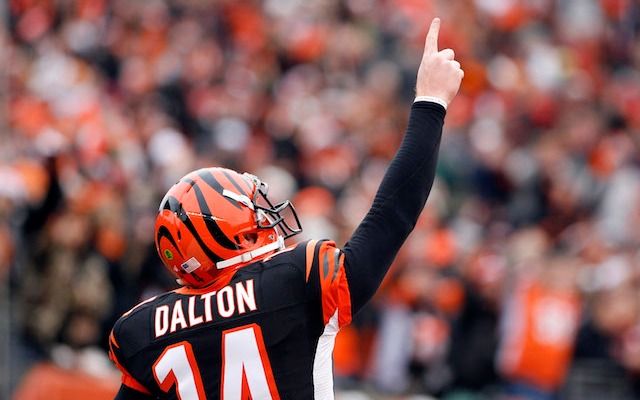 January 5
San Diego (9-7) at Cincinnati (11-5), 1:05 p.m. ET (CBS): You're probably going to hear Andy Dalton's name a lot this week. As in, Andy Dalton can't win playoff games, Andy Dalton throws too many interceptions and Andy Dalton kind of looks like Carrot Top. He does kind of look like Carrot Top, right? Anyway, it's not just Andy Dalton who can't win playoff games though, it's the entire Bengals organization. Cincinnati hasn't won a postseason game since Jan. 6, 1991, which is the longest drought in the NFL. Philp Rivers has some pressure on him too: He's the only quarterback who was picked in the top 15 of the 2004 NFL Draft who hasn't won a Super Bowl. Actually, he's the only one who hasn't won two Super Bowls. He's kind of falling behind. Like Dalton, Rivers hasn't lit up the postseason lately. The Chargers quarterback is 1-3 with four touchdown passes and six interceptions in his last four playoff starts. Basically, I like the team with the better defense here which hasn't lost at home all season, and that's the Bengals. Bengals 27-17 over Chargers. 
Record picking San Diego games this season: 8-8
Record picking Cincinnati games this season: 11-5
San Francisco (12-4) at Green Bay (8-7-1), 4:40 p.m. ET (Fox): Colin Kaepernick will try and do something on Sunday that Hall of Fame quarterback Joe Montana never did with the 49ers: Win two playoff games on the road (Montana was 1-3 in road playoff games with San Francisco. Kaepernick is already ahead of Steve Young, who won zero road playoff games on the road with the 49ers). Anyway, the Green Bay Packers had trouble stopping Kaepernick in last year's playoffs (444 total yards, four touchdowns) and they had trouble in this year's regular season opener despite having an entire offseason to figure out a way to slow him down. In Week 1, Kaepernick threw for 412 yards and a touchdown. Not only does Green Bay's defense have to figure out how to slow down Kaepernick, they have to do it without Clay Matthews . Aaron Rodgers will probably also notice that going against the 49ers fifth ranked defense won't be the same as going against he Chicago Bears 30th ranked defense. 49ers 34-27 over Packers. 
Record picking San Francisco games this season: 12-4
Record picking Green Bay games this season: 12-4 (The Packers tied the Minnesota Vikings in Week 10 and since I didn't pick a tie, that counts as an incorrect pick)
Last Week
Best Pick: Last week I predicted that the Detroit Lions would have a lead on the Vikings at some point in the fourth quarter and then end up losing the game. You probably didn't watch -- because why would you watch a game with no playoff implications, it makes no sense. It'd be like going to a rap concert and hoping that you got to hear country music. Anyway, for the sixth time in seven games, the Lions ended up leading 13-7 in the fourth quarter, only to lose 14-13. Vikings fans celebrated by stealing seat backs from the Metrodome. The Lions celebrated by firing Jim Schwartz. 
Worst Pick: Last week I picked the Washington Redskins to win and that actually might go down as the worst decision I made in 2013. The only other decision that might be worse was buying Justin Bieber's Christmas album. He's retiring people! It could be a collector's item some day! Also, that kind of stuff happens when I walk into Target unsupervised. I also bought some Big League Chew. Anyway, Mike Shanahan might be shopping at Target this week because he has some free time after being fired on Monday.  
Straight up: 13-3
Final Regular Season Record: 165-90-1
Against the spread: 7-9
Final Regular Season Record: 124-132
---
Follow John Breech on Google+ or you can even sometimes find him on Twitter
Forget being the highest paid receiver, Odell Beckham has loftier goals for his next contr...

There was a Rolls-Royce at Steelers training camp, but no Le'Veon Bell

'It ain't about 2016 and it ain't about 2018. It's about 2017,' Doug Williams told his qua...
Philip Rivers will not be moving to Los Angeles with the Chargers

Bryant has had off-the-field issues keeping him off the field for the past few years

Technically Woody Johnson is the Jets' owner, but on the other hand, Brady does own the Je...