NFL playoff picture: Examining the early Week 16 ramifications
Here's a look at the impact of 1 p.m. ET games during Week 16 and the playoff race implications involved.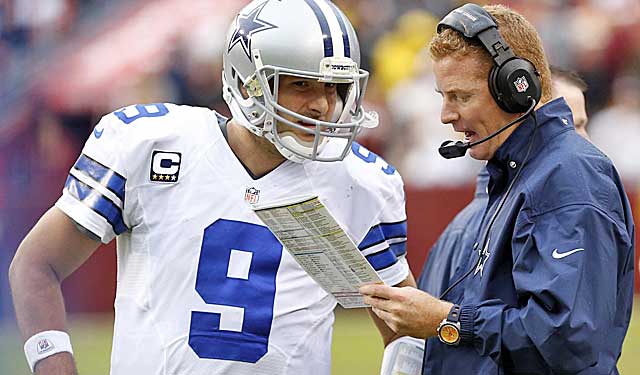 We had a few dramatic endings to the early Week 16 games that will impact the playoff races overall.  Dallas' late win over Washington and Carolina's comeback win over New Orleans will help determine playoff spots and seedings.
In the NFC:
DALLAS win makes the Philadelphia at Dallas game for all the marbles in the NFC East.
Philadelphia vs. Chicago on Sunday night is meaningless in the division for Philadelphia, but could be a factor in No. 3 vs. No. 4 seeding for division champions.
CAROLINA win over New Orleans gives the Panthers a one-game lead over the Saints and a season split head to head.
CAROLINA CLINCHED A PLAYOFF BERTH with the win today.
NEW ORLEANS can still win the division next week with a win and Carolina loss (New Orleans would win on division record)
NEW ORLEANS can still clinch playoff berth this week with Arizona loss OR a Seattle tie + San Francisco loss
ARIZONA will be eliminated if they lose to Seattle due to Carolina's win (Arizona lost to New Orleans head to head).
SAN FRANCISCO would clinch spot if Arizona loses today or with a win on Monday night.
Over in the AFC:
NEW ENGLAND CLINCHED THE AFC EAST TITLE with the Miami loss and cannot clinch a bye but still controls their playoff fate for a first-round bye.
MIAMI loss was a killer.  The Dolphins can be eliminated from the playoffs now with a Baltimore win + Oakland win or tie.
MIAMI can still get playoff berth at 9-7 if they tie with Baltimore and San Diego (based on conference record).
CINCINNATI CLINCHED A PLAYOFF BERTH with win + Miami loss.
CINCINNATI will clinch the AFC North title with a Baltimore loss or tie Sunday afternoon.
CINCINNATI can control playoff fate for a first-round bye with a New England loss (Bengals beat New England and Indianapolis head to head).
BALTIMORE can stay alive for division title with a win over New England.
BALTIMORE can clinch a playoff berth with a win + San Diego loss or tie.
PITTSBURGH amazingly remains alive for a playoff berth as both Miami lost and the New York Jets won.  Pittsburgh needs a win + Baltimore loss to remain alive this week.
INDIANAPOLIS remains alive for a first-round bye with a win today but can no longer win the No. 1 seed due to Denver's win.
INDIANAPOLIS has won the AFC South title and can clinch a first-round bye with a win and one New England loss + Cincinnati loss/tie against Baltimore.
DENVER CLINCHED THE AFC WEST TITLE and FIRST ROUND BYE with win and Kansas City's loss.
DENVER clinches the No. 1 seed in the AFC with a New England loss today (or next week).
KANSAS CITY has already clinched a playoff spot and will be the No. 5 seed in the AFC.
Lots of key games going on right now.  I'll update after and live on twitter at @JoeNFL.
Carroll defended his controversial fake field goal call at the end of the first half

The Falcons are trending in the right direction after a 34-31 win over the Seahawks in Sea...

It's the best division in the NFL and it's not even close
Larry Hartstein has his finger on the Vikings' pulse and made a play for the Thanksgiving Day...

National sports writer Mike Tierney tells you who to pick in your Week 12 football survivor...

For whatever reason Seattle decided to try a fake before the end of the first half